Top 7 VPNs For Russia to Stay Safe and Secure in 2023
VPNs have become the most important tools for safe surfing on the internet today. It becomes even more important as bans of the internet are becoming more common in today's time. Russia is among those countries which censor a significant amount of content and services in their country.
For this reason, it becomes important to get a VPN to enjoy the internet freely in Russia. There are a plethora of VPNs available for you but we are providing a detailed guide on the best VPNs for Russia in 2023!
A good VPN will always provide an all-round coverage from security and anonymity to bypassing bans and restrictions. Keeping that in mind, we have prepared a list of some of the most excellent VPN services of all time! Keep reading to find out more details.
Why use a VPN?
A VPN has become an integral part of the internet life of all people today. This is because of the increasing censorship of various content and platforms that has become a trend across the globe.
This makes people from one part of the world unable to access content and platforms that are easily available to people in some other part of the world.
The term for this is 'geographical restriction'. Geographical restriction on some content or platform makes that particular geographically restricted service functional in only a certain part of the world.
A VPN is the safest, most effective method of bypassing any geographical restrictions on specific content or bans on various platforms or services.
Best VPNs for Russia
1. ExpressVPN
ExpessVPN serves to be an amazing Russian VPN because of its top-notch security and exceptional all-around support. Your communication is encapsulated in an encrypted tunnel using a combination of AES 256-bit encryption, secure VPN protocols, and HMAC authentication. No one will be able to access your internet activity in this way.
To assist you with avoiding Russian internet censorship, ExpressVPN has more than 3,000 servers spread across 94 nations. So, whether you're a resident or an expatriate residing in Russia, you have many choices for unblocking restricted websites and using international services without restrictions.
ExpressVPN has a kill switch and DNS leak prevention, both of which are turned on by default to protect your private data when you browse the internet.
The fact that it employs TrustedServer technology, which erases all of the data on the VPN server every time you turn it on and off, is crucial. It ensures that even the Russian government cannot have access to your information.
On ExpressVPN you have nothing to lose because there is a 30-day money-back guarantee. And all its subscription plans have reasonable prices.
Subscription plans:
| | |
| --- | --- |
| One-month | $12.95 |
| Six-month | $9.99/month |
| 12-month | $8.32/month |
2. NordVPN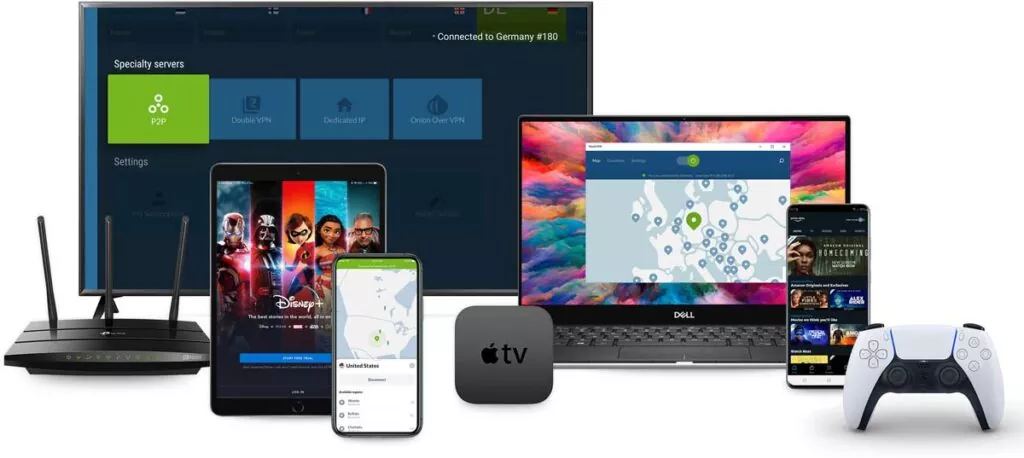 NordVPN includes a vast server network and great security. With more than 5,800 servers spread over 60 nations, you should have no trouble getting around geo blocks in Russia.
The utilization of its obfuscated servers, which add an extra layer of protection and anonymity, is one of its strongest security features. For added security, there is also a kill switch and DNS leak protection.
The provider's strong no-logs policy is perhaps its most essential feature, since it guarantees that it won't gather or share your personal information with Russian authorities.
A number of cutting-edge features are available from NordVPN, such as double-hop servers and Onion Over VPN.
It has a refund policy for 30 days and you can discontinue saving your money if you don't like its services.
Subscription plans:
| | |
| --- | --- |
| 1-month subscription cost | $11.99 |
| 1-year subscription cost | $59.88 |
| 2-year subscription cost | $95.76 |
3. CyberGhost
CyberGhost is a respectable service with good security. To protect you from snoopers, hackers, and the Russian government, it employs AES 256-bit encryption and reliable VPN protocols.
Additionally, it features a permanently activated kill button, so you won't need to worry and no records of your internet activity are kept.
You will receive limitless bandwidth that is compatible with the majority of streaming services, including Netflix and BBC iPlayer. With a list of servers designed for torrenting, it's an excellent option as well.
Around 7,800 servers in 59 nations make up CyberGhost's vast network, which also includes a virtual server for Russia.
For extra online privacy, its server lists also provide a list of specialist anonymity servers. Nobody, not even the Russian government, will be able to track your private information or online activities thanks to anonymity servers.
You may test it out for seven days for free on iOS and Android to see if you like it. Additionally, there is a 14-day money-back guarantee for monthly plans and a 45-day guarantee for extended ones.
Subscription plans:
| | | | |
| --- | --- | --- | --- |
| Term length | 1 Month | 6 months | 2 years + 4 months free |
| Monthly rate | $12.99 | $6.99 | $2.03 |
| Total amount billed | $12.99 | $41.94 | $56.94 |
4. SurfShark
One of the easiest VPNs to use for avoiding Russian government surveillance is Surfshark. Although it's slower than NordVPN or ExpressVPN, it's still fast enough for watching or torrenting.
It provides more than 3,000 servers across more than 60 nations. Users in Russia can still use Surfshark despite the lack of Russian servers, but they will need to acquire an IP address from another country.
Your internet service provider (ISP) won't be able to tell that you're using a VPN thanks to Surfshark's "camouflage mode," which is ideal if you don't want to run afoul of Russia's censorship rules. Additionally, you can access internet content in nations like Russia that typically restrict VPNs thanks to its "no borders" option.
The VPN Surfshark is reasonably priced. Additionally, you are given a 30-day money-back guarantee to test out its capabilities and take advantage of limitless concurrent connections.
Subscription plans:
| | | | |
| --- | --- | --- | --- |
| Months in contract | Monthly cost | Total amount billed | Total price for one year after the first billing |
| 1 | $12.95 | $12.95 | $.40 |
| 12 | $3.99 | $47.88 | $59.76 |
| 24 | $2.49 | $59.76 | $59.76 |
5. Private Internet Access
The name of the virtual private network, or VPN, Private Internet Access, sums up what it accomplishes quite well: It allows you to access the internet privately regardless of where you are connecting from.
Private Internet Access makes a point of not logging any kind of surfing information. As a result, the corporation won't know when you use the VPN, how long you use it for, what your IP address is, or which websites you have been accessing.
It contains a kill switch, also referred to as a "network lock function" or "disconnect protection," which causes any software or website to close down instantly if your VPN connection is lost. As a result, it prevents your internet connection from switching to a public network, which would allow your internet service provider (ISP) to view the entirety of your browsing history.
Split tunneling is available from Private Internet Access.
Your web traffic can travel through two distinct "tunnels" that are created by split tunneling. The first is a private VPN tunnel, whereas the second is an open, unencrypted network. Split tunneling allows you to send some traffic through the encrypted network and the rest through the secure tunnel.
Subscription plans:
| | | | |
| --- | --- | --- | --- |
| Subscription Duration | Monthly | Six Months | Two Years (plus two months free) |
| Cost of the entire subscription | $11.99 | $45.00 | $56.94 |
| Cost per month (averaged) | $11.99 | $7.50 | $2.19 |
6. IP Vanish
By including the kill switch, split tunneling, VPN protocol, and LAN connection allowance, it provides good security.
Since it has long been designed with peer-to-peer traffic in mind, IPVanish is a great option for torrenters searching for a VPN that includes a SOCKS5 proxy.
You might need to manually connect to a server with a lighter load by choosing the Locations option in the client in order to maximize your speeds since IPVanish's Quick Connect feature sometimes doesn't connect you to the best server that is available.
If you buy a yearly package, the company gives a 30-day money-back guarantee.
Subscription plans:
| | | | |
| --- | --- | --- | --- |
| Term length | Monthly | Quarterly | Yearly |
| Monthly rate | $10.99 | $5.32 for the first three months, $10 per month thereafter | $3.99 for the first year, $7.50 for the second year |
| Total amount billed | $10.99 | $15.96 for the first quarter, then $29.99 per quarter | $47.88 for the first year, then $89.99 per year |
7. VyprVPN
Our main concern is security, which is quite good. To keep you safe online, it provides conventional security features like a kill switch and leak protection. The NAT firewall included with VyprVPN adds an additional degree of security by preventing unauthorized traffic coming from hackers or anyone else.
Only about 1,000 servers altogether across more than 60 countries make up VyprVPN's modest server network in comparison to its competitors.
It has servers in Moscow, so it is a viable option if you want to access content that is only available in Russia. Its servers support torrenting, and you can access the majority of streaming websites.
You'll have access to its private Chameleon protocol in addition to security. This special protocol scrambles the OpenVPN packet metadata, preventing deep packet inspection from detecting it (DPI).
In this way, you can avoid Russia's repressive networks without being concerned about ISP or governmental agency snooping or inspection.
It offers reasonable subscription plans and a 30-day money-back guarantee.
Subscription plans:
| | |
| --- | --- |
| Length of subscription | Cost per month with VyprVPN |
| 1 month | $12.95 |
| 18 months | $3.75 |
| 36 months | $2.50 |
Additional benefits of using a VPN
Along with helping you bypass geographical restrictions, there are many very important benefits of using a VPN. These benefits are also why we recommend that you use a VPN all the time when you are surfing ok the internet.
Some of the most important benefits of using a VPN are listed below:
VPNs provide you security on public WiFi.
Using a VPN will keep your data hidden from the eyes of your internet service provider.
Sometimes, even the services and apps that you use try to keep a record of your data. A VPN can help prevent that.
Some goverments try to get past your privacy bubble and keep an eye on your data privacy. A VPN can help you maintain your privacy.
You can bypass geo-restrictions on platforms, services and content without anybody knowing.
A VPN keeps you safe from any cybercriminals by encrypting your data in several layers of protection.
A VPN is one tool that is compatible with almost every device users use across the globe.
A VPN helps you maintain privacy and security at all times when you are online.
Detailed Steps: Setting up a VPN on your device
In order for you to be able to enjoy the benefits that VPNs offer, you must first learn how to set up your chosen VPN on your device.
The process of setting up a VPN for you device is quite simple and does not take much of your time. The steps have been given below:
Step 1: First, since you need a VPN, start off by signing up for a strong and reliable VPN service. We strongly recommend that you use ExpressVPN.
Step 2: Next you are required to download the app of your selected VPN and install it on your smartphone or whichever device you would like to stream on.
Step 3: All top-notch VPNs require a subscription. So, select a VPN plan that you find most suitable and proceed by making the payment.
Step 4: After you have successfully made the payment and registered on your chosen VPN, sign in to the VPN app by inputting the same credentials using which you have registered for your VPN.
Step 5: On your VPN app, connect to a VPN server best suitable according to your needs.
Step 6: Go to the platform or service that you would like to access.
Step 7: You should be able to start unhindered enjoyment of the internet.
Step 8: If you are still facing difficulty, try switching between servers from your VPN app until you find the most suitable one.
Quick hacks to fix VPN not working
Sometimes you might come across situations where even after following the correct procedure of using a VPN, you are unable to access the desired service or content. In such cases, you can try the following quick fixes:
Delete the cache and the cookies.
Open in another web browser.
Try switching to a different server.
Get in touch with the customer care team of your VPN service.
FAQs
Can I use Instagram in Russia?
Russia has recently put a ban on the world-famous social media platform Instagram. So, you would not be able to use it without bypassing the ban using a VPN.
What are the risks of using a bad quality VPN in Russia?
The biggest risk involved in using banned service or platform in Russia is the fear of being caught by the authorities. If you want to use all social media risk free in Russia you should opt for a reliable VPN service, preferably ExpressVPN.
What are some good VPNs for Russia in 2023?
ExpressVPN, NordVPN and CyberGhost are our top 3 recommendations for best VPNs for Russia as per our latest analysis.
Is there privacy guarantee on VPNs?
Yes, all top-notch VPN services guarantee privacy. This is one major reason why you should always opt for trustworthy VPN services. We have found ExpressVPN to function the best in this sense.
Conclusion
Russia is among those countries who have set a trend of restricting content, platforms and services due to various reasons ranging from national security to various other political reasons. So, this makes the easily available content and services in one part of the globe, difficult to access in the other.
If you would like to enjoy the internet and it's services freely without any restrictions, you would be required to use a VPN for bypassing any bans or geographical restrictions.
There are several other benefits of using a VPN, ranging from privacy and security to data encryption.
You must give thorough consideration to your choice of VPN as not every VPN fulfills all functions that it claims. Using a strong and reliable VPN is a very essential.
Our topmost recommendation is ExpressVPN. It has been thoroughly tested on several parameters and has performed exceptionally well on all. So, get ExpeessVPN now and start using the web without any bounds!