How To Fix Pokemon Go Not Working With VPN (Quick Fixes 2023)
There is a possibility that some features of Pokemon Go or the game itself might be blocked in your country. This is because of the geographical restriction on the game. You can get around the constraint using a VPN along with a GPS spoofer.
Pokemon Go is a very famous entertainment mobile game that gained much popularity in the year 2016-2017. The parent company of this game is Niantic. It is unlike any games launched for mobile apps. It has some of the most exciting challenges for the players.
Sometimes the users have reported that even after using a VPN, they face difficulty in playing the game. This could be because of several reasons that can be fixed quickly.
Through this article, we aim at making you familiar with possible fixes that could help you enjoy Pokemon Go like before. These quick fixes do not demand more than a few minutes of your time.
All those who are well aware of Pokemon Go, know how important a good VPN service is for this game. We recommend using ExpressVPN as it is reliable and strong enough.
Quick Glance at the quick fixes
If you are stuck in a situation where even after using a VPN, you are unable to enjoy Pokemon Go without any hindrance, there is a number of possible issues one of which might require a fix.
One of the below-mentioned fixes would definitely take you to your destination of uninterrupted enjoyment of the game Pokemon Go using a VPN.
Use a reliable VPN service like ExpressVPN at just $6.67/month.
Switch VPN servers.
Use a good GPS Spoofer
Delete cookies.
Switch internet networks.
Update your VPN software.
Why did my VPN stop functioning with Pokemon Go?
If Pokemon Go notices that your connection is coming via a VPN, this is one of the most frequent reasons why VPNs stop functioning with the game. Your connection, through your IP address, to Pokemon Go will be banned if this is discovered.
For this reason, we suggest that you make use of a strong VPN service that does not reveal to the service that you are using a VPN.
Your VPN might also cease to work due to several other small issues that might require a quick fix like deleting cookies, changing VPN servers, etc which will be discussed in detail in the later sections.
Easy Fixes to Pokemon Go not working with VPN
Try out the below fixes if Pokemon Go is not working with VPN.
Change VPN servers
You should switch between the VPN servers if you connect to a server offered by your VPN and are still unable to access the game.
If the server you select is not on Pokemon Go's blacklist, you might be able to access it by connecting to another VPN server.
By moving between servers in this manner, you can locate a server that permits access to the website.
Use a good GPS Spoofer
If you are playing Pokemon Go with a VPN but not GPS spoofing software, you must get one right away. You require a GPS spoofer as well as a VPN.
Make sure that the GPS Spoofer that you are using is both reliable and strong enough to fulfill the claims that it makes.
Delete Cookies
Start by deleting your cookies when attempting to fix Pokémon Go not functioning with VPN.
Sometimes, location-specific information might be found in cookies.
Pokémon Go can examine this data on your cookies when you connect to it. Niantic will restrict the connection if the location provided here contradicts with your IP address or GPS location.
Switch to another internet connection
Switching your internet connection is one of the simplest and most fundamental ways to ensure that Pokemon Go and your VPN are synchronized.
If the VPN is having trouble with your internet connection, you can connect to a different individual or a public internet connection.
Update your VPN software
When deleting cookies, reinstalling your VPN software, changing protocols, or altering your internet connection is ineffective, it becomes necessary to switch VPN services.
To play Pokemon Go without any hiccups, you must update your VPN program and use a robust and trustworthy VPN.
How Pokemon Go finds out VPNs
Due to the fact that Pokemon Go makes an assessment of both your IP address as well as your GPS data, it makes every effort to identify any connections that are using a VPN.
How this is done is that the IP address and the GPS location of every connection to Pokemon Go are assessed and if both these indicators indicate separate locations, it is believed that your connection is coming via a VPN.
To understand better, consider this: if your IP address is showing your location to be Germany while your GPS reveals that you are located in India, this conflicting information would make sure to Pokemon Go that you are spoofing your location.
This way, once this is detected, your connection is immediately dropped and you are no longer allowed to play Pokemon Go with that particular connection.
The importance of using a good VPN with Pokemon Go
Making a sensible decision while selecting a VPN among the wide variety of VPN services available in the modern era is crucial.
The promise of protection, safety, speed, and anonymous online activity is made by practically every VPN, but it is important to realize that not all of these claims will be kept. Only a reliable VPN provider is able to uphold its promises.
If you are using a VPN service that is not strong and trustworthy enough, you run the danger of being tracked by governmental organizations or being the target of cyberattacks.
It is crucial that you carefully analyze your VPN options in order to ensure that your online activities are always protected and that you have simple access to services like Pokemon Go.
Only a powerful VPN service like ExpressVPN can assist you in keeping an unbroken, undetected connection for a service like the game Pokemon Go, which employs robust techniques of determining whether your connection is legitimate or you are using a VPN.
How to set up a VPN for Pokemon Go
If you would like to enjoy the game Pokemon Go to the fullest with all the features and from anywhere around the world unrestricted, you would be needing a good VPN service.
Given below are the easy steps that will help you set up your VPN for Pokemon Go.
Step 1: Sign up for a reliable VPN service like ExpressVPN to play Pokemon Go unrestricted.
Step 2: After downloading the VPN app, install it on your smartphone or another device.
Step 3: Sign in to the VPN app and connect to a server in a country where it runs unrestricted.
Step 4: Connect with your GPS spoofer.
Step 5: Relaunch Pokemon Go.
Step 6: You may now start playing Pokemon Go with your new IP address.
Best VPNs For Pokemon Go
We tested a lot of VPNs to find out which VPNs can help play Pokemon Go unrestricted from anywhere around the world. Out of these, we have listed 3 top VPNs here.
ExpressVPN: Overall best VPN for Security, Speed, and Reliability
✔ The fastest VPN we tested thanks to its proprietary Lightway protocol
✔ 3,000+ servers in 94 countries which help you to unblock region-locked content
✔ Connect Up to 5 devices simultaneously with one account
✔ Unblock Netflix, VUDU, HBO Max, BBC iPlayer, SonyLiv, and more
✔ You can use it on android, window, iPhone, Mac, Apple, Smart TV, Chrome, Router
✔ 30-day money-back guarantee
ExpressVPN offer September 2023: For a limited time, you can save up to 49% on 1-year subscription plan + 3 months free.
If you asked a professional to name the best VPN for Pokemon Go, they would surely recommend ExpressVPN. ExpressVPN is by far the best VPN and offers a lot of benefits.
On the display, there is only one toggle. It turns the on and off the VPN in a split second. The finest aspect of this VPN is its speed. Regardless of the content you are streaming or the server you are connected to, you will always get the fastest speed.
With over 3,000 servers spread across 94 nations, ExpressVPN gives you access to material worldwide.
ExpressVPN offers MediaStreamer as a Smart DNS solution. With the help of this feature, you can access streaming websites on gadgets like gaming consoles and smart TVs that ordinarily do not support VPNs.
The apps from ExpressVPN are simple to use and install. I set it up on my phone and Windows in less than a minute. I only had to click "connect" to start the VPN after that. It began to function.
You can choose to use Lightway in the app's settings, or you can let the VPN choose the best protocol for your network. In addition, L2TP/IPsec, IKEv2, and OpenVPN are choices.
Security goes hand in hand with speed and user experience. ExpressVPN is ideal in every circumstance thanks to industry-standard features like a kill switch, no DNS leak, solid encryption, and P2P servers.
If you have any problems, there is an extraordinarily swift customer service system that can help. With all of these benefits, ExpressVPN is difficult to immediately replace.
NordVPN: Budget-friendly VPN with good security features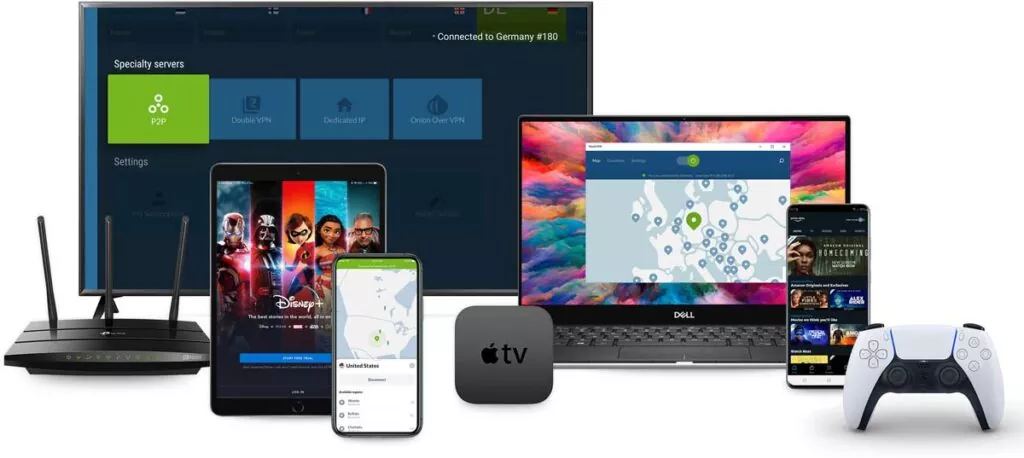 ✔ 5500+ ultra-fast servers in 59 countries
✔ Connect Up to 6 devices simultaneously with one account
✔ Stream Netflix, VUDU, HBO Max, BBC iPlayer, Sky TV, and more from anywhere
✔ Apps available for android, window, iPhone, Mac, Apple, Smart TV, Chrome, Router
✔ 30-day money-back guarantee
NordVPN offer September 2023: For a limited time, you can save up to 55% at 3.69/month on 2-year subscription plan + 3 months free.
If you ask any entertainment freak about a VPN, they will almost always recommend NordVPN, and they are not wrong. In addition, any gamer's needs can be met by this VPN, which has 5,500+ servers spread over 59+ nations.
The NordLynx protocol, which is a special characteristic of it, strengthens and speeds up communication. Along with having qualities that are regarded as industry norms.
In order to strengthen your online security, it also provides a double VPN, which routes your data through two VPN filters.
Additionally, a stringent no-log policy guarantees that there are no session records stored, providing you with complete online protection and anonymity.
Expert customer service is available 24/7, every day of the week, to assist you with any problem, no matter how big or minor.
Devices compatible with Pokemon Go
Pokemon Go works with all the newer versions of mobile phones. Given below are the devices that are compatible with Pokemon Go
Android 7 or newer
iOS 14 or higher
iPhone 6s or newer.
Frequently Asked Questions
is pokemon Go a good game?
Pokemon Go is a popular choice among people who love playing mobile phones game, and people have reported that they enjoy playing it. So you must try it.
why can't I access pokemon go?
This game faces some geographical restriction which does not allow you to access it from all the places.
what to do for accessing pokemon go?
In order to access Pokemon Go, you need to use a VPN which will overcome the problem of geo-restrictions and thus allow you to access the game from any location.
should I change my VPN if I regularly face accessing pokemon go even after using a VPN?
In case you do not have a subscription to a good VPN, there are high chances that you will face many problems while playing the game, and thus it is suggested that you employ a strong and reliable VPN such as ExpressVPN for playing Pokemon Go.
Conclusion
Pokemon Go which was launched in the year 2016 is a real mobile game that has become one of the popular choices among people who love playing games on their phones.
This game is not directly accessible through all places because of the geographical restrictions imposed on it. In order to solve this problem of accessing Pokemon Go from any place you are and playing it without any kind of disturbance or trouble, you need to use a VPN.
VPN, Virtual Private Network works as the shield of your actual IP address which is stopping you from accessing the game and provides your device with a new IP address making sure you can play the game from any location of your choice.
It is possible that you face some problems even after using a VPN, this is common when you use a VPN that does not offer top services. Different possible solutions for the same are explained above.
But the best thing that can be done in this scenario is to choose the best VPN available in the market which would decrease the chances of such problems to almost negligible. ExpressVPN is the right choice to make for playing Pokemon Go from any location.
So don't waste any more time fixing the problems of your VPN while playing and switch to ExpressVPN today to enjoy gaming.