How Does a VPN Work (Explained In 2023)?
Virtual Private Networks, or VPNs, are a very common term used today with every activity that involves the use of the internet from office work to the gaming world. But how does a VPN work? Let us find out exactly what happens when a VPN is used.
VPNs are popularly associated with terms such as security, safety, anonymity, stability and privacy of your internet connection. All of that is true because a VPN does ensure all that is aforesaid.
In addition to this, a VPN is also capable of helping you get access to the uninterrupted web where anything can be accessed bypassing the geographical restrictions and blocks from anywhere around the world.
However, it is important that you make use of a VPN that is capable of carrying out all the actions mentioned above. This is because not every VPN is worth relying and trusting. In this article, we have provided you with a guide to choosing your VPN.
We conducted full-fledged research to find out the performance of various VPN services and found ExpressVPN to be performing exceptionally well in each parameter.
Quick Guide: How to use a VPN?
The first, and most important step is to subscribe to a VPN like ExpressVPN.
Download the VPN app and set up your VPN account.
On your VPN app, connect to a VPN server in a suitable country.
Access the web without worrying about being exposed to any kind of cyber risks to your identity or to your data. Your online privacy would be secured.
How does a VPN work?
Virtual Private Network is a VPN. As the name implies, a VPN establishes a private network for you in order to protect your online identity and privacy while the VPN is active.
When you use a VPN on your device, it connects to a server in a nation where the service you want to use is offered. Because IP addresses are based on the actual location of the device, as soon as your device connects to a server, it assigns your device an IP address for that place.
In this way, the provider is unable to pinpoint your precise location and instead assumes that you are where the device thinks you are based on the fictitious IP address that it obtained through a VPN.
How does a VPN contribute to protecting online privacy?
The information about your genuine identity that is revealed by your IP address is replaced when you connect to a VPN server in a distant location with new, false information that you receive by obtaining a false IP address by connecting to a distant VPN server.
The function of a VPN is to create a secure channel for the transmission of your data between two locations. Your data is kept secret using many levels of encryption on this private channel.
This data is protected from any possibility of hacking by cybercriminals or misuse by any other third party since it is kept so secure by multiple levels of encryption and routed over private networks.
So, using a VPN makes it impossible for anyone to identify you or steal the data being exchanged.
The dangers of not utilizing a VPN
Utilizing a VPN on your device guarantees online privacy by building a secure, private network over a public one. Risks could arise if a VPN is not used.
Among the most typical dangers are:
Any third party could steal your personal information or any other valuable information.
Lack of a VPN may result in slow internet speeds, whereas good VPNs guarantee excellent speed.
Not using a VPN could allow the government or any other third party to eavesdrop on you as VPNs ensure that your data cannot be accessed by any third party, including the government, by creating a secured network.
Without a VPN, you run the risk of having your device or original data compromised by hackers. VPNs prevent your original location, data, etc. from being disclosed to any services or on the Internet.
Detailed steps to use a VPN for safe and secure use of the internet
You can simply follow the steps given below to use a VPN to secure your online privacy while you are active on the internet:
Step 1: First, since you need a VPN, start off by signing up for a strong and reliable VPN service. We strongly recommend that you use ExpressVPN(get 49% discount + 3 months free).
Step 2: Next you are required to download the app of your selected VPN and install it on your device.
Step 3: A membership is necessary for all top VPN services. Decide which VPN plan is best for you, then pay for it.
Step 4: After successfully completing the payment and registering with your preferred VPN, sign in to the VPN app by using the same information you used to do so.
Step 5: Connect to a suitable VPN server in a suitable location using your VPN app (for ex. US).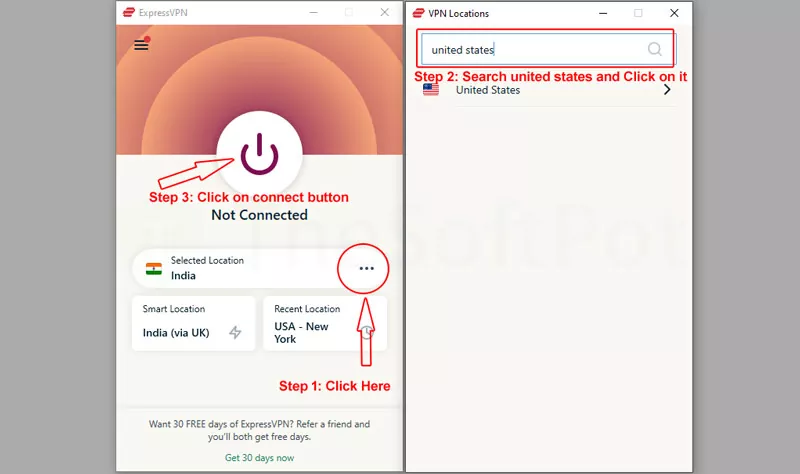 Step 6: Once you are connected to the VPN server, you can stay assured that whatever your activities are on the internet, they remain completely private and anonymous. Your data would be encrypted and nobody will be able to trace your actual location.
Note: Make sure that you use a strong, reliable, and trustworthy VPN to make sure that Step 6 is carried out as it is mentioned. This is because not every VPN is safe, capable, and strong enough to ensure the above said.
VPN choosing guide
There are many different VPN choices on the market, both free and premium VPNs, but not all VPNs are reliable to use.
This is true since using a VPN that is not reliable could result in unfavorable outcomes like the leakage of your online data and personal information, harming both your device and your online security and privacy.
Regardless of the service you have to use, free VPNs are extremely dangerous and should be avoided at all costs. Information leaks as a result of using free VPNs have occurred frequently.
Before deciding on a premium VPN to purchase, there are a few fundamental considerations that must be taken into account. A VPN that possesses all these characteristics is regarded as a dependable VPN that provides excellent services without jeopardizing your security or privacy.
Here are some things that must be taken into consideration while choosing a good VPN service that ensures overall security and safety while providing you with excellent user experience:
Ease of use
Security
Speed
Accessibility
Unblocking efficacy
Reliable encryption
Anonymity
Versatility
Compatibility
Multi logins
Customer support
Technical support
Not working VPN? These quick tips can fix:
There could be a lot of reasons why your VPN isn't working properly even after you've followed the instructions. The straightforward remedies suggested below are typically all you need to fix your VPN if it has issues:
Removing cookies
Alternate between servers
Reinstall the VPN software.
Change your internet connection
Update your VPN software.
Think about purchasing a better VPN
Frequently Asked Questions
Can a VPN ensure that my online data is confidential?
Using a VPN which is reliable will ensure that your online data is confidential. If you use a free VPN or any paid VPN which is not trustworthy then your data will be at risk.
How can a VPN provide fake IP address to my device?
VPNs are capable of providing a fake IP address to your device by connecting to a server in a country of which IP address is needed for your device. Connecting to a server automatically gives an IP address of that location.
Is ExpressVPN a good VPN?
Yes, ExpressVPN is a really good VPN as it has features for ensuring online security and privacy, works with most of the devices, has access to a lot of servers from all around the world.
Are VPNs capable of hiding data from government and your ISP?
Good VPNs are capable of hiding data from government as well as your Internet Service Provider. It is pretty easy for them to keep a track of your online activities but using a VPN can ensure that they can't do so.
Conclusion
VPNs are capable of circumventing geographical restrictions and thus let you access any service you want to.
For doing this, the VPN is connected to a server of the country where the service is available as this will automatically grant your device an IP address of that country.
Along with this, it also covers your IP address so that your actual location cannot be found out by the service, because if this happens your access will be blocked.
This is how a VPN works by providing a fake IP address to your device to let you access any service of your choice from wherever you are located.