Best Way to Protect Your Child Online: Stay Safe & Anonymous (2023)
As the internet has become such an important part of our daily life today, we must acknowledge all aspects of it. This is true not only for adults but also for children as child protection online is becoming a serious issue these days.
With the wonders that the internet can do for your children, you must know that it also poses many threats to your child's privacy online. It's almost as if your child is always exposed to risks online. For this reason, it becomes very important to protect your child online.
There are many steps that you should take as a parent, one of the most important of all is to set up a good VPN for the device that your child uses. A VPN acts as a shield to your child's privacy online.
A VPN keeps the actual identity of your child concealed and their data encrypted so as to make sure that neither their identity nor their data falls pray to cyber criminals. It keeps your child protected on every front that might potentially be targeted online.
In this process of protecting your child online, just using a VPN does not suffice, but the choice of your VPN plays an even more significant role. Our thorough research shows that ExpressVPN works best in the case under consideration.
Quick Guide to Protect Your Child Online?
Set up a good VPN service like ExpressVPN on the device that your child uses.
Enable Two-Step-Verification on all the social media accounts of your child.
Use parental control.
Set boundaries and rules and make your child understand them thoroughly and with all seriousness.
Set up a safe web browser on the device that your child uses.
Teach them not to log into untrustworthy sites.
Enable ad-blockers
Is children's online privacy that serious?
It definitely is a serious issue which needs proper attention as the opposite will lead to rising undesirable consequences. Internet today is as harmful as useful it is and thus is a resource for both, good and bad practices.
Kids unlike adults are unaware of how their online security and privacy can be harmed easily if strict measures are not taken for the same.
Kids are not well aware of how online malware practices are done, what can lead to harming their online security and privacy, what looks normal but is actually harmful, etc. and thus they often end up doing things which turn out to be dangerous for their online security and privacy.
Clicking on wrong links which are created by hackers and other third parties for malware practices are mostly opened by kids for different reasons, sometimes they are unaware of the harm it can cause, sometimes they get curious to open it, etc. and then it ends up being a problem for them.
Social media and other online websites are also used by kids which ask for details like age. But it's very easy to enter a fake age in it and get access to any service on the internet because mostly there's no measure taken to ensure the age is original.
It's very common that kids to post information on the internet which shouldn't be posted and the most common reason is that they are unaware of what all unwanted consequences it can lead to. Such information includes mobile number, address, bank details, etc.
Having such information on the internet makes it very easy for the hackers to perform a scam and even blackmail the kids which then leads to further problems.
It's not like these scams do not happen with adults but kids are much more likely to get scammed, as they do not follow restrictions online and thus fail at avoiding such malware practices.
How can a VPN help in protecting children's online privacy?
An excellent and one of the most trusted method for protecting your youngster online is by using a VPN. These are secure, private networks that hide your information from prying eyes, give it a different IP address and even encrypt it as an additional security precaution.
Your children's internet activity won't be observed by anyone, even the ISPs, if you use a VPN. Additionally, they are beneficial since they shield your device from malware, advertisements, and hackers. Since incidences of data theft frequently result in identity theft, robberies, and other similar crimes, it is crucial to keep your data secure.
A VPN subscription is not very expensive, and the cost will vary in accordance with your choice of VPN and the duration of the plan, as well as the features that you chose to unlock.
Many people think of this as an unnecessary expense, but you have to realize that your child's online privacy and safety if more valuable than that amount.
The simplest approach to guarantee your child's internet safety is using a VPN. Even further, you can use one that supports many connections running at once. If you do, you and your family can all use it to browse the web safely and secretly.
Steps to set up your VPN for protecting children's privacy online
If you want to protect your child online, follow the detailed step given below to set up your VPN account on the device that your children use so as to ensure that they are protected online at all times.
Step 1: First, since you need a VPN, start off by signing up for a strong and reliable VPN service. We strongly recommend that you use ExpressVPN(get 49% discount + 3 months free).
Step 2: Next you are required to download the app of your selected VPN and install it on your device.
Step 3: All top-notch VPNs require a subscription. So, select a VPN plan you find most suitable and proceed by paying.
Step 4: After you have successfully made the payment and registered on your chosen VPN, sign in to the VPN app by inputting the same credentials using which you have registered for your VPN.
Step 5: On your VPN app, connect to an appropriate VPN server.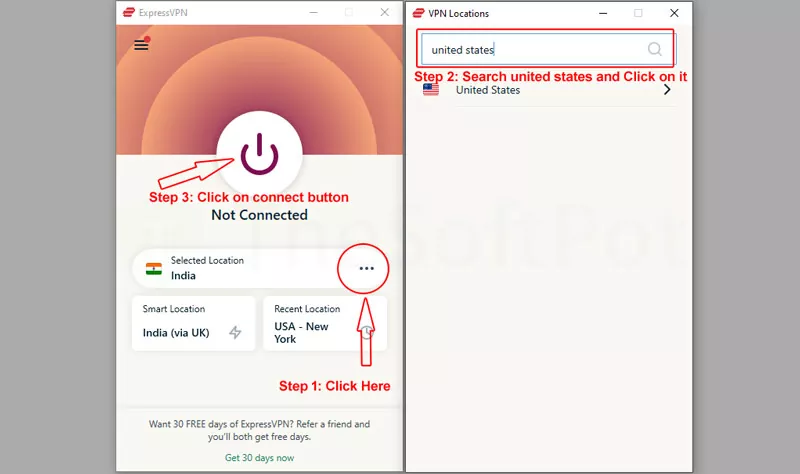 Step 6: Once the device is connected to a suitable VPN server in accordance with the need, you can stay relaxed and your child can use the internet without any of you having to worry about their privacy online.
Important tip: to make sure that the privacy protection is carried out as expected, it is important that you make use of a strong and reliable VPN service. In accordance with our research, we strongly recommend ExpressVPN for guaranteed results.
Other ways you can protect your child's privacy online
1. Enable Two-Step-Verification on all social media
It is extremely important that Two-Step-Verification is enabled on all social media accounts of your child. It ensures an extra layer of protection on all their social media accounts.
It makes sure that no third person is able to step into your child's account to use it with malicious intentions.
2. Use Parental Control
In addition to using a VPN, it is very important that you make use of a parental control application on the device of your child.
These apps give you an insight into the activities of your children and also enable you to set limits and filter the content that they can have access to on their devices.
3. Enable ad-blockers
These days, children are at risk even because of the advertisement that pop up when they are surfing on the internet.
These advertisements have malicious links and can land your child on unwanted malicious platforms. You can prevent that from happening by using an ad-blocker on your child's device.
4. No logging into untrustworthy sites
Another risk to your child's data and identity privacy is untrustworthy sites that require you to enter your login information before you can access them.
Teach your child how risky logging into untrustworthy sites could be so that they restrain from doing it at any cost.
Frequently Asked Questions
What kind of threats is my child exposed to online?
Using internet exposes your child to a lot of online threats. These threats are to online security and privacy. Scams are done by hackers. It's a common mistake among kids to click on pop-ups and links which appear on social media or other websites online.
Can children enter fake age on social media to get access to them?
Yes, most of the social media services and other online websites or apps do not have a measure to check if the age entered by any user is fake or original. And that is why children can easily enter fake age on online websites or apps, social media services, etc. and get access to them.
How can I enable parental control on my child's device?
There are various apps designed to enable parental control on your child's device and thus can you choose any suitable app to use on your child's device.
Are parental control apps actually helpful?
These apps are really helpful as they allow you to set limits on what your child can access on their device, limit for screen time, keep an eye on what your child is accessing, etc.
This way enabling parental control can help ensure online security and privacy of your child while using the internet.
Conclusion
With the internet becoming a part of our daily life, both adults and children, it is important to keep your children protected from the risks that the internet poses to your children.
There are many ways you can protect your child online. One of the most important ones is a VPN. Using a VPN is one of the strongest shields you can add to your child's online privacy and security.
Since online privacy and security is a very sensitive issue you must invest in a good VPN service that is both strong and reliable. We strongly recommend ExpressVPN.