How to Unblock WhatsApp Calling in UAE And China In 2023?
In today's fast-paced and interconnected world, WhatsApp has emerged as an indispensable tool for communication and connectivity. But Whatsapp calling is blocked in countries like UAE and Chine. Through this article, you will be able to unblock Whatsapp calling in these countries.
With its user-friendly interface and wide range of features, WhatsApp has become an integral part of our daily lives. Whether it's a quick text message, voice call, or even a video call, WhatsApp provides a seamless platform for instant communication, regardless of distance or time zones.
In certain countries like the United Arab Emirates (UAE) and China, there are restrictions on WhatsApp calls. These restrictions are imposed by the respective governments and are part of their efforts to regulate and control communication channels within their jurisdictions.
With the help of a VPN(Virtual private network), you can bypass all these restrictions even if you are in UAE and China. So, let's commence this journey and see how you can make it work.
Quick Guide: How to unblock WhatsApp calling in UAE and China
The foremost step is to subscribe to a valid VPN like ExpressVPN.
Download the VPN app and sign up for your VPN account.
Now, connect to a VPN server in the US.
Open the WhatsApp and you are good to make WhatsApp calls.
Why UAE and China blocked Whatsapp calling?
The decision to block WhatsApp calling in the United Arab Emirates (UAE) and China is primarily by the respective governments' policies and regulations regarding communication services and internet control.
By blocking or monitoring these services, they aim to prevent unauthorized or encrypted communications that could be used for illegal activities or pose threats to national security.
In some cases, blocking WhatsApp calling could be a strategy to support domestic telecommunication companies. By restricting competition from free or low-cost VoIP services, governments may encourage the use of locally licensed telecom providers, promoting their financial interests.
The policies and regulations put in place by governments reflect their unique political, social, and cultural contexts. The reasons for blocking WhatsApp calling may vary from country to country.
How does a VPN work?
By connecting to a VPN server in a specific country, your device appears as if it is located in that country. This is because IP addresses are associated with geographic locations.
The VPN effectively replaces your real IP address with one from the server's location, creating the illusion that you are accessing the internet from that country.
This alteration in IP address helps you maintain anonymity and bypass geographical restrictions. When you access a service or website, it recognizes the IP address provided by the VPN and assumes that you are connecting from the server's location.
Consequently, you can access content or services that might otherwise be unavailable in your actual physical location.
Risks of not using a VPN for Whatsapp calling in UAE and China
Not using a VPN (Virtual Private Network) can expose you to various risks while accessing the internet. When you connect to the internet without a VPN, your online activities can be easily monitored and tracked by, government agencies, or malicious individuals.
Without the encryption and anonymity provided by a VPN, your personal information, browsing history, and sensitive data can be exposed.
Your IP address reveals your general geographic location. Without a VPN, websites and online services can track your IP address and gather information about your location. This can potentially lead to targeted advertising, location-based restrictions, or even surveillance.
A VPN can help protect against such threats by encrypting your data and providing a secure connection. A VPN must be practiced in order to maintain privacy.
Detailed steps on How to unblock WhatsApp calling in UAE and China
You can simply follow the steps given below on How to unblock WhatsApp calling in UAE and China
Step 1: First you need a VPN, start off by signing up for a strong and reliable VPN service. We strongly suggest going for ExpressVPN(get 49% discount + 3 months free).
Step 2: Next you need to download the app of ExpressVPN and install it on your device.
Step 3: All First class VPNs require a subscription. So, select a VPN plan you find suitable, and now you are one step away from making your calls.
Step 4: Once you have completed the payment process and registered for the VPN service, you can proceed to sign in to the ExpressVPN app.
Step 5: Now open the ExpressVPN app, and connect to an appropriate VPN server in the US.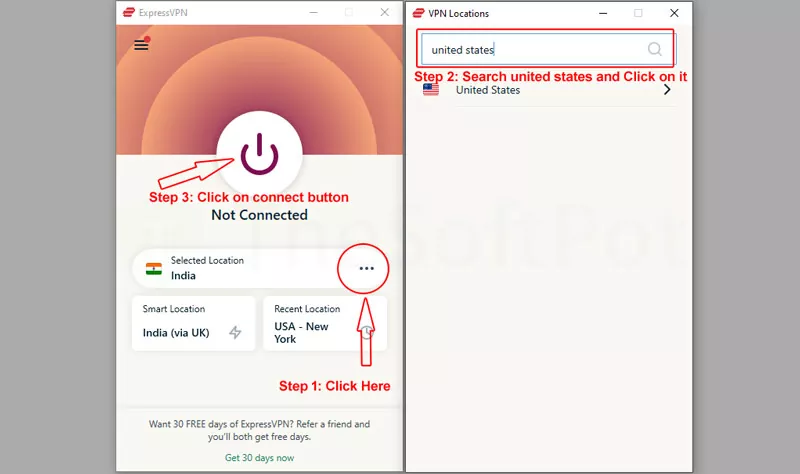 Step 6: Now, you are able to make Whatsapp calls even if you are located in UAE or China. Enjoy Unlimited free Calling.
How to make a wise VPN choice?
It is crucial to exercise caution when choosing a VPN as not all options in the market can be considered trustworthy or reliable. This is particularly true when considering free VPNs, as they often come with significant risks and drawbacks that can compromise your online security and privacy.
Free VPNs have been associated with various issues, including data leaks, selling user information to third parties, displaying intrusive ads, and even malware distribution. Therefore, it is highly recommended to avoid using free VPN services altogether.
These factors considerations are given below is important in order to select best VPN :
Ease of use
Security and secure
Speed and performance
Accessibility
NO-logs policy
Server locations
Unblocking efficacy
Reliable encryption
Anonymity
Versatility
Server network
Transparent pricing
Customer support
Reputation and trustworthiness
If VPN doesn't work? Here are some quick fixes
If you encounter issues with your VPN despite following the suggested steps, there could be various reasons causing the problem. In many cases, the following simple fixes can help resolve VPN issues:
Switch between servers
Reinstall your VPN application
Switch to another internet connection
Update your VPN app
Consider getting a better VPN
Remember, if you continue to experience problems, reaching out to the customer support of your VPN provider can often provide you with more specific troubleshooting assistance tailored to your situation.
Frequently Asked Questions
is there any other way than using VPN?
There are a plethora of tracks you can have access to Whatsapp calling but VPN is the most trustful and genuine way of all.
Can I use free VPNs available online?
Using free VPNs that are available online is strongly discouraged due to the potential risks they pose to your online privacy and security.
what is an IP address?
It is kind of a geolocator which can detect from where you are working a specfic gadget.
Conclusion
Hope this article helps you unblock the WhatsApp calling feature even when you are located in UAE or China with the help of a VPN and how it functions .