Why Do I Need A VPN For Gaming (10 Reasons)?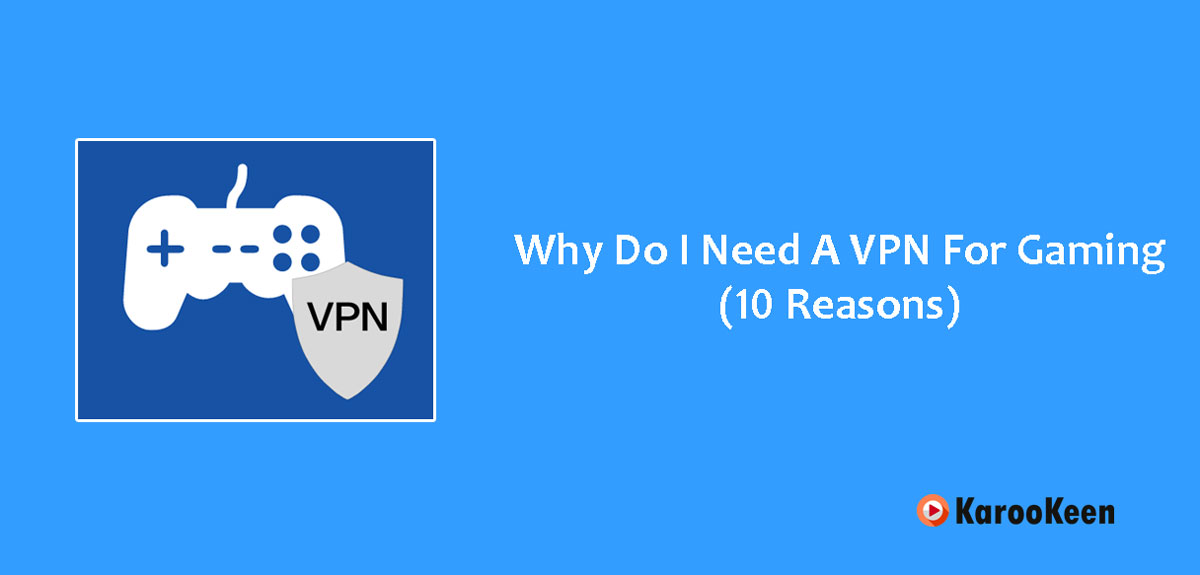 Gaming is the modern-day sport and entertainment for children in the present times. Since it has become so widely prevalent, it could also act as a tool for carrying out illegitimate activities. This is where a VPN comes into play.
In gaming, there are many reasons why you need a VPN for gaming. Of these many reasons, two of the most popular as well as important ones are to get access to games that might be geographically restricted and to remain same, private and anonymous while you are gaming.
A VPN is very important to make sure not only that you have access to all gaming platforms and services but also to make sure that you are protected while you are busy enjoying the game.
You must make sure that you make use of a good VPN in order to make sure that the purpose is fulfilled because not every VPN is strong and reliable enough for gaming. We strongly recommend ExpressVPN.
Quick Guide: How to Use a VPN For Gaming?
Carefully pick a VPN service of your choice. Our research has shown ExpressVPN to be the best at its work.
Choose the VPN plan that suits you and your needs best and proceed by making payment for it.
Download the VPN app on your device, create your account and log into it.
Connect to a suitable VPN server in a suitable country like the US and enjoy safe and improved gaming from anywhere.
10 reasons why you need a VPN for gaming
Here are the best reasons why you need a VPN for gaming.
1. Reduces lagging and ping timing
Ping time means the time taken for sending and receiving the data from the device through which the game is played to the server of the game.
And long ping times are the most common reason for delays and thus for lagging in games online which ends up ruining the game and the fun in playing it.
Mostly the long ping times are due to the distance between the game server and the device used for playing the game.
Using a VPN can solve this problem by reducing the ping times because a VPN has access to lots of servers and you can choose to connect to the closest and suitable server for playing.
2. Gets past IP bans
If players break the rules and regulations of the service, various game manufacturers implement IP bans to prevent them from accessing the game. Bans can be either temporary or permanent.
Connecting to the service using a VPN provides your device a new IP address, allowing you to get around the block if you do discover that you have been IP blacklisted for some reason.
Be aware that using a VPN is actually prohibited in several games. However, a good VPN includes sufficient servers so that you are able to connect to a different server if you discover that the server earlier in use has been blocked.
3. Unblocks blocked games
Using a VPN allows you to unblock the games which are blocked in your region. For this, it connects to a server in a region where the game is available and not blocked because doing so will give your device an IP address of that region.
In this manner, the game service will consider your location to be of a region where the game is available, allowing you to have access to it from anywhere you are located.
4. Play games from any region
If you have access to VPN, you can connect to a server in any country around the world and therefore, you will be able to play your game on any gaming server.
This can be done to play with gamers from across the globe and get access to different country versions of the same game from anywhere around the world.
5. Solves bandwidth throttling
Numerous ISPs limit or slow down bandwidth for various reasons. Some people use throttling to reduce network congestion on certain days and at particular times.
By encrypting your data, a VPN can help you escape data throttling and make it more difficult for your ISP to determine whether you are gaming or just browsing the internet.
It is considerably more difficult for your ISP to throttling your data thanks to the ability of many premium VPNs to swap the ports you use.
6. Stay safe even on public wifi
When you are in a public place, you must be aware that when connected to a public wifi, you are exposed to all kinds of cyber risks. What is meant by this is that cybercriminals find it easier to attack those devices which are connected to public wifi.
However, if you make use of a VPN, your identity will be guarded and you will be safe even when connected to a public wifi.
7. Guards from potential cyberattacks
DDoS attacks on gamers may occur if other players try to prevent them from engaging the game. Players need to be able to reach your IP address in order to launch a DDoS attack.
Using a VPN when gaming prevents adversaries from determining your precise IP address, assisting in preventing DDoS attacks when you engage in gaming online.
8. Play with your identity concealed
VPNs are designed in a manner that they can ensure your identity is not revealed online.
They create private network over the public network, keeping all your personal information confidential and ensuring that no third party can get access to it. In this way, you can play games online without your identity being revealed.
9. Get past school or workplace block
There are certain school and workplace regions where various or all gaming services are banned and thus can't be used.
Employing a VPN on your device ensures that the service cannot know your actual location and therefore cannot find you are in a region where the service is banned, making it possible for you to access the service.
For this a VPN gives your device a required fake IP address of a region where the game is available which will hence let you enjoy playing the games.
10. Keep away from Targeted marketing
Targeted marking is one of the spheres that are creeping quickly into the gaming world. It uses algorithms to bombard you with advertisements that the system determines you might like.
Using a VPN will keep you away from being a target of targeted marketing and therefore from getting annoyed at the constant popping-up of targeted advertisements.
Detailed steps to set up your VPN for gaming safe
If you want to set up a VPN on your device for a safe, secure, private, anonymous and overall improved gaming experience anywhere around the world, you can follow the steps given below:
Step 1: First, since you need a VPN, start off by signing up for a strong and reliable VPN service. We strongly recommend that you use ExpressVPN(get 49% discount + 3 months free).
Step 2: Next you are required to download the app of your selected VPN and install it on your device.
Step 3: All top-notch VPNs require a subscription. So, select a VPN plan you find most suitable and proceed by paying.
Step 4: After you have successfully made the payment and registered on your chosen VPN, sign in to the VPN app by inputting the same credentials using which you have registered for your VPN.
Step 5: On your VPN app, connect to an appropriate VPN server. If you are seeking to get access to a game that is blocked in your country, connect to a server in the country where it is available.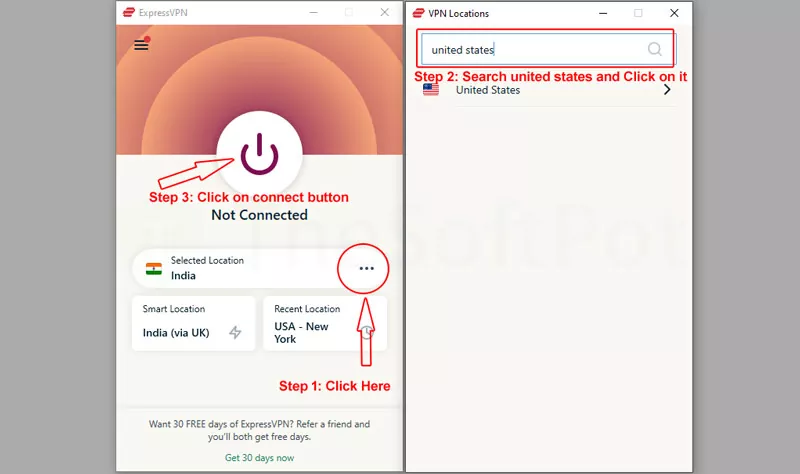 Step 6: Once the device is connected to a suitable VPN server in accordance with the need, you can get safe, secure and private access to any game from anywhere around the world.
Frequently Asked Questions
Can using a VPN give me access to games which are banned in my region?
Yes, a VPN can provide your device with a fake IP address of a region where the game is available by connecting to a server. The game will consider your location to be of a region where the VPN is connected, thus you get access to the game.
How can a VPN ensure safety while gaming online?
VPN stands for Virtual Private Network. As its name suggests it creates a private network over the public network in use so that the data or information which is demanded by the games you play is kept confidential and cannot be accessed by any third party for misuse.
Do VPNs Affect The Speed While Gaming?
No, good VPNs do not compromise with the speed while playing games online and thus allows you to enjoy gaming to the fullest.
One such great VPN is ExpressVPN and should definitely be your first choice.
What If I Use A Free VPN For Playing Games Online?
Free VPNs are not safe and trustworthy. These VPNs risk your online security and privacy and should be strictly avoided. As online games get access to some of your personal information, using a free VPN might lead to unwanted consequences.
Conclusion
It is advisable to make use of a good VPN for gaming because of the benefits it has and also because of how it becomes necessary in certain cases.
If you want to play a game from a region where the game is not available for whatever reason, then VPN helps you get access to the game without your physical location being an obstacle.
Also using a VPN for gaming ensures you are safe online, as games demand information including some personal information which needs to be protected using a VPN.
Therefore, choose a good VPN like ExpressVPN and enjoy playing games safely from anywhere.