11 Best Christian Movies on Hulu [Updated 2023]
Are you in the mood to delve into some entertainment concerning your faith in Christianity? If you are a big fan of Christian Movies then stay with us. Hulu has a collection of the Best Christian movies. We have listed the finest Christian movies on Hulu.
It is true that Hulu does not function outside the USA. However, you can still enjoy the excellent collection of Christian movies on the platform from anywhere around the world by bypassing the geo-restrictions of Hulu using a VPN.
You can check out our latest guide on how to watch Hulu outside the US.
List of Best Christian movies on Hulu
If you are ready for some of the finest entertain meant creations on Christianity, you should tune in on Hulu immediately! Below are 11 of the most admired Christian movies on Hulu where you get the best streaming experience from anywhere using a VPN.
1. I Still Believe
Year of release: 2020
Cast: KJ Apa, Britt Robertson, Melissa Roxburgh, Nathan Parsons, Shania Twain, Gary Sinise, etc.
Director: the Erwin brothers
IMDb Rating: 6.4/10
Runtime: 1 hour 55 minutes
Despite Melissa's brief existence, Christian singer-songwriter Jeremy Camp embarks on a moving journey of love and marries her.
2. Jonah: The Musical
Year of release: 2017
Cast: Tricia Bridgeman, Sight & Sound Cast, Mark Bradley, Rodney Coe, Steve Atherholt. etc.
Director: Wally Calderon
IMDb Rating: 7.5/10
Runtime: 1 hour 56 minutes
It is inspired by Australian author Louis Stone's Jonah, published in 1911. The musical is a sarcastic tale of the capitalist ascent of a hunchback shoe repairman from a regional Push leader to an industrial mogul and is based in the inner Sydney suburbs thirty years before World War I.
3. Paul, Apostle of Christ
Year of release: 2018
Cast: Jim Caviezel, James Faulkner, Olivier Martinez, Joanne Whalley, etc.
Director: Andrew Hyatt
IMDb Rating: 6.6/10
Runtime: 1 hour 48 minutes
Luke risks his life to travel to Rome to see the apostle Paul, who is imprisoned there in Nero's bleakest and darkest cell, tied in chains.
As he waits for his brutal execution, Paul is troubled by the memories of his past transgressions and questions whether he has been forgotten. Luke decides to finish a second book about the beginning of the future church before Paul passes away.
4. Greater
Year of release: 2016
Cast: Neal McDonough, Leslie Easterbrook, Christopher Severio, Michael Parks, etc.
Director: David L. Hunt
IMDb Rating: 7.3/10
Runtime: 2 hours 10 minutes
When Brandon Burlsworth was informed he was just not capable of playing Division I football, he took a chance and stepped on, and he went on to become the most admired player in the history of the field.
5. Catching Faith
Year of release: 2015
Cast: Lorena Segura York, Garrett Weston, Bill Engvall, Alexandra Boylan, Lizz Carter, etc.
Director: John K.D. Graham
IMDb Rating: 4.7/10
Runtime: 1 hour 28 minutes
Alexa Taylor appears to have the ideal life; both her son and daughter are accomplished athletes and outstanding students. But Alexa discovers that family and faith are what really matter when things go wrong and friends abandon her.
6. Silence
Year of release: 2016
Cast: Andrew Garfield, Adam Driver, Liam Neeson, Tadanobu Asano, etc.
Director: Martin Scorsese
IMDb Rating: 7.1/10
Runtime: 2 hours 41 minutes
Father Sebastian Rodrigues and Father Francisco Garupe, two Portuguese missionaries from the 17th century, set out on a risky expedition to Japan in search of their missing master.
The two guys minister to the townspeople who practice covert Christian worship while they are there. They must deny their faith if discovered by feudal lords or the powerful samurai, or they risk a torturous and drawn-out death.
7. I Can Only Imagine
Year of release: 2018
Cast: J. Michael Finley, Madeline Carroll, Dennis Quaid, Trace Adkins, Cloris Leachman, etc.
Director: Andrew Erwin, Jon Erwin
IMDb Rating: 7.3/10
Runtime: 1 hour 50 minutes
Bart Millard's father, Arthur, mistreats him physically and psychologically as a child in Greenville, Texas. As his condition worsens, Arthur finds atonement by recommitting to his faith and rediscovering his love for his kid. Years later, as the lead singer of the Christian band MercyMe, Bart is inspired to write the popular song "I Can Only Imagine" by his troubled upbringing and his repaired connection with his father.
8. Pilgrimage
Year of release: 2017
Cast: Tom Holland, Richard Armitage, Jon Bernthal, John Lynch, Stanley Weber, etc.
Director: Brendan Muldowney
IMDb Rating: 5.9/10
Runtime: 1 hour 36 minutes
Irish monks make a reluctance-filled journey to Rome in the thirteenth century to accompany their monastery's most sacred relic. As they walk across a rocky environment that has been devastated by years of tribal fighting, their mission quickly turns dangerous.
9. Priceless
Year of release: 2016
Cast: Joel Smallbone, Bianca Santos, Amber Midthunder, Jim Parrack, David Koechner, Sarah Minnich, etc.
Director: Ben Smallbone
IMDb Rating: 6/10
Runtime: 1 hour 37 minutes
James, in dire need of some cash and hoping to reclaim guardianship of his daughter, sets out on a cross-country distribution for cash with no questions. The doubts in his head start to relentlessly follow him as he learns that he is giving birth to two young women. James transforms into an unusual hero and fights to protect the innocence and lives of both women as he starts to fall for one of them.
10. The Song
Year of release: 2014
Cast: Alan Powell, Ali Faulkner, Caitlin Nicol, Danny Vinson, Aaron Benward, etc.
Director: Richard Ramsey
IMDb Rating: 5.9/10
Runtime: 1 hour 56 minutes
Alan Powell, a long-struggling artist, finally succeeds with a love song he created for his wife, however, his marriage and life fall apart due to sudden popularity and temptations.
11. Remember the Goal
Year of release: 2016
Cast: Allee Sutton Hethcoat, Quinn Alexis, Sydney Marks, Jayla Palmer, Lacy Hartselle, etc.
Director: Dave Christiano
IMDb Rating: 6.3/10
Runtime: 1 hour 28 minutes
A newly graduated woman accepts a coaching position at an all-female Christian private school. She attempts to lead the squad to victory by resolving the issues of the top five performers.
Why use a VPN to watch Hulu outside the US?
The inability to stream on Hulu is due to the platform's ability to recognize a device's IP address, and if that IP address is from outside of the United States, access to the platform is prohibited. This leads us to the conclusion that access will be permitted if the IP address is concealed from the platform.
Using a VPN is the best approach to get the same result. When a Virtual Private Network (VPN) is utilized, it masks the device's real IP address and assigns a fictitious one by connecting to a server in a location where the platform is not restricted.
Since Hulu is only available in the USA, joining a VPN will give your device a phony American IP address, enabling you to stream from anywhere.
The ideal option is a VPN because it not only grants access to the site but also ensures that your personal data is kept entirely secure.
How to set up a VPN for Hulu
If you would like to enjoy streaming on Hulu to the fullest with all the content available on the platform and from anywhere around the world unrestricted, you would be needing a good VPN service.
Given below are the easy steps that will help you set up your VPN for Hulu.
Step 1: Sign up for a reliable VPN service like ExpressVPN to watch Hulu unrestricted.
Step 2: After downloading the VPN app, install it on your smartphone or another device.
Step 3: Sign in to the VPN app and connect to a VPN server in the US.
Step 4: Relaunch Hulu.
Step 6: You may now start streaming Hulu uninterrupted.
The Best VPNs for Watching Hulu Outside the US
We tested a lot of VPNs to find out which VPNs can help to watch Hulu outside the US. Out of these, we have listed 3 top VPNs here.
ExpressVPN: Overall best VPN for Security, Speed, and Reliability)
✔ The fastest VPN we tested thanks to its proprietary Lightway protocol
✔ 3,000+ servers in 94 countries which help you to unblock region-locked content
✔ Connect Up to 5 devices simultaneously with one account
✔ Unblock Netflix, VUDU, HBO Max, BBC iPlayer, Sky TV, and more
✔ You can use it on android, window, iPhone, Mac, Apple, Smart TV, Chrome, Router
✔ 30-day money-back guarantee
ExpressVPN offer December 2023: For a limited time, you can save up to 49% on 1-year subscription plan + 3 months free.
An expert would undoubtedly advocate ExpressVPN if you asked them to name the ideal VPN. The best VPN by a wide margin, ExpressVPN provides an extensive number of advantages.
There is merely a single toggle on the display. In a brief moment, it switches the VPN on and off. This VPN's speed is its strongest feature. No matter what you are streaming or which server you connect to, you will always experience the highest speed.
ExpressVPN boasts over 3,000 servers in 94 countries, allowing you to access content from all around the world.
MediaStreamer is a Smart DNS service provided by ExpressVPN. This function enables you to access streaming sites on devices that typically do not support VPNs, such as gaming consoles and smart TVs.
ExpressVPN's apps are user-friendly and easy to use & install. It took me less than a minute to configure it on my phone and windows. After that, all I had to do was click "connect" to activate the VPN. It started working.
In the app's settings, you can switch to Lightway or let the VPN determine the appropriate protocol for your network. There are also OpenVPN, IKEv2, and L2TP/IPsec options.
Speed and user experience go hand in hand with cybersecurity. Industry-standard functions like a kill switch, no DNS leak, strong encryption, and P2P servers make ExpressVPN perfect for any situation.
There is an incredibly quick customer service system that can assist you if you have any issues. With all of these advantages, ExpressVPN is tough to overthrow right away.
NordVPN: Budget-friendly VPN with good security features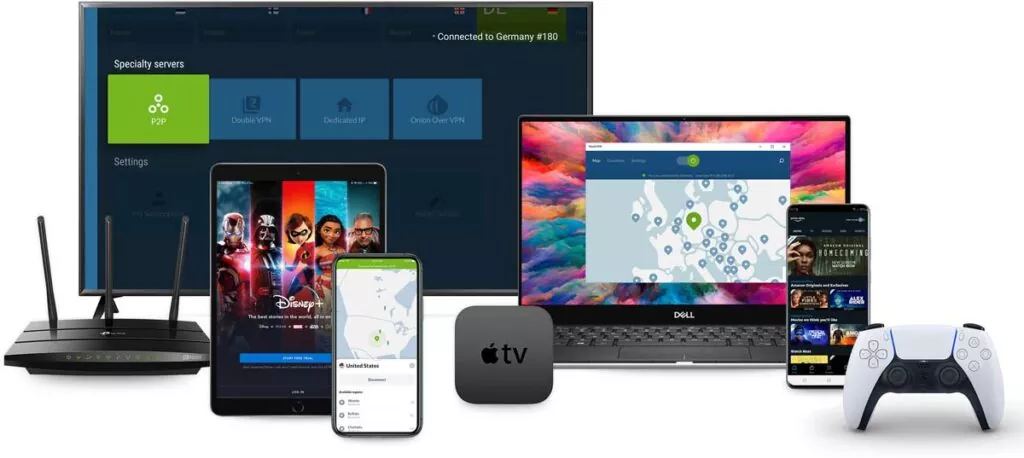 ✔ 5500+ ultra-fast servers in 59 countries
✔ Connect Up to 6 devices simultaneously with one account
✔ Stream Netflix, VUDU, HBO Max, BBC iPlayer, Sky TV, and more from anywhere
✔ Apps available for android, window, iPhone, Mac, Apple, Smart TV, Chrome, Router
✔ 30-day money-back guarantee
NordVPN offer December 2023: For a limited time, you can save up to 55% at 3.69/month on 2-year subscription plan + 3 months free.
Any game enthusiast will always mention NordVPN if you ask them for a VPN, and they are not mistaken. With 5,500+ servers in 59+ countries, this VPN can handle any gamer's needs.
Its unique feature, the NordLynx protocol, speeds up and strengthens communications. In addition to having features that are considered the industry standards.
It also offers a double VPN, which runs your data through two VPN filters to increase your online security.
A strict no-log policy also ensures that no session records are kept, giving you complete online anonymity and safety.
Every day of the week, expert customer care is accessible around-the-clock to help you with any issue, no matter how big or small.
Cyberghost: Optimized Servers for Streaming sites
✔ 7,000+ servers in 90 countries so you can easily access regional content
✔ Connect Up to 7 devices simultaneously with one account
✔ Unblock platforms like Netflix, VUDU, HBO Max, BBC iPlayer, Sky TV, and more
✔ Apps available for android, window, iPhone, Mac, Apple, Smart TV, Chrome, Router, etc
✔ 45-day money-back guarantee
CyberGhost VPN Exclusive Deal December 2023: For a limited time, you can save up to 84% at $2.03/month on a 2 Years subscription plan + 4 Months FREE
Cyberghost is the VPN for you if you choose speed over servers. Cyberghost can deliver the quickest performance on any server. CyberGhost offers specialized servers for gaming and torrenting
It provides robust security features to keep you safe from cybercriminals and other threats. This includes AES 256-bit encryption with perfect forward secrecy, plus DNS/IP leak protection and a kill switch.
OpenVPN and WireGuard are two industry-leading security protocols offered by CyberGhost.
OpenVPN is the most widely used protocol, with a good balance of security and speed that makes it suitable for most applications.
However, WireGuard has emerged as a viable alternative, offering quicker connections and more contemporary encryption.
Most VPNs do not have servers in censored countries, like China and the UAE. But Cyberghost has its servers in both countries.
It enables up to seven simultaneous connections from multiple devices, enhancing the flexibility and entertainment of TV viewing. It is one of the most economical VPNs available in terms of price.
Conclusion
Hulu gives you access to some of the most extensive collections of quality content and if you are interested in watching movies related to Christianity, Hulu is undoubtedly the best option for you. It offers you the all-time worldwide appreciated Christianity movies.
However, due to the fact that Hulu functions only inside the territorial boundaries of the United States, in order for you to be able to stream the best Christian movies from anywhere around the world, you would be required to use a VPN.
We recommend that you use a good VPN service like ExpressVPN as not every VPBN will be strong enough to bypass the geographical restriction and reliable enough with your online data and activities.
ExpressVPN has been thoroughly tested and it has been found to function exactly as one would like their VPN to work. ExpressVPN gets you the best streaming experience on Hulu.
FAQs
Can I use a free VPN to unblock Hulu?
It is definitely not suggested that you use a free VPN. This is because almost every VPN is fraudulent in some way. There is a huge risk of the VPN selling your personal data to a third part. We recommend ExpressVPN and so do the experts.
Are there good Christian movies on Hulu?
Yes, for sure! Hulu has some of the finest movies that help you get in touch with your faith in Christianity in a fun entertaining way. The above article provides a list of the top 11 Christianity movies on Hulu.
Why can't I access Hulu outside the US?
The reason why you are unable to access Hulu outside the United States is that the platform has been geographically restricted and functions only within the territorial boundaries of the US. However, if you want to watch on Hulu from anywhere, you can do so by using a VPN.