Is Omegle Safe? How To Get Yourself Safe On Omegle 2023?
Omegle is a video calling and chatting service that allows users to connect to other users from across the world. It has gained so much popularity as it enables users to connect and socialize with strangers, hence has become a popular past-time choice.
Nevertheless, the biggest question remains about its popularity. Is Omegle safe? Should you be using it at all? How can you ensure safety on Omegle?
You can ensure that your connection is safe and secure on Omegle with the help of a VPN. A VPN will keep your online activities on Omegle covered in several layers of protection.
We, just like the experts, suggest that you use ExpressVPN as it has been tested and therefore can be relied on while using Omegle.
In a Hurry? Here is a Quick guide For being safe on Omegle
Subscribe to a VPN like ExpressVPN.
Download and install the VPN app for your device.
Connect to a VPN server in a country of your choice.
Visit Omegle and start chatting with strangers without having to worry about safety.
What Can You Do On Omegle?
You can have private conversations with total strangers using the anonymous chat or video-chatting service Omegle. Not even registration is necessary. The platform is an excellent place to pass the time and provides a variety of possibilities, including some of the following:
You can video call other users.
You can text-chat with other users.
You can spectate conversations between two people.
A niche in the website for adults that typically features explicit content and programming
A chat room that is regulated.
Another where a caution box for an unmoderated chat option states that users must be at least 18 to participate.
A niche where only students with validated '.edu' email addresses can use the college student chat feature.
Is Omegle safe? What Are the Risks Involved?
Sadly, Omegle is not a secure social network. Since the service does not necessitate individuals to sign up using an email account or another form of identification and has no mechanism to confirm users' age group, it can potentially be rather risky.
Omegle presents a number of privacy and security concerns to users who are interested enough to start exploring the service's features.
Omegle has been known to be used by predators, and the absence of oversight and control makes the site a favorite of evildoers. Users may come across pornographic images and offensive conversational subjects including drugs and sex.
Anyone using the video calling and chatting features has the ability to record footage or take screenshots secretly. Additionally, each user's IP address is kept and could be easily found by a tech-smart person to ascertain the chat partner's whereabouts.
Omegle collects videos, chats, and information that can be stolen and utilized in a variety of online offenses against participants.
Due to the service's extensive data collection, discussions and exchanges on Omegle are regrettably not genuinely private. Instead, this information may be made available to police departments, other service providers, different third parties, and other users of this platform.
Why do you need a VPN for Omegle?
Security is one of the most important considerations when using a VPN to access Omegle. Data exchanged in Omegle chats is not safe because they are not encrypted.
Omegle doesn't appear to have strict moderation. Because internet abuse does not need registration or age verification, young people may be a target. It cautions users to use caution on its platform because predators have been known to use Omegle.
Omegle doesn't encrypt chat data, making it accessible to hackers, your internet service provider (ISP), and network administrators. VPNs prevent this by encrypting your network communication and making it unreadable to outside observers.
Your ISP is unable to sell your surfing habits to third parties as a result. Furthermore, VPNs let you connect to servers in several countries, potentially changing the nationality of the Omegle members you are interacting with.
Steps for Using A VPN for Omegle
As you are now aware of the potential risk factors for users while using Omegle, you also know how important it is to ensure that your connection is safe while are you busy having fun on the platform.
A VPN will do exactly what you need for maintaining safety, security, and anonymity on Omegle. It keeps your data and connection in several layers of protective measures which are active at all times and therefore cut the chances of you being exposed to any risks.
Step 1: Sign up for a reliable VPN service like ExpressVPN to remain safe on Omegle.
Step 2: After downloading the VPN program, install it on your smartphone or another device.
Step 3: Sign in to the VPN app and connect to a server in the country of your choice.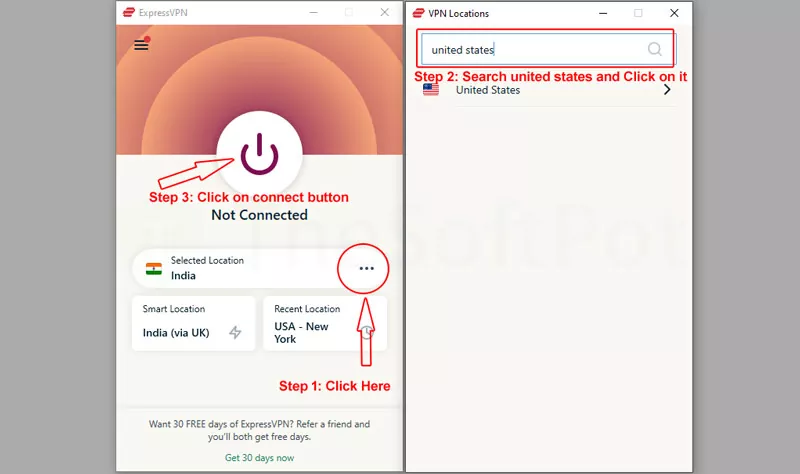 Step 4: Reopen Omegle.
Step 5: You may now start enjoying the various features on Omegle without any worries!
Following these five super simple steps will allow you to ensure your safety and security while using Omegle.
The Best VPNs to Ensure Safety on Omegle
We tested a lot of VPNs to find out which VPNs can help ensure a safe connection to Omegle from the world. Out of these, we have listed 3 top VPNs here.
ExpressVPN: Overall best VPN for Security, Speed, and Reliability)
✔ The fastest VPN we tested thanks to its proprietary Lightway protocol
✔ 3,000+ servers in 94 countries which help you to unblock region-locked content
✔ Connect Up to 5 devices simultaneously with one account
✔ Unblock Netflix, VUDU, HBO Max, BBC iPlayer, Sky TV, and more
✔ You can use it on android, window, iPhone, Mac, Apple, Smart TV, Chrome, Router
✔ 30-day money-back guarantee
ExpressVPN offer September 2023: For a limited time, you can save up to 49% on 1-year subscription plan + 3 months free.
An expert would undoubtedly advocate ExpressVPN if you asked them to name the ideal VPN for ensuring online security on Omegle. The best VPN by a wide margin, ExpressVPN provides many advantages.
There is merely a single toggle on the display. In a brief moment, it switches the VPN on and off. This VPN's speed is its strongest feature. No matter what you are streaming or which server you connect to, you will always experience the highest speed.
ExpressVPN boasts over 3,000 servers in 94 countries, allowing you to access content worldwide.
MediaStreamer is a Smart DNS service provided by ExpressVPN. This function enables you to access streaming sites on devices that typically do not support VPNs, such as gaming consoles and smart TVs.
ExpressVPN's apps are user-friendly and easy to use & install. It took me less than a minute to configure it on my phone and windows. After that, all I had to do was click "connect" to activate the VPN. It started working.
In the app's settings, you can switch to Lightway or let the VPN determine the appropriate protocol for your network. There are also OpenVPN, IKEv2, and L2TP/IPsec options.
Speed and user experience go hand in hand with cybersecurity. Industry-standard functions like a kill switch, no DNS leak, strong encryption, and P2P servers make ExpressVPN perfect for any situation.
There is an incredibly quick customer service system that can assist you if you have any issues. With all of these advantages, ExpressVPN is tough to overthrow right away.
NordVPN: Budget-friendly VPN with good security features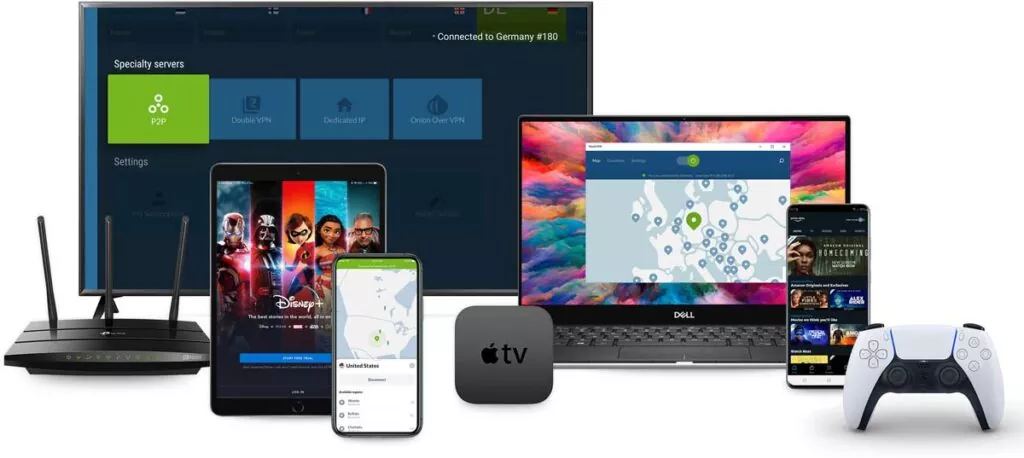 ✔ 5500+ ultra-fast servers in 59 countries
✔ Connect Up to 6 devices simultaneously with one account
✔ Stream Netflix, VUDU, HBO Max, BBC iPlayer, Sky TV, and more from anywhere
✔ Apps available for android, window, iPhone, Mac, Apple, Smart TV, Chrome, Router
✔ 30-day money-back guarantee
NordVPN offer September 2023: For a limited time, you can save up to 55% at 3.69/month on 2-year subscription plan + 3 months free.
Any entertainment freak or game enthusiast will always mention NordVPN for Omegle if you ask them for a VPN, and they are not mistaken. With 5,500+ servers in 59+ countries, this VPN can handle any gamer's needs.
Its unique feature, the NordLynx protocol, speeds up and strengthens communications. In addition to having features that are considered the industry standards.
It also offers a double VPN, which runs your data through two VPN filters to increase your online security.
A strict no-log policy also ensures that no session records are kept, giving you complete online anonymity and safety.
Every day of the week, expert customer care is accessible around-the-clock to help you with any issue, no matter how big or small.
Cyberghost: Optimized Servers for Streaming sites
✔ 7,000+ servers in 90 countries so you can easily access regional content
✔ Connect Up to 7 devices simultaneously with one account
✔ Unblock platforms like Netflix, VUDU, HBO Max, BBC iPlayer, Sky TV, and more
✔ Apps available for android, window, iPhone, Mac, Apple, Smart TV, Chrome, Router, etc
✔ 45-day money-back guarantee
CyberGhost VPN Exclusive Deal September 2023: For a limited time, you can save up to 84% at $2.03/month on a 2 Years subscription plan + 4 Months FREE
Cyberghost is the VPN for you if you choose speed over servers. Cyberghost can deliver the quickest performance on any server. CyberGhost offers specialized servers for gaming and torrenting
It provides robust security features to keep you safe from cybercriminals and other threats. This includes AES 256-bit encryption with perfect forward secrecy, plus DNS/IP leak protection and a kill switch.
OpenVPN and WireGuard are two industry-leading security protocols offered by CyberGhost.
OpenVPN is the most widely used protocol, with a good balance of security and speed that makes it suitable for most applications.
However, WireGuard has emerged as a viable alternative, offering quicker connections and more contemporary encryption.
Most VPNs do not have servers in censored countries, like China and the UAE. But Cyberghost has its servers in both countries.
It enables up to seven simultaneous connections from multiple devices, enhancing the flexibility and entertainment of TV viewing. It is one of the most economical VPNs available in terms of price.
Can't connect to Omegle? Here's the Solution!
Another reason why many users choose to use a VPN for Omegle is the Omegle ban.
Sad to say, getting banned from Omegle is as simple as having a lot of users exit your conversations abruptly within a short amount of time. There is nothing you can do about that.
Nevertheless, you can avoid a ban by using a VPN for Omegle. You should be able to connect to Omegle once more if you make use of a recommended VPN, that is ExpressVPN or another VPN as good as it, and change your IP connection as a result.
Making a smart VPN Choice
We searched for VPN providers with the following characteristics in order to identify the best most effective VPNs for Omegle users:
Very little effect on network speeds
The capability of securely accessing Omegle
Multiplatform compatibility
Robust encryption
Clear privacy guidelines and little data logging
FAQs
Can I use VPNs for Omegle?
Omegle frequently blocks well-known VPN IP addresses. But not for the same motives as streaming service providers, which is to protect their broadcasting rights.
Omegle forbids VPN connections because they are aware that users who have been banned from the site can use a VPN to get around their ban.
Which VPNs Are Good for Omegle?
As of this writing, we can confirm that ExpressVPN and Omegle operate nicely together. There is no need to worry when utilizing ExpressVPN to access Omegle because the best services are available.
Is there an age restriction on Omegle?
According to the tiny print on the Omegle homepage, if you are under the age of 13, you shouldn't use the website. Furthermore, it asks users under the age of 18 to get their parent's permission before contacting anyone.
Is Omegle banned anywhere?
As one might anticipate, Omegle is not accessible in China, the UAE, Libya, Jordan, Oman, or Qatar. Nevertheless, you may use a VPN to get around regional restrictions and access your chosen services from wherever.
Conclusion
Using Omegle is a great way to pass the time. Regretfully, there are several potential complications. Your connection to Omegle can prove to be very risky for your data and identity as you are unaware of the person you are connecting to on Omegle.
The platform does not have an established mechanism for identifying users. Moreover, due to site bans, network restrictions, or censorship, Omegle could become unavailable.
It might be really frustrating to know that a platform that comes with so much fun can be hazardous and in some cases, you may even be unable to access the platform when you want to pass the time or have some fun, but you do not have to continue feeling frustrated.
The most effective method for resolving issues with Omegle is to use a VPN.
It's crucial to utilize a VPN that is trustworthy and powerful enough to be used for Omegle. While some VPNs may be helpful, the majority won't. ExpressVPN is constantly advised by experts, thus we encourage utilizing it.
So, get ExpressVPN today and start using Omegle safely and anonymously!