How to Unblock Twitch if You Live in Russia or Got Blocked
Are you struggling with how to unblock Twitch services in Russia? With the help of a VPN, you will get rid of this issue. Twitch users don't have to worry as VPN will easily bypass the geographical restrictions on Twitch in Russia.
Using a VPN, you can conceal your IP address and route your internet traffic through an unblocked server in a different country, effectively circumventing geoblocking. The best VPNs also offer encryption for your data, ensuring your online activities remain private and secure, protecting you from monitoring and tracking.
It's worth noting that Russia has blacklisted several VPNs and proxy servers that might be used to access blocked content.
To address this, we've compiled a list of trustworthy VPN services that are known to work in Russia, along with instructions on how to use them to unblock Twitch. This method is also beneficial for Twitch users in Russia who may face restrictions on the service.
Quick Guide: How to unblock Twitch and use its services with the help of a VPN
Get a VPN subscription like ExpressVPN
Download and install the VPN app for your device.
Connect to an appropriate VPN server in the US.
Go to the official website of Twitch online and enjoy watching unlimited streaming and live shows all day from anywhere around the world!
Why do you need a VPN to unblock Twitch?
Using a VPN to circumvent censorship in Russia can be a bit challenging due to the government's restrictions on VPN services that began in 2017. Nevertheless, there are still functional VPN options that have managed to evade Russian blocking, making it possible to access Twitch while maintaining security.
When selecting the right VPN to enable access to Twitch in Russia, two key factors should be taken into account: server location and security features. The VPN you choose should have a substantial number of servers to ensure fast streaming speeds on Twitch.
These servers should be located outside of Russia to bypass any censorship measures but should also be in proximity to your location to maintain a good connection speed.
Opt for a highly secure VPN to safeguard yourself from potential government surveillance. The chosen VPN service should offer top-tier encryption and include features like a kill switch and DNS leak protection to keep your data secure, even in the event of a dropped connection.
Detailed Steps: unblock Twitch safely from anywhere
If you want to enjoy the services offered by Twitch from anywhere while making sure that your online safety and security are not compromised, just follow the detailed steps given below to make use of a VPN:
Step 1: The first and most important step is to choose a good VPN. The VPN must be strong and reliable for use. Our topmost recommendation is ExpressVPN as it ensures the best user experience.
Step 2: Once you have chosen a VPN, analyze the VPN service subscription plans and pick the one that suits your needs best. Finish the process by making payment for your chosen plan.
Step 3: Once you have set up your VPN subscription, download the VPN app on your device and log in using the same credentials that you sent while creating your VPN service account.
Step 4: Once you are logged in on your VPN app, connect to a VPN server in the US where using Twitch is legal.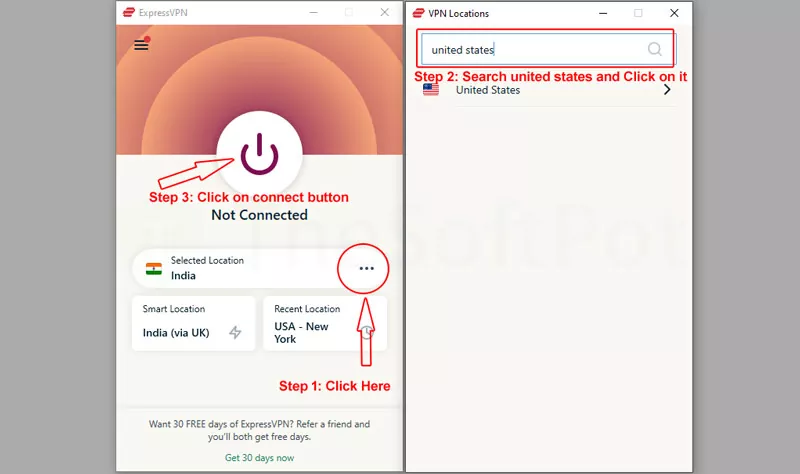 Step 5: Enter the platform in the search engine of your device. When the Twitch platform is launched, you can directly get to streaming.
Note: There is no need to create an account or log in on theTwitch, just directly surf through the huge content catalog and start streaming safely from anywhere around the world!
Why Express VPN is the best?
When we conducted tests to determine the fastest VPNs available, ExpressVPN emerged as the top choice. With a network spanning over 3,000 servers across 160 locations worldwide, it ensures lightning-fast speeds, making it ideal for seamless live streaming on Twitch.
ExpressVPN is committed to user privacy through its strict no-logging policy. It is headquartered in the British Virgin Islands, which means it is not subject to data retention laws, providing an extra layer of security.
The service employs robust 256-bit AES encryption, DNS/IPv6 leak protection, a kill switch, and even offers a valuable split tunneling feature, all working tirelessly to safeguard your data.
For added convenience, ExpressVPN accepts a variety of payment methods, including Qiwi, YooMoney (Yandex), WebMoney, UnionPay, and Bitcoin, offering flexibility to users.
You can confidently try ExpressVPN now, and it's backed by a 30-day money-back guarantee. Alternatively, you can explore the positive user reviews to further validate its performance and reputation.
Can I use a free VPN?
While free VPN services can be appealing due to their cost, they come with several significant drawbacks and limitations:
Limited Server Locations: Free VPNs typically offer a limited number of server locations. This can result in slower speeds and restricted access to geo-restricted content.
Slower Speeds: Free VPN services often provide slower connection speeds compared to premium VPNs. This can lead to buffering while streaming, slower downloads, and a less smooth browsing experience.
Data Caps: Many free VPNs impose data caps or bandwidth limitations. Once you exceed these limits, your connection may either slow down significantly or be cut off entirely.
Security and Privacy Risks: Some free VPNs may not implement robust security measures, potentially leaving your data vulnerable to cyber threats. Additionally, some may log your online activity and sell your data to third parties.
Limited Features: Free VPNs usually offer fewer features than their premium counterparts. You may miss out on important security features such as kill switches, split tunneling, or dedicated customer support.
Ads and Pop-ups: Many free VPNs rely on advertising for revenue. This means you'll likely encounter annoying ads and pop-ups during your online sessions, which can be intrusive.
Is VPN ban on Twitch?
While Twitch doesn't explicitly state that VPN usage is prohibited or could result in expulsion from the platform, there have been reports from Twitch users who claim to have experienced shadowbans after utilizing VPN services.
Can you use a VPN on Twitch?
Indeed, it is possible to employ a VPN to access and stream content on Twitch. In fact, numerous Twitch users have purportedly turned to VPN services to enhance their privacy and security while using the platform.
Do Free VPN Services Also Work For Accessing Twitch?
Certainly, it's feasible to utilize a free VPN to regain access to Twitch if you've been banned. Free VPNs can provide you with a different IP address, enabling you to continue watching Twitch streams and engaging in other platform activities.
What VPN do pro streamers use?
Many Twitch users and streamers opt for widely recognized VPNs like ExpressVPN
To Conclude
Engaging with the Twitch community by watching streams and interacting with fellow gamers, artists, and like-minded individuals is a rewarding pastime. Experiencing restricted access to the platform can be incredibly frustrating. Thankfully, in many cases, you can overcome IP address bans on Twitch by using a VPN dedicated to Twitch.
While Twitch may not have been deliberately banned by the Russian government, the prospects of it being unblocked in the near future seem uncertain. Until such a time comes, a dependable VPN remains the sole means to unblock Twitch safely and securely in Russia.
For further information on circumventing Russian censorship, consider exploring our compilation of the finest VPNs for use in Russia. If you encounter difficulties while trying to download your VPN, discover effective methods to bypass VPN blocks effortlessly. If security is a concern, acquire insights on how to render your VPN undetectable.