What Is a VPN? Why Do You Need It? [Beginner's Guide 2023]
Do you know what is a VPN? What are the uses of VPNs and why do you need it? Say with us and read the article till the end. You will get the answers to all questions.
You can establish a secure link to other networks online using a VPN, or virtual private network. VPNs can be used to unblock websites that are only available in certain regions, mask your online activity on open Wi-Fi from unwanted prying, and much more.
VPNs are very well-liked today, but not for the purpose they were first developed. They were initially only ways to safely link business networks over the web or provide you connectivity to a business network from your home's comfort.
These simply route all of your network traffic to the network; this is where the benefits, such as distant access to local network resources and evading Internet restrictions, all originate. Most operating systems enable VPNs natively.
What is VPN?
In easy terms, using a VPN, you can access the internet through the computer's (server's) internet access by connecting your PC, smartphone, or tablet to another computer online.
Consequently, if that server is located in a different region, it will appear as though you are coming from that region, giving you access to resources you otherwise would not have had.
Encryption provides an additional degree of security, especially for companies that routinely use remote access. Additionally, it can be a useful tool for streaming, gaming, and traveling.
How VPN Works
When you connect to a VPN, your data is encrypted and transmitted across a secure tunnel. This means that as your data travels between your computer and the VPN server, it is converted into an unreadable code. A human being can't read it.
Your device is now considered to be on the same local network as your VPN. As a result, your IP address will be the IP address of one of your VPN Provider's servers.
Thus, you can keep your online browsing safe from hackers and ISPs. You can also easily unblock the streaming platforms and channels from anywhere and watch region-locked content of any sites like Netflix, VUDU, BBC iPlayer etc.
Follow the below easy steps to use a VPN on your device.
How to Use a VPN on Your Device [Step by Step]
Step 1: Subscribe to a VPN like ExpressVPN(Get 49% discount, plus 3 months free).
Step 2: Download and install the VPN app for your device.
Step 3: Connect to any VPN server from the list.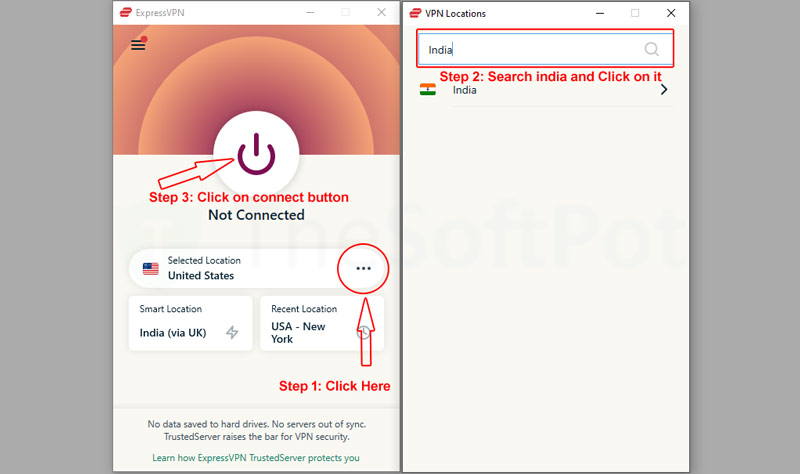 Step 4: Enjoy safe and secure online browsing.
Why do you need a VPN?
VPN has been must need tool for your devices which is used for internet browsing. It does not matter if you are working at home or office. Here we have listed the reasons why should we use VPNs.
Confidentiality on Public Wi-Fi:
Public Wi-Fi is useful, but confidentiality suffers as a result. You could have someone watching your internet activity while you're checking emails at a nearby local cafe or mindlessly scrolling through social media at the airport.
Access to Any Content in Just about any Location:
Although Netflix might disapprove of your use of a VPN to watch the latest Stranger Things episode in a region where that content is still not available, doing so is allowed (in the U.S. and most other nations) and it allows you to find a beneficial solution to content limitations.
VPNs mask your real location, giving the impression that you are surfing from a different area. This means that although Stranger Things is not available in your country, you may still watch it online using a good VPN.
Compliant to Multiple Smart Gadgets:
Although many of us may initially test a VPN on a laptop that we've acquired from our workplace, many VPN providers also provide protection for other smart devices, including phones, tablets, and personal computers, etc.
Many VPN companies offer packages that ensure your privacy across a variety of devices, although each provider may offer somewhat different protection plans and have varying capacities to secure certain devices.
Protecting Your Data And Online Activity From The Government:
Although many ISPs, applications, and internet data centers claim they do not sell your surfing details to governments, the information nevertheless ends up in their possession.
Americans are more conscious of the various ways the government monitors and gather their data since 2013, when Edward Snowden first revealed Verizon had been selling users' cell phone and internet information to the NSA.
Several laws were passed to limit governmental monitoring in the wake of the leaks and the ensuing controversy.
Yet, as reported by the New York Times, the Defense Intelligence Agency recently circumvented a regulation requiring federal agencies to obtain warrants before requesting phone companies' user data by paying third-party data brokers for the same material.
A VPN is a wise purchase in data security if you are concerned about state overreach.
Sensible Savings:
A VPN's ability to disguise your location can save you funds if you are willing to do some research. Airlines and subscription-based platforms are just two examples of several corporate types that charge various fees for the same amenities or goods.
You can make significant savings if you change the appearance of your site to one where these services are provided at a lower cost.
Privacy Protection From The Internet Service Provider:
You are less likely to be attacked by strangers at home than you are in a public place when using Wi-Fi. Your data is nevertheless still in danger.
All of your internet data is accessible to your ISP, or internet service provider or any other business you are paying for your Wi-Fi. When, where, and how you browse are all visible to your ISP.
Even when you are in the "private" browsing mode, your information can still be gathered and sold to marketers, as it was mentioned in the previous point.
It can be harmful if it falls into the wrong hands in case of any data breach. Your IP address can be hidden from your own ISP with the use of a VPN.
Protection When Working Remotely:
The data encryption capabilities of a VPN are an advantage. You can protect sensitive data via encryption, which is the process of putting data into a coded format that obscures its content.
If you're an individual considering purchasing a VPN for your business, one advantage is that employees can access your office network and view confidential documents on their personal devices while they're not at work.
A VPN is a useful investment because remote work appears likely to continue in the future. This will help to keep sensitive information protected off-site.
Data Protection from the Applications and Services That You Use:
Your ISP isn't the only liability issue that you've managed to bring into your residence. Unfortunately, a lot of our top applications and websites have come under fire for how they've handled user data.
A VPN will stop apps and sites from linking your online activity to your computer's IP address. Additionally, it can restrict who can access your location and browsing history.
What is VPN Used For?
There are multiple uses of a VPN, the most common are the following:
Business
Everyone who works remotely can safely access the company network by using a VPN, which also offers data security for projects and documents.
Internal communication within a company will stay secure if you use a VPN on your shared network. Your business will be less exposed to cyberattacks as a consequence.
Access control features are another feature of VPNs that prevent all employees from having access to private data. Before access is provided, users must log in and confirm their authorization.
It is critical to understand that every transaction is secure. A VPN prevents illegal monitoring of your business transfers or activities by anonymizing your outgoing traffic and encrypting your connection.
Gaming
You have additional access alternatives for gaming because employing a VPN reroutes your internet connection, especially for cloud gaming services like Stadia.
Some VPNs can enable you to access games that are accessible outside of your region, based on the provider. Similarly to this, other nations prohibit games because of their graphic nature. You can circumvent those limitations with a VPN by connecting via a server in another location.
For multiple reasons, some internet service providers purposefully slow down their service. You could avoid needless ISP slowness by using a VPN.
When you're prepared to play, it's fantastic to use the free public Wi-Fi, however connecting to an unprotected network has risks. Use a VPN to keep your gaming devices secure.
Streaming
Most OTT services with premium subscriptions use "geo-blocking" technology. This implies that the availability of certain content will be limited depending on your location.
Regardless of where you are, you can access almost everything you want to view by using a VPN to get around this problem.
Due to the popularity of streaming platforms, bandwidth congestion and lagging problems are not uncommon. This may be avoided with a VPN, resulting in a more fluid viewing session.
The Best VPNs for Android, iPhone and Windows?
We tested a lot of VPNs to find out which VPNs offer the best speeds, security, and reliability. Out of these, we have listed 3 top VPNs here.
ExpressVPN: Overall best VPN for Security, Speed and Reliability)
✔ The fastest VPN we tested thanks to its proprietary Lightway protocol
✔ 3,000+ servers in 94 countries which help you to unblock region-locked content
✔ Connect Up to 5 devices simultaneously with one account
✔ Unblock Netflix, VUDU, HBO Max, BBC iPlayer, Sky TV, and more
✔ You can use it on android, window, iPhone, Mac, Apple, Smart TV, Chrome, Router
✔ 30-day money-back guarantee
ExpressVPN offer September 2023: For a limited time, you can save up to 49% on 1-year subscription plan + 3 months free.
An expert would undoubtedly advocate ExpressVPN if you asked them to name the ideal VPN. The best VPN by a wide margin, ExpressVPN provides an extensive number of advantages.
There is merely a single toggle on the display. In a brief moment, it switches the VPN on and off. This VPN's speed is its strongest feature. No matter what you are streaming or which server you connect to, you will always experience the highest speed.
ExpressVPN boasts over 3,000 servers in 94 countries, allowing you to access content from all around the world.
MediaStreamer is a Smart DNS service provided by ExpressVPN. This function enables you to access streaming sites on devices that typically do not support VPNs, such as gaming consoles and smart TVs.
ExpressVPN's apps are user-friendly and easy to use & install. It took me less than a minute to configure it on my phone and windows. After that, all I had to do was click "connect" to activate the VPN. It started working.
In the app's settings, you can switch to Lightway or let the VPN determine the appropriate protocol for your network. There are also OpenVPN, IKEv2, and L2TP/IPsec options.
Speed and user experience go hand in hand alongside cybersecurity. Industry-standard functions like a kill switch, no DNS leak, strong encryption, and P2P servers make ExpressVPN perfect for any situation.
There is an incredibly quick customer service system that can assist you if you have any issues. With all of these advantages, ExpressVPN is tough to overthrow right away.
NordVPN: Budget-friendly VPN with good security features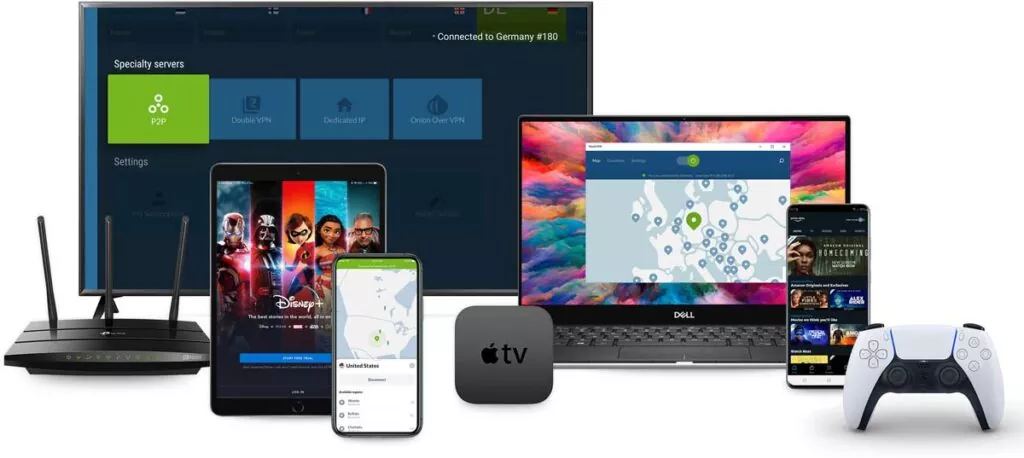 ✔ 5500+ ultra-fast servers in 59 countries
✔ Connect Up to 6 devices simultaneously with one account
✔ Stream Netflix, VUDU, HBO Max, BBC iPlayer, Sky TV, and more from anywhere
✔ Apps available for android, window, iPhone, Mac, Apple, Smart TV, Chrome, Router
✔ 30-day money-back guarantee
NordVPN offer September 2023: For a limited time, you can save up to 55% at 3.69/month on 2-year subscription plan + 3 months free.
Any game enthusiast will always mention NordVPN if you ask them for a VPN, and they are not mistaken. With 5,500+ servers in 59+ countries, this VPN can handle any gamer's needs.
Its unique feature, the NordLynx protocol, speeds up and strengthens communications. In addition to having features that are considered the industry standards.
It also offers a double VPN, which runs your data through two VPN filters to increase your online security.
A strict no-log policy also ensures that no session records are kept, giving you complete online anonymity and safety.
Every day of the week, expert customer care is accessible around-the-clock to help you with any issue, no matter how big or small.
Cyberghost: Optimized Servers for Streaming sites
✔ 7,000+ servers in 90 countries so you can easily access regional content
✔ Connect Up to 7 devices simultaneously with one account
✔ Unblock platforms like Netflix, VUDU, HBO Max, BBC iPlayer, Sky TV and more
✔ Apps available for android, window, iPhone, Mac, Apple, Smart TV, Chrome, Router etc
✔ 45-day money-back guarantee
CyberGhost VPN Exclusive Deal September 2023: For a limited time, you can save up to 84% at $2.03/month on a 2 Years subscription plan + 4 Months FREE
Cyberghost is the VPN for you if you choose speed over servers. Cyberghost can deliver the quickest performance on any server. CyberGhost offers specialized servers for gaming and torrenting
It provides robust security features to keep you safe from cybercriminals and other threats. This includes AES 256-bit encryption with perfect forward secrecy, plus DNS/IP leak protection and a kill switch.
OpenVPN and WireGuard are two industry-leading security protocols offered by CyberGhost.
OpenVPN is the most widely used protocol, with a good balance of security and speed that makes it suitable for most applications.
However, WireGuard has emerged as a viable alternative, offering quicker connections and more contemporary encryption.
Most VPNs do not have servers in censored countries, like China and the UAE. But Cyberghost has its servers in both countries.
It enables up to seven simultaneous connections from multiple devices, enhancing flexibility and entertainment of TV viewing. It is one of the most economical VPNs available in terms of price.
FAQs:
Can I use a free VPN?
Yes, you can use a free VPN but it will have serious limitations and free VPNs might sell your information gathered by them and this may jeopardize your security and privacy.
Is using a VPN legal?
Yes, using a VPN is legal.
Will using a VPN affect my browsing speed negatively?
No, on the contrary, it will help increase or speed or keep it the same.
Are costlier VPNs better than cheaper ones?
Not necessarily, many VPN providers have multiple plans that help you find the one that works best for you. Browsing through these plans may be beneficial.
Can I use a free VPN to access content unavailable in my region/country?
Yes, that is one of the best perks of using a VPN along with high speed and cybersecurity. Most VPNs like ExpressVPN offer a plethora of regions you can connect to.
Conclusion
We hope that you are now familiar with what is VPN and why should we use it. If you are not satisfied with the information we provided you can comment us below in the comment box.