How to Access the Dark Web Safely in 2023?
Are you aware that the internet is so much more than what we see on our search engines? Yes, that is true. In fact, we do not see even half of the content that there is on the internet. Want to explore this part of the internet? You must know the safety rules!
In general terms, we divide the content on the internet as Surface Web, Deep Web, and Dark Web, based on how easily available it is to the general public. The dark web is truly a small fraction of the Deep web which is the largest in proportion.
The dark web is known for the anonymity of both the content users as well as those who upload the content. So, for this reason, it becomes important that you ensure all safety measures before you enter the dark web.
The best, most effective way of accessing the dark web is to make use of a VPN. A VPN will conceal your true identity including your location. So, your access to the web would also be anonymous.
Since anonymity is a crucial factor here, we strongly recommend ExpressVPN for ensured results because you wouldn't want to risk your identity on the dark web!
In A Hurry? How to access the Dark Web safely?
Subscribe to a VPN like ExpressVPN.
Download and install the VPN app for your device.
Connect to a VPN server in a distant country on your VPN app.
Get on the Tor browser and dig as deep as you want into any content on the internet without worrying about your anonymity.
Let us understand the Dark Web
The Dark Net/web is one part of the whole world wide Web which is hidden intentionally. Anyone can only access the dark web by using specialized software that ensures the anonymity of the users.
Mostly the websites linked with the dark web are the ones like firearms, lost or stolen numbers of atm cards, narcotics, etc are sold and bought. Some things are kept in the darkest corners depending on the content.
Out of all things, being anonymous on the web is what attracts people the most. No matter what it is, a chat box, blog, gaming server, etc, each and everything can be accessed without your identity being revealed.
All you need to do is follow some basic steps of precautions and you'll be good to go because no one will be able to find out who is accessing what. When it comes to the anonymity it does not only mean from other users but also from any organization or from the government.
Important safety precautions along with VPN
If you think that just by using a VPN you will have a safety shield around you while you are surfing the dark web, you are wrong. While it is completely true that the VPN will keep your identity hidden, it is equally essential that your device is ready to enter the risky zone completely risk-free.
Here are some things that you must do without fail to ensure you do not land up in an undesired situation:
Shut all software where you have your account logged in.
Make sure that your web camera is completely covered and that no view can be taken from the other side of the camera.
Make sure your location is switched off at all times while you are using the dark web.
You must also have strong, reliable antivirus software on your device.
Do not expose your location even if prompted as necessary to continue.
Take every site to be a spoofing site until proven wrong.
Use top-notch safety and privacy software.
How does a VPN hide my identity?
A VPN, or virtual private network, encodes all internet traffic before routing it through a middle server in the user's preferred location. The ultimate consequence is that the device's IP address is concealed, making it impossible for outside parties, including ISPs, to track data.
On their servers, the majority of VPN companies use shared IP addresses. A single IP address is given to dozens, hundreds, or even thousands of users. As a result, it is extremely difficult to track the movements of a single individual in the pool.
Detailed steps to access the dark web using a VPN
If you would like to surf the dark web then it becomes important for you to ensure all safety beforehand. As previously stated, the best way of ensuring anonymity is to make use of a VPN.
Given below are the detailed steps that you must follow to access the dark web safely
Step 1: First, since you need a VPN, start off by signing up for a strong and reliable VPN service. We strongly recommend that you use ExpressVPN.
Step 2: Next you are required to download the app of your selected VPN and install it on your device.
Step 3: All top-notch VPNs require a subscription. So, select a VPN plan you find most suitable and proceed by paying.
Step 4: After you have successfully made the payment and registered on your chosen VPN, sign in to the VPN app by inputting the same credentials using which you have registered for your VPN.
Step 5: On your VPN app, connect to an appropriate VPN server in a distant country.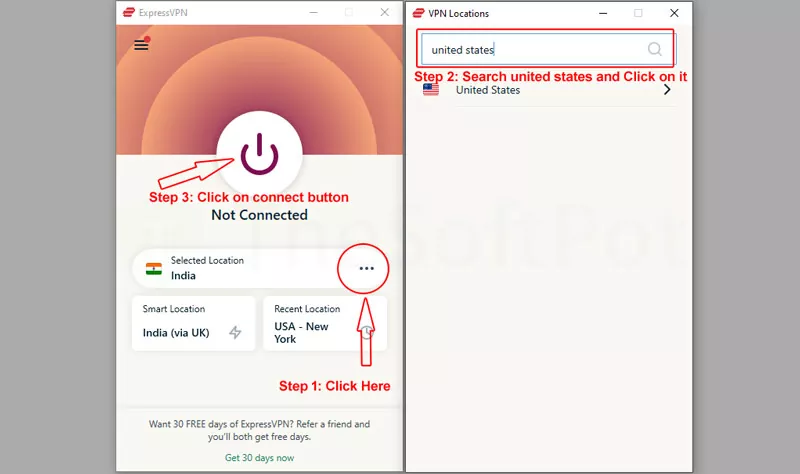 Step 6: Download the Tor browser on your device for accessing the web anonymously and to get easier access to the dark web. Change its security settings to "Safest."
Step 7: Open the Hidden Wifi or Grams or other such engines that will take you to the content hidden deepest down the dark web.
You also do not have to worry about being caught by any surveillance teams or by any cybercriminals because the VPN you use will have your true identity concealed, meaning that your connection would be completely anonymous (only if you use a good VPN).
What to watch out for on the Dark Web?
Since all activities on the Dark web are taking place anonymously, it is a very easy space for illegal and risky businesses to take place. So, you must be aware of what to expect and what to watch out for before you head on to explore the dark web.
Here are some things that you should watch out for when you are exploring the dark web:
Illegal marketplaces
Malware
Scams
Visit to abusive or extreme content
Phishing attempts
Botnets
Is the dark web illegal?
Because the Internet is legal and connection exchange is not illegal, the Dark Web is also legal. The anonymity and popularity of darknet markets, where you can buy anything from snuff flicks, drugs, or contract assassins, are the Dark Web's biggest problems.
Law enforcement works hard to stifle the markets for these acts. This isn't as simple as it might seem because these networks are designed with the user's privacy in mind. When the police are trying to detain vendors or buyers, occasionally arrests occur.
However, this does not imply that if you have installed Tor, you should anticipate cops knocking on your door. Numerous public forums and private social media platforms like Blackbook are available.
If WikiLeaks' regular website is unavailable in your country, you can access it over Tor. The technology itself is legitimate and has a variety of applications, so refrain from making any purchases while you're there.
Is the dark web safe?
A simple no is the response to this question because the dark web is not safe There is no one system we have access to that is entirely private and secure, despite the fact that powerful encryption, VPNs, proxy servers, and masked web addresses can all help to increase anonymity.
Being concealed does not guarantee complete immunity from being discovered or, in the case of unlawful activity, risk.
In a world of mass data gathering, surveillance, and personalized ad tracking, it is up to us to take charge of our own privacy; as a result, you should at the very least think about utilizing a VPN.
Why is using the dark web a good option?
The best reason for using the dark web is anonymity. No matter what you access on the dark web, your identity is kept anonymous if you take basic precautions.
What is available on the dark web?
The dark web covers a wide range of things such as porn, stolen credit card numbers, and a lot of other illegal material as well.
Why is it suggested to use a VPN with the dark web?
It's always suggested to use a good and reliable VPN while using the dark web because a VPN can ensure complete online security and privacy. 
How safe is it to use the dark web?
Yes, that's what a VPN does. It changes the IP address of the device by connecting to a required server and bypasses geographical restrictions.
Conclusion
The Dark Web is one part of the web that allows you to upload and access everything anonymously.
It is a popular choice among people because of the wide range of content it offers to them and also because of the anonymity offered here.
You must follow some precautions to be completely safe while using it, and the most important thing is to use a VPN which will ensure that with your identity, your IP address can also be kept safe and anonymous.
You must know that it is very important to choose a trustworthy VPN because not all VPNs can do the task well.
This is the reason we suggest you use ExpressVPN, as it offers great services including various features which will ensure complete security and privacy while being on the dark web.