How to Secure Your Online Privacy With a VPN [Updated 2023]
In the highly digitized world that we live in today, technology has become an integral part of our lives. This also means that it becomes imperative to secure your online privacy with a VPN.
As technology has made all tasks easier and brought people so much closer, it is also equally undeniable that there are certain negatives of technology as well. One of the most prominent ones is the misuse of the cyberspace.
Cybercriminals are constantly engaged in hacking data that is being transferred from one device to another in order to misuse the information. Using this information, the sender of the data being transferred could also be traced.
So, it becomes important that 100% attention is paid to online security. The safest, best, most effective way of securing online privacy is to make use of a VPN whenever you are active on the internet.
Not every VPN is trustworthy with your VPN, so you must be very wise when picking a VPN service. We strongly recommend ExpressVPN for ensured results.
Quick Guide: How to secure your online privacy with a VPN?
The first, and most important step is to subscribe to a VPN like ExpressVPN.
Download the VPN app and set up your VPN account.
On your VPN app, connect to a VPN server in a suitable country.
Access the web without worrying about being exposed to any kind of cyber risks to your identity or to your data. Your online privacy would be secured.
How does a VPN work?
VPN stands for Virtual Private Network. As the name suggests a VPN creates a private network for you in order to maintain online privacy and security while the VPN employed is in use.
A VPN when employed on your device is connected to a server of a country where the service to be used is available. As soon as it gets connected to a server it gives your device an IP address of that location because IP addresses are based on the physical location of the device.
In this manner, the service cannot identify your actual physical location and considers your location according to the fake IP address the device received with the help of a VPN.
How does a VPN help in securing online privacy?
When you connect to a VPN server in a distant location, what happens is that the information regarding your true identity which is revealed by your IP address is replaced with new, fake information that you get by obtaining a fake IP address by connecting to a distant VPN server.
What a VPN does is it makes a private channel through which your data is transferred from one destination to another destination. This private channel keeps your data concealed in multiple layers of encryption.
As this data is kept so safe by several layers of encryption and channeled through private networks, it becomes safe from any potential risk of being hacked by cybercriminals or being misused by any other third party.
Hence, with a VPN, nobody can trace back to you or steal the data being transferred.
Risks of not using a VPN
A VPN when employed on your device ensures online anonymity by creating a secure and private network over a public network. If a VPN is not used it might cause some risks.
Some of the most common risks are:
Your personal information or any other useful information might get stolen by any third party
Good VPNs ensure high speed and not using a VPN might lead to low internet speeds
As VPNs ensure that your data cannot be accessed by any third party including the government by creating a secured network, not using a VPN could allow government or any third party to spy
VPNs do not let your original location, data, etc be revealed to any service or on the internet, not using one could get your original data hacked or your device hacked by hackers
Detailed steps to secure your online privacy using a VPN
You can simply follow the steps given below to use a VPN to secure your online privacy while you are active on the internet:
Step 1: First, since you need a VPN, start off by signing up for a strong and reliable VPN service. We strongly recommend that you use ExpressVPN(get 49% discount + 3 months free).
Step 2: Next you are required to download the app of your selected VPN and install it on your device.
Step 3: All top-notch VPNs require a subscription. So, select a VPN plan you find most suitable and proceed by paying.
Step 4: After you have successfully made the payment and registered on your chosen VPN, sign in to the VPN app by inputting the same credentials using which you have registered for your VPN.
Step 5: On your VPN app, connect to an appropriate VPN server in a suitable location.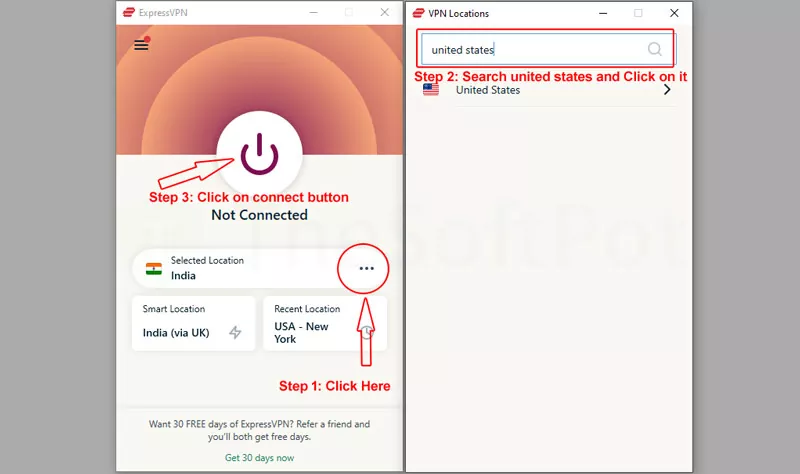 Step 6: Once you are connected to the VPN server, you can stay assured that whatever your activities are on the internet, they remain completely private and anonymous. Your data would be encrypted and nobody will be able to trace your actual location.
Note: Make sure that you use a strong, reliable, and trustworthy VPN to make sure that Step 6 is carried out as it is mentioned. This is because not every VPN is safe, capable, and strong enough to ensure the above said.
How to make a wise VPN choice?
There are a lot of VPN options available in the market to be used including free VPNs and paid VPNs, but not all VPNs are trustworthy to use.
This is true because using a VPN which is not trustworthy might lead to undesirable consequences such as leakage of your online data, leakage of personal information and can thus cause harm to your device as well as to your online security and privacy.
Free VPNs are very risky and should be strictly avoided no matter which service you have to use. There have been many cases of leakage of information because of employing free VPNs.
While selecting a paid VPN, there are some basic factors that must be taken into consideration before finalizing a VPN to get. A VPN with all these factors is considered to be a reliable VPN that offers great services without compromising your security or privacy.
The factors are given below:
Ease of use
Security
Speed
Accessibility
Server locations
Unblocking efficacy
Reliable encryption
Anonymity
Versatility
Compatibility
Multi logins
Customer support
Technical support
VPN not working? Here are some quick fixes
If you find that your VPN is not operating as it should even after following the given steps, there may be a number of causes for this. Most of the time, the simple fixes listed below are all you need to fix your VPN if it experiences problems:
Delete cookies
Switch between servers
Reinstall your VPN application
Switch to another internet connection
Update your VPN app
Consider getting a better VPN
Frequently Asked Questions
What is the full form of a VPN? How does it work?
VPN is the abbreviation or short name for Virtual Private Network. A VPN service has VPN servers across the globe and it works by connecting you to VPN servers in various countries depending upon your need.
Can I use free VPNs available online?
We strictly advise against using free VPNs that you may find online. This is because your online privacy and data are sensitive matters which should not be left in the hands of untrustworthy VPN services.
can a VPN help me access blocked content?
Yes, a VPN is popularly used for bypassing bans or geographical restrictions on specific contents or services. It does so by providing you with a fake IP address of the place where the content or service is not banned or restricted
What could happen if I don't use a VPN?
If you do not make use of a VPN, not only are you exposing yourself to immense harm that might be inflicted upon you by cyber criminals, but you are also leading your confidential data towards those who might take the opportunity to misuse it.
Conclusion
Using a VPN on your device while being on the internet ensures online security as well as privacy.
There are various public networks in use on the internet at any point in time and this makes the task of doing malware easy for hackers or any other third party.
This causes a need to have a private and secure network over public networks in order to be safe from any kind of possible malware practice.
A VPN when employed on your device performs this task in the best manner and makes sure your device as well as your online anonymity is secured.