How To Downgrade or Cancel Peacock TV Subscription [Latest Guide 2022]
A VOD service called Peacock allows customers access to live sporting events, breaking news, and premium TV series and films. If you're unsure how to cancel Peacock tv account, keep reading this guide.
Early in 2020, NBC launched the streaming service Peacock. The best NBC programming, such as Everybody Loves Raymond, The Office, Parks and Recreation, etc., are also available there.
The English Premier League 2022–2023 is available live on Peacock, a streaming service for sports fans. The Super Bowl and the 2022 Olympics can also be viewed on this streaming service.
One of the most reasonably priced services in the sector is the streaming service. The Peacock Free Plan gives you free access to essential functions, but it is supported by advertisements.
But the downside is that Peacock TV is only available in the US.  In order to view Peacock TV outside of the US, you must use a VPN. We suggest you ExpressVPN to watch Peacock TV outside the US because ExpressVPN is the best VPN for unblocking streaming services.
How To Cancel Peacock TV Subscription?
The Peacock cancellation process varies depending on the supported devices by the streaming service. On a variety of streaming-capable devices, including Android phones, iPhones, iPads, and browsers, users can reach the subscription settings.
Subscription cancellations for VOD services are frequent since the platforms have altered how consumers watch content. To view their favorite series or movies, including Peacock TV movies and Peacock TV shows, individuals today pay for several services.
If you subscribed to see a show, a movie, a documentary, or a sporting event, you could cancel. However, most consumers find it simpler to terminate their memberships and concentrate on a different streaming platform.
It can be challenging to cancel Peacock TV subscription, and most users have trouble doing so. However, you have to know where to search if you want to cancel your subscription.
Here's how, across several streaming platforms, to terminate or cancel Peacock TV Premium subscription:
Cancel Peacock TV Subscription On Android
You can deactivate Peacock Premium on any android operating system gadget thanks to the existence of the Android app for Peacock. How to cancel Peacock Premium on an Android device is as follows:
Open the Google Play Store app.
After you open it, tap on the menu option at the top of the screen
Look for the subscription option and click on it. 
There, you will find all your active subscriptions. Find the Peacock TV subscription and select it. 
Then, click on the 'Cancel Subscription' option and confirm when you are prompted.
You have successfully canceled your subscription.
Cancel Peacock TV Subscription On iPad or iPhone
You could cancel Peacock subscription through iTunes or the Appstore if you subscribed using an iOS device like an iPhone or iPad. Following are the instructions for ending a Peacock subscription on an iPhone or iPad:
Launch the Peacock application on your iPad or iPhone.
If the choice is there on the homepage, select Subscriptions. If it's not available, select Subscriptions from the iTunes & Appstore menu.
Identify your Apple ID.
From the list of the services, you are subscribed to, select Peacock TV.
Then click on Cancel Subscription.
Verify your choice in order to successfully cancel your Peacock TV subscription.
Cancel Peacock TV Subscription On PC/Browser
It's simple to cancel a Peacock subscription on a PC by entering into your account with a browser. The straightforward actions you must do to deactivate a Peacock account on your PC are listed below:
Open your preferred browser, then go to the Peacock website.
Use your password and username to log into your account.
Find and click on the profile symbol, which should be situated at the top of the window.
Now, click on My Account.
Decide on your plans and payment.
A confirmation will appear once you click 'Cancel Plan'.
On the official website, there is one more way to end a Peacock subscription.
Go to the Peacock website's Help page first.
After that, choose Plans and Payment.
To cancel a plan, click.
Verify your decision to successfully cancel your Peacock subscription.
Cancel Peacock TV Subscription On Roku
You could cancel your Peacock membership from the Roku Player if you did so through your Roku account. The ways to deactivate Peacock on Roku are as follows:
Navigate to Peacock via your Roku remote, then click the asterisk button.
From the pop-up box that displays, choose Manage Subscriptions.
Make your selection of Cancel Subscription and then confirm it.
You may have subscribed to Peacock through a different service if the Manage Subscriptions button isn't present on the list. The fact that you are accessing the channel for free could be another factor.
The following is another way to end your Peacock subscription via the Roku website:
Open up your preferred browser, then visit the official Roku website.
After that, access your account.
Click My Account after selecting the avatar icon in the window's upper right corner.
Simply select Manage Your Subscriptions.
Select Cancel Subscription after locating Peacock TV in the list of subscribed channels.
How To Downgrade Your Peacock TV Subscription?
You can lower your package rather than cancel if you wish to save a few bucks per month on the cost of your Peacock TV subscription.
Subscribers can drop out from Premium Plans to the Peacock Free tier using Peacock. In order to spend $5 less per month, you can also switch from Premium Plus to Premium. Here is how to do it:
To access your account, go to the Peacock website and sign in.
Select the icon for your profile.
Then click on My Account.
Click on Plans and Payment.
Select Change Plan from the menu.
If you are currently on Premium Plus, choose the Free Plan or downgrade to the Premium Package.
To finish the procedure, confirm your decision.
How To Upgrade Your Peacock TV Subscription?
Are you willing to pay a little bit extra each month to use Peacock TV's premium features? You can upgrade your subscription, enjoy the extra content, and spend a lot of time watching Peacock TV.
Users of Peacock TV can upgrade from their current free subscriptions to premium plans. Additionally, you can pay an additional $5 per month to move from Premium to Premium Plus. To upgrade your Peacock TV subscription, follow these steps:
Sign up on the Peacock TV website.
Click the "Profile" icon.
Select My Account
Visit Plans and Payment Alternatives.
Select Change Plan from the menu.
Choose the Premium Plus plan or change to another one.
Confirm the steps and finish the process.
The Best VPNs to Unblock/Downgrade/Upgrade Peacock TV Subscriptions Outside the US.
We tested a lot of VPNs to find out which VPNs can help in unblocking Peacock TV. Out of these, we have listed 3 top VPNs here.
ExpressVPN: Overall best VPN for Security, Speed, and Reliability)
✔ The fastest VPN we tested thanks to its proprietary Lightway protocol
✔ 3,000+ servers in 94 countries which help you to unblock region-locked content
✔ Connect Up to 5 devices simultaneously with one account
✔ Unblock Netflix, VUDU, HBO Max, BBC iPlayer, Sky TV, and more
✔ You can use it on android, window, iPhone, Mac, Apple, Smart TV, Chrome, Router
✔ 30-day money-back guarantee
ExpressVPN offer September 2023: For a limited time, you can save up to 49% on 1-year subscription plan + 3 months free.
An expert would undoubtedly advocate ExpressVPN if you asked them to name the ideal VPN. The best VPN by a wide margin, ExpressVPN provides many advantages.
There is merely a single toggle on the display. In a brief moment, it switches the VPN on and off. This VPN's speed is its strongest feature. No matter what you are streaming or which server you connect to, you will always experience the highest speed.
ExpressVPN boasts over 3,000 servers in 94 countries, allowing you to access content worldwide.
MediaStreamer is a Smart DNS service provided by ExpressVPN. This function enables you to access streaming sites on devices that typically do not support VPNs, such as gaming consoles and smart TVs.
ExpressVPN's apps are user-friendly and easy to use & install. It took me less than a minute to configure it on my phone and windows. After that, all I had to do was click "connect" to activate the VPN. It started working.
In the app's settings, you can switch to Lightway or let the VPN determine the appropriate protocol for your network. There are also OpenVPN, IKEv2, and L2TP/IPsec options.
Speed and user experience go hand in hand with cybersecurity. Industry-standard functions like a kill switch, no DNS leak, strong encryption, and P2P servers make ExpressVPN perfect for any situation.
There is an incredibly quick customer service system that can assist you if you have any issues. With all of these advantages, ExpressVPN is tough to overthrow right away.
NordVPN: Budget-friendly VPN with good security features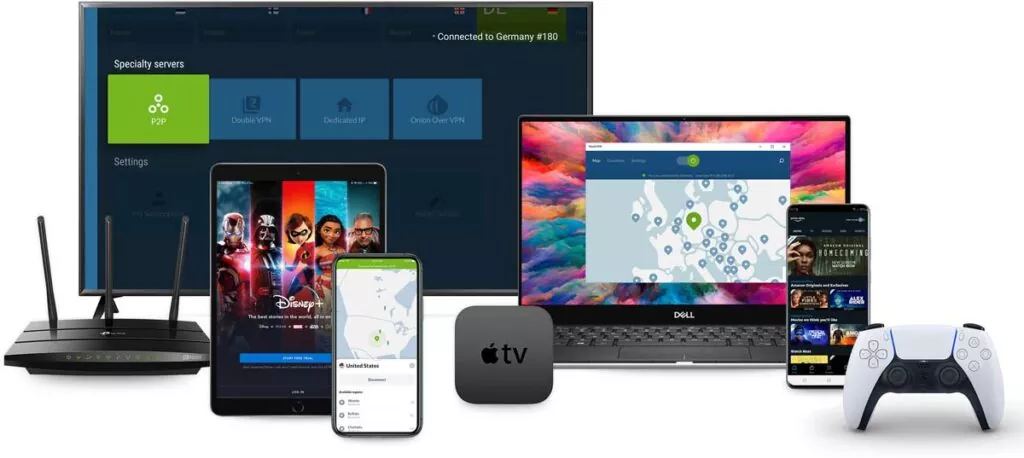 ✔ 5500+ ultra-fast servers in 59 countries
✔ Connect Up to 6 devices simultaneously with one account
✔ Stream Netflix, VUDU, HBO Max, BBC iPlayer, Sky TV, and more from anywhere
✔ Apps available for android, window, iPhone, Mac, Apple, Smart TV, Chrome, Router
✔ 30-day money-back guarantee
NordVPN offer September 2023: For a limited time, you can save up to 55% at 3.69/month on 2-year subscription plan + 3 months free.
Any game enthusiast will always mention NordVPN if you ask them for a VPN, and they are not mistaken. With 5,500+ servers in 59+ countries, this VPN can handle any gamer's needs.
Its unique feature, the NordLynx protocol, speeds up and strengthens communications. In addition to having features that are considered the industry standards.
It also offers a double VPN, which runs your data through two VPN filters to increase your online security.
A strict no-log policy also ensures that no session records are kept, giving you complete online anonymity and safety.
Every day of the week, expert customer care is accessible around-the-clock to help you with any issue, no matter how big or small.
Cyberghost: Optimized Servers for Streaming sites
✔ 7,000+ servers in 90 countries so you can easily access regional content
✔ Connect Up to 7 devices simultaneously with one account
✔ Unblock platforms like Netflix, VUDU, HBO Max, BBC iPlayer, Sky TV, and more
✔ Apps available for android, window, iPhone, Mac, Apple, Smart TV, Chrome, Router, etc
✔ 45-day money-back guarantee
CyberGhost VPN Exclusive Deal September 2023: For a limited time, you can save up to 84% at $2.03/month on a 2 Years subscription plan + 4 Months FREE
Cyberghost is the VPN for you if you choose speed over servers. Cyberghost can deliver the quickest performance on any server. CyberGhost offers specialized servers for gaming and torrenting
It provides robust security features to keep you safe from cybercriminals and other threats. This includes AES 256-bit encryption with perfect forward secrecy, plus DNS/IP leak protection and a kill switch.
OpenVPN and WireGuard are two industry-leading security protocols offered by CyberGhost.
OpenVPN is the most widely used protocol, with a good balance of security and speed that makes it suitable for most applications.
However, WireGuard has emerged as a viable alternative, offering quicker connections and more contemporary encryption.
Most VPNs do not have servers in censored countries, like China and the UAE. But Cyberghost has its servers in both countries.
It enables up to seven simultaneous connections from multiple devices, enhancing the flexibility and entertainment of TV viewing. It is one of the most economical VPNs available in terms of price.
Conclusion
Peacock TV is a fantastic streaming network with outstanding programming, especially for sports fans. The program offers three plans: Peacock Premium Plus, Peacock Premium, as well as the Free variant, as we've seen.
On an Android, iPhone/iPad, PC, and Roku, or to save some money, you can downgrade your plan or cancel Peacock.
This guide provides all the information you might need to cancel your Peacock TV subscription. If you have any more queries, please check out our FAQ section!
FAQs
Is it possible to cancel my peacock TV subscription at any time?
Yes, you may always cancel your Peacock subscription. To terminate your Peacock account, just go to Manage Subscriptions on the website or app and select Cancel Subscription.
Can I get a free trial of Peacock TV?
No, there isn't a free trial available; nevertheless, customers can watch its content using the free plan. The Peacock TV free plan can be canceled using the Plans and Payment menu.
which VPN is best for Peacock TV?
We would suggest going for ExpressVPN, as it is a trusted VPN. You will face no issues while streaming from Peacock TV.
I don't want my card details to be on Peacock TV anymore. what do I do?
Tap on Remove Payment Method in the Payment Method section of the Plans and Payment tab.