Top 5 Free VPNs That Work At School in 2023
Looking for good free VPNs that work at school? Look no further, in this article we have ranked the best free VPNs you can use at work along with their features!
A Virtual Private Network, or VPN, is an encryption technology that can provide you with greater protection and privacy as you browse the web.
Your online traffic passes through a VPN server as opposed to connecting straight to the internet. This conceals your IP address and gives the impression that your web traffic originates from your VPN provider's network rather than your actual location.
You may browse the internet and use your devices, such as a laptop or phone, safely and completely in private thanks to this additional layer.
In a hurry? Here is a quick guide to the top free VPNs!
Proton VPN: The Swiss corporation Proton AG, which also runs the email service Proton Mail, runs this VPN service. The service offers limitless data, a kill switch, and reasonable speed for a free VPN.
Privado VPN: A company called PrivadoVPN with headquarters in Switzerland strictly adheres to the no-log rule. Can access US Netflix, Amazon Prime Video, etc. by getting around geoblocks. It also provides unlimited data to its customers, which is pretty rare with free VPNs.
Windscribe VPN: It has 14 servers globally, provides up to 10GB of bandwidth every month, and does not place a cap on the number of connections at once.
Why is a VPN Essential?
A VPN is a valuable and important service. Here are a few reasons why it is essential!
Anonymity:
The fact that a VPN respects and upholds your anonymity is a significant factor in why many choose to use one.
Users of VPNs can access different geographic servers while browsing the internet. This technique keeps your identity and whereabouts hidden, from the host website, by routing all traffic to and from the server.
Due to the fact that no one can track your data using your personal information, anonymity can also effectively safeguard you from organized cyberattacks. If you use a VPN, your identity will continue to be protected even if you visit a harmful website.
Keeps You Safe And Your Data Encrypted:
The primary and most significant justification for using a VPN is its security measure. It provides an encrypted tunnel for the exchange of data among your device and the host site.
This removes all possibilities for data spying and listening in on conversations. No one can access your data or monitor your activity, not even your internet service provider (ISP).
Bypassing Geo-Restrictions:
The Internet offers a wealth of entertainment and informational resources, but not everyone has access to them. The vast portion of online content is geo-restricted.
This implies that the content is only accessible to those who live there and that anyone outside of those particular geographic locations is not allowed access.
VPN enables its users to get around geo-restrictions and connect to the web from anywhere in the world thanks to its remote servers. You can use this to visit websites and television shows that might not be available in your area.
Using Public Wi-Fi Risk-Free:
Although free and widely accessible, public Wi-Fi poses a number of security risks, including the possibility of data breaches and malware attacks. It is completely risky for both personal and professional use due to these security risks.
In many circumstances, utilizing public Wi-Fi is unavoidable, particularly if you are away from home and staying in a hotel with excessive fees for a private internet connection.
In these situations, a VPN can help you out by giving you a secure and anonymous connection for your online activity as well as masking your identity when utilizing public Wi-Fi.
Subsidized Shopping and Traveling:
For customers from various countries, many online retailers have multiple price lists. With regard to airfare, the same is true. You can use VPN servers from other nations to purchase online and check travel prices to get around this regional bias.
By doing this, you'll be able to find the finest offers at the lowest prices. You could be able to conserve a significant amount of money, albeit it might take some time and effort.
You can choose the server from that nation and save time and money if you're already aware of the discounted rates for that nation or state.
5 Best Free VPNs That work at school
Here is a list of the top free VPN services that really work at school.
Proton VPN
✔ Unlimited Data Allowance
✔ Fast for a free VPN.
✔Reliable Kill Switch.
✔Feature packed app
With Proton, for instance, there are no data restrictions. Proton VPN Free offers limitless data, allowing you to use it as frequently as you'd like, in contrast to practically all other free VPNs that may give you 500 MB to 10 GB per month.
You don't have to pick a location to use the VPN when your data is running low, which is convenient but also a significant privacy bonus. Simply join if you sense a risk or are unsure because Proton VPN Free will always be present.
Additionally, Proton has not penalized free users by omitting essential functionality. In contrast to other free providers who skip the WireGuard, the kill switch, and perhaps even support, Proton VPN Free offers all the privacy protections you need to stay safe online. Compatible devices are Android, Linux, macOS, Microsoft Windows, and iOS.
However, none of this precludes Proton VPN Free from performing its primary function far better than the majority of its rivals.
The company's well-designed, open-source, and audited apps are simple to use but also packed with helpful additions, gadgets, and technology. With 380Mbps, the service also dominated our free VPN speed charts; in fact, it is faster than several commercial services.
Not everyone may be a good fit for Proton VPN Free. Proton has a very small list of servers unlike its competitors PrivadoVPN and Windscribe, each providing about 10 options.
PrivadoVPN
✔ Unblocks US Amazon Prime Video, Netflix, Disney Plus, and BBC iPlayer.
✔Simple-to-use app.
✔Monthly 10GB full-speed data, unrestricted slow traffic
✔Impressive performance.
✔ No-log policy
✔Server locations: 12
✔ Customer Support: 24/7 live chat, website, email.
Even while the company's 10 GB monthly limitation isn't as generous as Proton VPN's unlimited data plan, many people will be satisfied with it. You can still access unlimited data using an "emergency server" if the data runs dry.
This is really basic—they only had one site in the Netherlands with speeds of 1 Mbps—but it's great to have as a backup as it is a feature that the rest of the limited competitors do not offer.
Additionally, the first 10 GB of data is superior to many. The selection of 12 locations across nine nations, including the unusually-included UK, surpasses most, including Proton VPN Free.
Once connected, speeds are another impressive feature; PrivadoVPN's 350Mbps earned it a second-place finish in our list of free VPNs.
The results of PrivadoVPN Free's unblocking are the true surprise here. In contrast to the majority of free VPN services, PrivadoVPN allows both free users and paid subscribers to use the same streaming servers.
The business is capable of unblocking US Netflix, Amazon Prime Video, Disney Plus, and BBC iPlayer. Even most premium VPNs cannot make the same claim. Privado is compatible with Windows, macOS, iOS, Android, AndroidTV, and Amazon Fire TV Stick.
The product has some drawbacks and restrictions. If you install PrivadoVPN Free on both your phone and laptop, you can only use one at once because it only supports one connection.
Although the apps are trustworthy and reliable, they lack Proton's feature set. Additionally, the business hasn't had an impartial audit done to confirm its privacy credentials.
However, PrivadoVPN Free is indeed an outstanding service that performs well across the board. Even if you presently use a premium VPN to unblock content, downloading PrivadoVPN Free as a fallback may be worthwhile due to its outstanding streaming results.
Windscribe VPN
✔ UK Netflix and BBC iPlayer can be unblocked.
✔ No limit to simultaneous connections.
✔ Server locations: 14
✔ Data limit: 10GB
The data usage is strictly limited to 10 GB per month, which is a little less than our two best VPNs. However, that is sufficient to secure a substantial portion of online activity, and Windscribe Free VPN offers its own benefit in return.
With most free services, you are only allowed one connection at a time, but Windscribe has no such restrictions; you are free to install and employ it across as many devices as you require.
Windscribe is compatible with the following: Windows 10,8,7; Linux; and macOS 10.11 and newer. iOS and Android, Chrome, Firefox, Opera, Amazon FireTV, Nvidia Shield, and KODI.
This is superior to a number of other choices, such as PrivadoVPN Free's nine countries and Proton VPN's three. We found that Windscribe Free VPN could still bypass the geo-blocks of UK Netflix and BBC iPlayer even without using the dedicated Windflix streaming servers.
The software is a little bit difficult to use at first, but you'll soon get the hang of it. We found that Windscribe Free VPN could still go through the UK Netflix and BBC iPlayer geo-blocks even in the absence of the dedicated Windflix streaming servers.
Atlas VPN
✔ Speedy for a free VPN.
✔ 10GB per month (2GB per day for Mac) of data allowance.
✔ Three server sites in two countries.
✔ Successfully unblocked Disney +.
✔ Customer Support: Email and website.
Our interest in Atlas VPN Free was initially piqued by its huge bandwidth capacity. Not the 10 GB you receive with its Windows VPN, Android VPN, and iOS VPN, but that's not terrible either; this is all about Mac VPN customers, who can utilize an exceptional 2 GB each day.
The service's location selection isn't as wide-ranging. There are only 3: New York, Los Angeles, and the Netherlands.
However, you can connect many devices at once (the highest-ranked free VPNs solely allow one), and according to our performance testing, Atlas VPN Free was able to reach 320Mbps, which is above average.
When you take into account the P2P support, Atlas can be a wise torrenting choice. It is compatible with Android, iOS, macOS, Linux, Fire OS, and Windows devices.
While they cover the essentials, what you receive is functional, they fall short of competitors like Proton VPN in terms of capabilities and have a few minor usability issues.
The business does have an independent assessment, which puts it above many rivals in this regard. However, it is also somewhat limited considering it just covers the iOS app.
Nonetheless, Atlas VPN Free performed better than we anticipated in a few significant areas. For instance, it does not really support unblocking any streaming websites, but we discovered that the service allowed us to access Disney Plus, and perhaps you'll have success with other websites.
Despite certain flaws, we felt that Atlas VPN Free did a good job overall of securing our online activity. Mac users will especially appreciate the 2 GB of data usage per day that is allowed.
Hotspot Shield VPN
✔Unrestricted bandwidth.
✔Moderate speeds.
✔ Unlimited data.
✔ One server in one country.
✔ Easy-to-use and customer support available on the website.
While the service provides you with unlimited bandwidth and decent speeds, the service has a significant drawback in that it only permits connections to one US location. The service is compatible with a good range of devices.
These are Android TV running Android OS 5.0 or later, iOS devices running iOS 11 or later, Mac desktops running Mac OS X 10.12 or later, Windows desktops running Windows 7 or later, Android devices operating Android OS 5.0 or later, Any of the aforementioned routers: FreshTomato, GL.iNet, Asuswrt, or DD-WRT. All Linux boxes, devices, etc.
Phone applications that routinely display video advertisements when you connect are among the usability issues and annoyances. When you connect and disengage from the Mac program, pages on the Hotspot Shield website are opened.
The lack of a kill switch in Hotspot Shield Basic is a significant privacy issue. Your traffic could not be protected in case the VPN connection stops.
There is neither live chat nor email help available if you have any issues with any of this. You must conduct independent research on the Hotspot Shield webpage and find a solution.
This makes it difficult to choose Hotspot Shield Basic above the competitors, even with unlimited bandwidth. However, it's still worth trying out the product for yourself because it can be beneficial for straightforward jobs or as an emergency backup for another provider.
Why do we use VPNs at School?
More Convenience: Some terms and phrases are restricted on school networks for understandable reasons. However, given that word-based firewalls are really crude tools and sometimes mistakenly restrict absolutely neutral words, this can be an issue.
You can easily overcome these issues, which may cause you trouble while working on projects and other school work.
Better security: A VPN's main purpose is to protect your personal info. You'll likely be joining a shared Wi-Fi connection with many other students and teachers when you're in school or using a school computer.
You can use a VPN for school to protect your connection and secure your online traffic even if the network itself has been compromised as there is no way for you to be certain that the Wi-Fi router is secure.
Why Should we use paid VPNs Over free VPNs?
Many believe that a VPN will increase their privacy and make their online experience safer. Who wouldn't want to surf without worrying that someone would take their data and sell it? With a free VPN, however, you can be actually accomplishing the exact opposite.
A free VPN can actually compromise your security. The cost of operating a VPN service is high.
Typically, free VPN providers gather your data and sell it to third parties like criminals, foreign governments, or advertisements. Some people sell your bandwidth or distribute viruses.
A trial version of the service is available from many reliable VPN providers. In this way, you may experience all the advantages of a trustworthy virtual private network and determine for yourself why utilizing a VPN service that costs money is preferable to dodgy free VPNs.
The Best Paid VPNs
You can check below the best paid VPNs to unblock streaming services and access blocked sites around the world.
ExpressVPN: Overall best VPN for Security, Speed, and Reliability)
✔ The fastest VPN we tested thanks to its proprietary Lightway protocol.
✔ 3,000+ servers in 94 countries which help you to unblock region-locked content such as HBO Max!
✔ Unblock Hulu, Netflix, VUDU, HBO Max, BBC iPlayer, Sky TV, and more.
✔ Connect up to 5 devices simultaneously with one account.
✔ You can use it on android, Windows, iPhone, Mac, Apple, Smart TV, Chrome, and Router.
✔ 30-day money-back guarantee!
ExpressVPN offer September 2023: For a limited time, you can save up to 49% on 1-year subscription plan + 3 months free.
Any expert would surely recommend ExpressVPN as the best paid VPN if you were to ask them. ExpressVPN is by far the best VPN and has many benefits.
Only one toggle on the display has to be pressed. Instantaneously activating and deactivating the VPN. The finest aspect of this VPN is its quickness. Regardless of the content you are streaming or the server you are connected to, you will always experience the fastest speed. It will be very simple to unlock HBO Max!
ExpressVPN boasts more than 3,000 servers and gives you access to content from 94 different nations.
Installing and using the ExpressVPN program is simple. My phone and Windows were set up in under a minute. I only had to click "connect" to start the VPN after that. It began to function.
You can choose to use Lightway or let the VPN select the best protocol for your network in the app's settings. In addition, L2TP/IPsec, IKEv2, and OpenVPN are choices.
Security goes hand in hand with efficiency and the user experience. ExpressVPN is suitable for every circumstance because it has industry-standard features including a kill switch, no DNS leak, solid encryption, and P2P servers.
If you have any problems, there is an extraordinarily swift customer service network that can help.
NordVPN: Budget-friendly VPN with good security features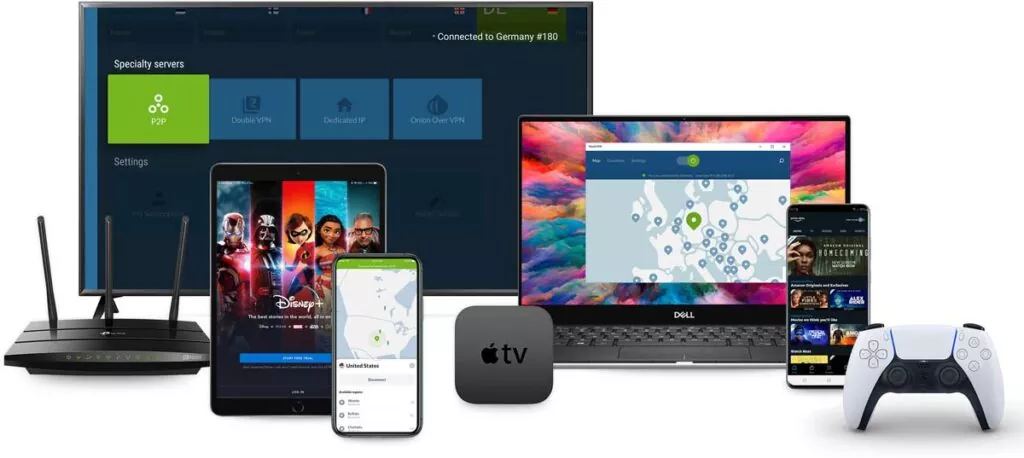 ✔ 5500+ ultra-fast servers in 59 countries.
✔ Connect Up to 6 devices simultaneously with one account.
✔ Stream Hulu, Netflix, VUDU, HBO Max, BBC iPlayer, Sky TV, and more from the UK.
✔ Apps available for Android, Windows, iPhone, Mac, Apple, Smart TV, Chrome, and Router.
✔ 30-day money-back guarantee!
NordVPN offer September 2023: For a limited time, you can save up to 55% at 3.69/month on 2-year subscription plan + 3 months free.
Any VPN user who is honest will nearly always recommend NordVPN. Because of its 5,500+ servers spread over 59+ countries, this VPN can meet the demands of every player.
The NordLynx protocol, a special component of it, improves and speeds up communication. It also possesses traits that are considered industry standards.
It also offers a double VPN, which runs your data via two VPN filters, to increase your online security.
A stringent no-log policy that further assures no session records are kept gives you total online confidentiality and safety.
Every day of the year, expert customer care is accessible around-the-clock to help you with any issue, no matter how big or small.
Cyberghost: Optimized Servers for Streaming sites Ensure a great experience
✔ 7,000+ servers in 90 countries so you can easily access regional content
✔ Connect Up to 7 devices simultaneously with one account
✔ Unblock platforms like Netflix, VUDU, HBO Max, BBC iPlayer, Sky TV, and more
✔ Apps available for android, window, iPhone, Mac, Apple, Smart TV, Chrome, Router, etc
✔ 45-day money-back guarantee
CyberGhost VPN Exclusive Deal September 2023: For a limited time, you can save up to 84% at $2.03/month on a 2 Years subscription plan + 4 Months FREE
If speed is more important to you than servers, Cyberghost is the best VPN for HBO Max in the UK. Cyberghost can deliver the quickest performance on any server. While offering dedicated gaming and torrenting servers, it is also skilled at avoiding geo-restrictions.
You are protected from hazards like internet criminals by robust security measures. AES 256-bit absolute forward secrecy, kill switches, and DNS/IP leak prevention are included.
CyberGhost provides OpenVPN and WireGuard, two well-known security protocols.
The most widely used protocol is OpenVPN, which offers a decent mix of speed and security and is appropriate for the majority of applications.
However, WireGuard has emerged as a reliable replacement, offering more modern encryption and greater communication.
VPN servers are rarely found in repressive countries like China and the UAE. However, Cyberghost has servers in both countries.
The concurrent connection of up to seven different devices expands the range of viewing options and entertainment options. It is now one of the least expensive VPNs.
Conclusion
So here is the detailed list of free VPNs you should consider going for if you want to use them for school. If you happen to have any more queries, please check our FAQ section below!
FAQs
How do I use a VPN?
It's actually very easy. The software needs to be downloaded and installed, then you only need to log in, select a nation to connect to, and you're ready to go.
Can a VPN slow down my internet speed?
Because a VPN encodes all of your web traffic, nearly all cause some connection speed lag. However, the speed difference won't be evident with the best VPNs.
is it legal to use a VPN in school/college?
Yes, it is completely legal to use a VPN in your school or college as long as it does not have any rules specifically mentioning that the use of a VPN is not allowed.
Why is a VPN better than a Proxy?
While VPN protects all your data and gives you encryption, a proxy only protects certain specific apps and your browser and has so encryption services.