How to Get Around Craigslist IP Ban (Unblock Craigslist IP)?
Craigslist has become one of the most popular names in the world of marketing and advertising today. Advertisements have become an integral part of the world that we live in today and Craigslist is a popular platform.
Craigslist is a popular American advertising platform that stages advertisements of all kinds, from jobs, and resumes to houses for rent, items on sale, demanded things, etc. It is an open platform where one could advertise whatever they offered in the concerned categorisation.
Many users of Craigslist have reported that their Craigslist IP has been banned and they would like to know how they could get past the ban if they could do it at all.
Yes, you can get around Craigslist IP ban to start using the service again by making use of a VPN. A VPN helps you conceal your actual identity and assigns you a fake identity by assigning you a fake IP address.
This way, using a VPN, the identity which has been banned is replaced with a new one and therefore you are able to use the platform again from anywhere around the world.
You must keep in mind that to be able to get past the Craigslist IP ban, you must choose a strong and reliable VPN as not every VPN is capable of doing the above-discussed. Our thorough research has shown that ExpressVPN works the best in these cases.
Quick Guide: How to get around Craigslist IP ban?
Carefully pick a VPN service of your choice. Our research has shown ExpressVPN to be best at its work.
Choose the VPN plan that suits you and your needs best and proceed by making payment for it.
Download the VPN app on your device, create your account and log into it.
Connect to a suitable VPN server in a suitable country on your VPN app like.
Open Craigslist and get access to it again with a new IP.
What errors would blocked Craigslist IP show?
Depending on the reason why you have been blocked, you may encounter different errors on Craigslist. These errors could address specific elements or the overall access depending on the degree and terms of violation.
Here are the popular errors you might see if your Craigslist IP is banned:
"This IP has been automatically blocked"
"This posting is being blocked"
Why could I get blocked on Craigslist?
There are many reasons why Craigslist could block you. Some of the most popular reasons for Craigslist IP ban are as follows:
If you post too many ads.
If you post ads in different locations.
If you make use of a public Wifi to access and post on Craigslist.
Posting anything related to the things listed under the 'Prohibited' list/policy of Craigslist.
If you violate the terms and condition of Craigslist.
If you attempt at posting ads from a region where there is a ban or restriction on the service.
If you post a link on the platform that it finds suspicious.
If you post a message that is detected as being misleading in nature by the platform.
If you try to intentionally navigate the audience to a website or page for the purpose of marketing through your ads.
If you are found to be involved in data scraping, that is, if you are saving people's personal information from their ads.
Tips to avoid getting blocked on Craigslist
Here are some things that you must keep in might to ensure that you are able to enjoy and benefit Craigslist to the maximum without having to worry about your access to Craigslist being banned:
It's always advisable to keep posting on the service from one particular region because posting through multiple regions with the same IP address causes ban.
You should not make multiple accounts with the same IP address because doing to is not allowed by the Terms of Use of Craigslist.
Make sure you do not post anything which is listed in the Prohibited list of Craigslist service.
Cover your original IP address using a VPN so that you can change your IP address whenever you want to create multiple accounts or post from different regions.
Do not spam on Craigslist because if you get identified as a spammer then it can lead to getting banned.
How does a VPN help bypass Craigslist IP ban?
A VPN is the best way to bypass the Craigslist IP ban. When any IP address is banned by the service, there's no way you can use it again for accessing the service.
And here comes the need of using a VPN. As VPNs have access to a lot of servers and each server can give your device a new IP address, using a VPN can get your device a new IP address whenever your existing IP address gets banned.
So whenever your IP gets banned, all you need to do is connect to another server of the VPN and your device will automatically get a new IP address which will thus let you continue using the service.
Detailed steps to set up your VPN to bypass Craigslist IP ban
If you are blocked by Craigslist and would like to access it again, you can use a VPN to get past the Craigslist IP ban. The steps for setting up a VPN to do so are given in detail below:
Step 1: First, since you need a VPN, start off by signing up for a strong and reliable VPN service. We strongly recommend that you use ExpressVPN(get 49% discount + 3 months free).
Step 2: Next you are required to download the app of your selected VPN and install it on your device.
Step 3: All top-notch VPNs require a subscription. So, select a VPN plan you find most suitable and proceed by paying.
Step 4: After you have successfully made the payment and registered on your chosen VPN, sign in to the VPN app by inputting the same credentials using which you have registered for your VPN.
Step 5: On your VPN app, connect to an appropriate VPN server. (If you are seeking to get access to Craigslist from a country where it does not function, connects to a server in the country where it is available.)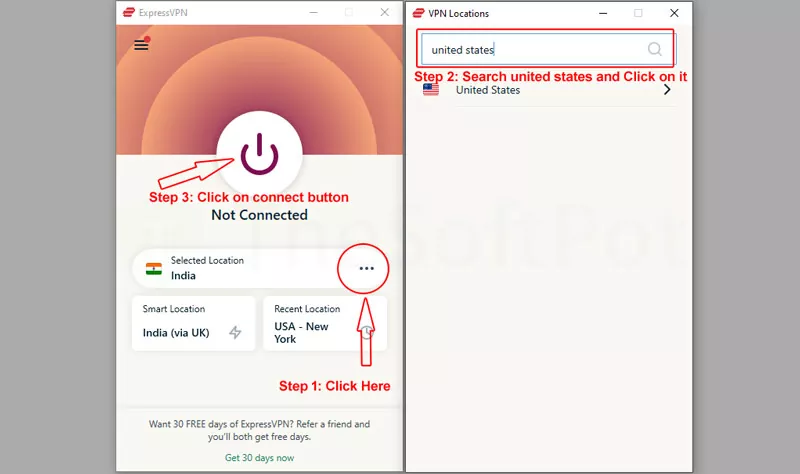 Step 6: Once the device is connected to a suitable VPN server in accordance with the need, you can access the official website of Craigslist. If it does not seem to work properly, connect to another VPN server.
Quick tips for when the VPN doesn't work
Many-a-times, when the VPN does not work, the issue is not the VPN itself, but other small things that can come in the way of the VPN.
Here are some quick tips that you can use when your VPN does not work even after following the correct steps:
Switch between VPN servers
Log out your Craigslist account and log in using another email ID.
Reboot your wifi modem
Use incognito mode on your browsers
Clear browser cache and history.
Clear cookies on your browser.
Contact your VPN support staff.
Try another VPN server if nothing else helps.
Frequently Asked Questions
How do I know if the Craigslist service has banned my account?
Craigslist can ban your account for various reasons. "This posting is being blocked." If this message appears on your screen when you try to use the service, it means it has banned your account. However, using a VPN can resolve this issue.
Is Craigslist IP address ban temporary or permanent?
Craigslist IP address ban is permanent which means if an IP address is banned once, it will not be unbanned and you will require a new IP address to use the service. For this a VPN can work in the best manner as VPNs give you a choice of various IP addresses, so if one gets banned you can switch to another.
What does the prohibited list of Craigslist mean?
The prohibited list of Craigslist is the list which covers things which should not be posted on the service because doing so will lead to getting your IP address banned by the service.
What should I do if my IP address is blocked by Craigslist?
In case your IP address gets blocked by Craigslist, then you will need a VPN to continue using the service. A VPN will give your device a new IP address, allowing you to have access to Craigslist.
Conclusion
Craigslist service is very popular and is used by people in many countries where it is available and also in countries where it is not available with the help of a VPN.
It is common to get your IP address blocked by the service due to different possible reasons. But there's an amazing single solution to get over this problem no matter why the IP address is blocked.
All you have to do is make use of a VPN on your device because a VPN has access to lots of servers and thus can give various IP addresses to the device.
So if one gets blocked, you can anytime switch to a new IP address and continue to enjoy using the service from anywhere.