How To Set Up NordVPN On Apple TV Easily 2022?
Setting up your VPN can be a taxing and complicated ordeal, especially if you are not very knowledgeable in tech and VPNs.
On top of this, most of the guides provided by the service provider are usually filled with technical terms and happen to be complicated.
In this article we have detailed three different ways you can install NordVPN on your Apple TV, keep reading for a few tips as well!
Why should you choose nordVPN for your Apple TV?
There are numerous factors that make this distinguished VPN provider your top pick. Here are some reasons to choose NordVPN, ranging from the amount of servers to the security of various devices:
Incredible Speeds: The NordLynx protocol from NordVPN, which is compact, guarantees optimum performance, and has the lowest VPN data usage. On your Apple TV, unwind and enjoy any streaming service. Your favorite show won't be interrupted by a buffering screen.
Safeguard Any Apple TV: Which Apple TV generation you own has no bearing with NordVPN. The Apple TV 4K, Apple TV HD, Apple TV 3rd, Apple TV 2nd, and Apple TV 1st generations should all be secured.
Safety for all devices: With just one account, you can safeguard your phone, laptop, tablet, router, and IoT devices. With NordVPN, you can secure up to six devices and it works with all the popular operating systems.
Wide Range of Servers: One of the most comprehensive server coverages is provided by NordVPN. You don't have to stress about overcrowding with 5,500+ servers spread across 60 regions.
Try without any risk: It's not necessary to make a long-term commitment right away when purchasing NordVPN. If you are unhappy with the service, you are entitled to a 30-day, no-questions-asked refund.
How to set up nordVPN on AppleTV?
You'll need to install NordVPN in a method that enables Apple TV if you want to use it with your Apple TV. Numerous devices can use NordVPN, however, Apple TV is a little trickier.
Although Apple TVs do not support VPN software, you may still safeguard it using a VPN connection. Simply put, there are a few extra steps required to set up NordVPN on Apple TV. Here are the different ways you can do this:
Configure your WiFi router with a VPN.
Your Apple TV and the VPN connection should be shared.
On Apple TV, configure SmartDNS.
Configure Your WiFi router with your VPN.
Get NordVPN.
Install the VPN on your router.
Switch on your Apple TV.
Make sure your TV is liked to the same WiFi.
Enjoy!
You will need to install NordVPN directly on your router rather than only using an app. Your router's firmware will decide how to install a VPN, but most installations consist of the following:
Find the IP address of your router.
Obtain the router login.
Set up your router to connect to a VPN.
Sharing the VPN connection with your Apple TV
By turning on NordVPN on your laptop, using it as a router, then connecting your Apple TV to the router, you may assign a VPN to your Apple TV.
There may be a couple problems with this tactic. First off, Mac computers do not currently offer this capability. They can distribute their internet access, but no connected devices will receive VPN security. You can set up a link on a Windows machine, but the procedure is difficult.
You can connect to your virtual private network on your PC in the following ways:
Using mobile hotspot
Using wireless connection.
Using Mobile Hotspot on Windows 10:
Go to Settings, click on Network & Internet and then look for Mobile Hotspot. Turn it on.
Then in Network and Internet click on Change Adapter Settings.
Click on TAP-NordVPN Windows Adapter Properties.
Check the box next to "Allow other network users to connect through this computer's internet connection" on the Sharing tab.
Choose the newly formed hotspot from the dropdown menu. The Microsoft Wi-Fi Direct Virtual Adaptor labeled adapter has its name above it.
Using Wireless Connection For Windows 10:
First, use Wi-Fi to connect your Windows computer to your network.
You can use a shared Wi-Fi point of access to link to the internet if your device is VPN incompatible and does not allow any VPN protocols.
Note: Verify that NordVPN is not linked to your device. When you should do so will be made clear in the tutorial.
As an administrator, launch the Windows Command Prompt (cmd.exe). Enter cmd in the Windows Search bar to do that. To run as administrator, right-click the result and choose that option.
Enter the following commands in the Command Prompt: netsh wlan show drivers. You can install a virtual Wi-Fi adapter on your PC if the Hosted network-supported line is set to Yes. If it responds with a No, find and install the latest versions of your adapter drivers. A fresh wireless card might also work as an alternative.
Enter the following command to set up the shared network settings, including the name and password: netsh wlan set hostednetwork mode=allow ssid=NetworkName key=NetworkPassword
Click on enter and you should see a message that reads "The user key passphrase of the hosted network has been successfully changed."
Type 'netsh wlan start hostednetwork' to turn on this virtual network.
You must configure the virtual network to share the VPN connection after it has been activated.
When you right-click the network icon in the system tray, the Network and Sharing Center will appear. Change adapter settings by selecting Open Network and Sharing Center.
The TAP-NordVPN Windows Adapter V9 adapter and the recently generated VirtualNord adapter will be visible. To access Properties, right-click the TAP adapter and choose it.
Select Local Area Connection from the drop menu under the Sharing tab, and check the box that reads "Allow other networks users to connect using this computer's Internet connection" (in our case, it represents VirtualNord). Select OK.
Use the NordVPN app to join one of our VPN servers. Your internet connection, which is linked to NordVPN, will now be used by every device linked to the VirtualNord Wi-Fi network.
Configure a VPN with SmartDNS
While SmartDNS offers advantages, a VPN connection would protect your device and encrypt your traffic better.
The SmartDNS capability is supported by NordVPN. Here's how to configure NordVPN's SmartDNS for Apple TV:
Register your IP address with SmartDNS by signing into your VPN account. Create a new account if you don't already have one.
Locate Network under General on your Apple TV.
To choose your network, click Wi-Fi at the top of the page.
Select Manual DNS Configuration.
Enter the SmartDNS server address that your VPN service has provided. Set Primary DNS for NordVPN to: 103.86.99.103 Set Secondary DNS to 103.86.96.103 if it's accessible.
After setting up your Apple TV, you should have a steady and lag-free connection. But keep in mind that SmartDNS does not offer the same level of protection for your device as a VPN.
How to choose a VPN for Apple TV?
The performance of various VPN providers varies. We have selected the top services that offer all the services you require for you. Here is a list of characteristics to look for in the ideal VPN for Apple TV:
Server Network: Thanks to the large selection of servers dispersed throughout many locations, any site can be unblocked relatively quickly. A supplier with many servers will usually have more than one server in a specific nation. For instance, based on which is handier for you, you can join a server in LA or New York.
Speed: Speed is crucial when streaming content online. Nobody likes to watch TV or a movie while constantly lagging and buffering, but fast VPN speeds will enable you to move around more quickly and without latency.
Kill Switch: A helpful tool that is a staple with quality VPNs and is essential in the current world. In the event of unintended VPN disconnections, the website might be able to discover your precise location. It would stop unintentional IP leaks.
DNS and IP leak protection: By using a reliable VPN, you can prevent the disclosure of your true IP Address, which could expose your precise location. Your connection's privacy must always be secured with a VPN.
Dedicated IP address: As a result of this optional feature, no one will be able to tell if you use a VPN. Even though its cost is slightly on the higher side, it provides the best defense against VPN detection.
These are but a few of the most crucial elements. You may find that you give certain things greater priority than others depending on your needs.
The Best VPNs for Apple TV Overall
To determine which VPNs would be the best alternatives for NordVPN, we tested a variety of VPN services. Here is a list of the top VPN services from among these.
ExpressVPN: Overall best VPN for Security, Speed, and Reliability)
✔ The fastest VPN we tested thanks to its proprietary Lightway protocol.
✔ 3,000+ servers in 94 countries which help you to unblock region-locked content such as HBO Max and US Netflix!
✔ Unblock Hulu, Netflix, VUDU, HBO Max, BBC iPlayer, Sky TV, and more.
✔ Connect up to 5 devices simultaneously with one account.
✔ You can use it on android, Windows, iPhone, Mac, Apple, Smart TV, Chrome, and Router.
✔ 30-day money-back guarantee!
ExpressVPN offer September 2023: For a limited time, you can save up to 49% on 1-year subscription plan + 3 months free.
ExpressVPN is undoubtedly one of the top NordVPN alternatives, according to any expert. The best VPN by far is ExpressVPN, which offers a lot of advantages.
On the display, just one toggle needs to be pressed. Activating and disabling the VPN instantly. The speed of this VPN is its best feature. You will always enjoy the fastest speed, regardless of the material you are viewing or the server to which you are connecting.
ExpressVPN offers users access to stuff from 94 different countries and offers more than 3,000 servers.
The ExpressVPN application is easy to install and use. In less than a minute, my smartphone and Windows were configured. After that, all I had to do was click "connect" to launch the VPN. It started working.
In the app's settings, you may decide whether to utilize Lightway or let the VPN decide which protocol is optimal for your network. In addition, more options contain L2TP/IPsec, IKEv2, as well as OpenVPN.
Speed and user-friendliness go in tandem with security. Because it offers industry-standard features like a kill switch, no DNS leak, strong encryption, and P2P servers, ExpressVPN is appropriate for every situation.
There is an exceptionally responsive customer service network available to assist you if you run into any issues.
NordVPN: Budget-friendly VPN with good security features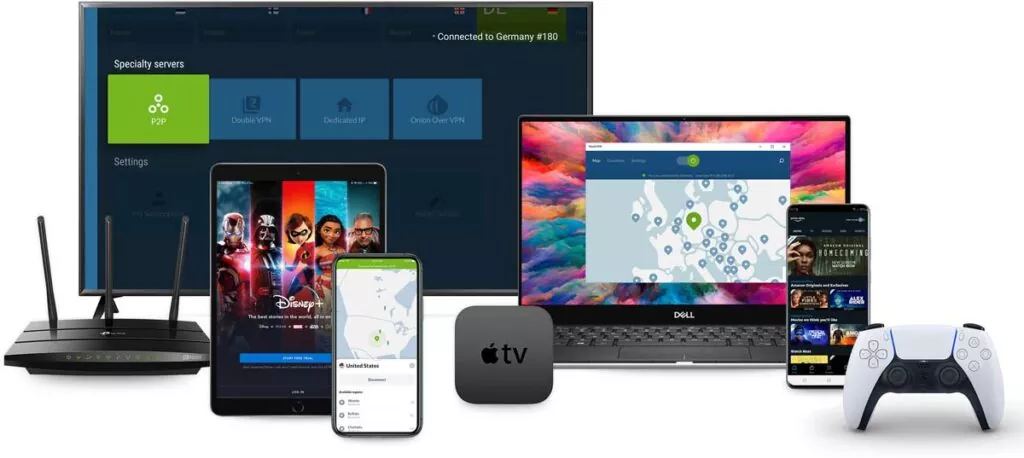 ✔ 5500+ ultra-fast servers in 59 countries.
✔ Connect Up to 6 devices simultaneously with one account.
✔ Stream Hulu, Netflix, VUDU, HBO Max, BBC iPlayer, Sky TV, and more from the UK.
✔ Apps available for Android, Windows, iPhone, Mac, Apple, Smart TV, Chrome, and Router.
✔ 30-day money-back guarantee!
NordVPN offer September 2023: For a limited time, you can save up to 55% at 3.69/month on 2-year subscription plan + 3 months free.
Any honest VPN user will almost always suggest NordVPN. This VPN can accommodate the needs of every player thanks to its 5,500+ servers distributed throughout 59+ nations.
Its unique component, the NordLynx protocol, enhances and accelerates communication. It also possesses characteristics that are regarded as industry norms.
It also offers a double VPN, which runs your data via two VPN filters, to increase your online security.
You have complete online anonymity and safety thanks to a strict no-log policy which only further ensures no session data are stored.
Cyberghost: Optimized Servers for Streaming sites Ensure a great experience
✔ 7,000+ servers in 90 countries so you can easily access regional content
✔ Connect Up to 7 devices simultaneously with one account
✔ Unblock platforms like Netflix, VUDU, HBO Max, BBC iPlayer, Sky TV, and more
✔ Apps available for android, window, iPhone, Mac, Apple, Smart TV, Chrome, Router, etc
✔ 45-day money-back guarantee
CyberGhost VPN Exclusive Deal September 2023: For a limited time, you can save up to 84% at $2.03/month on a 2 Years subscription plan + 4 Months FREE
Cyberghost is your best choice if speed is more essential to you than servers. On any server, Cyberghost can deliver the speediest performance. While providing dedicated servers for gaming and torrenting, it is also proficient at avoiding geo-restrictions.
Strong security measures guard you against risks like online criminals. Included are kill switches, DNS/IP leak protection, and AES 256-bit total forward privacy.
OpenVPN and WireGuard, both well-known safety protocols, are offered by CyberGhost.
The most commonly used feature is OpenVPN, which is suitable for most applications and provides a respectable balance of speed and security.
WireGuard, on the other hand, has emerged as a dependable solution, providing more up-to-date encryption and improved communication.
In authoritarian nations like China and the UAE, VPN servers are not frequently located. Cyberghost, however, has servers in both nations.
The variety of viewing possibilities and entertainment alternatives is increased by the simultaneous connection of up to seven various devices. It is now among the cheapest VPNs.
Conclusion
Now that you're utilizing a VPN on your Apple TV, you should be able to access material from the nation of your choice! Contact your VPN provider for assistance if, for any reason, you are unable to access your preferred services while connected to your VPN.
Last but not least, if you're new to the world of VPNs and are unsure about using NordVPN, we suggest reading our section on "Why Should You Choose NordVPN" to see how it might help you! If you have any more queries do check our FAQ section below!
FAQs
What other devices are compatible with nordVPN?
Windows, macOS, Android, iOS, and Linux are all compatible. In addition, installing NordVPN on your router will safeguard any device connected to your network while taking up just one of the router's six slots.
Do routers come with built-in VPNs?
Yes, some routers already have a VPN setup built inside. If you are looking for such a router, we suggest you check the compatibility and all the important details.
Why is Apple TV unable to use a VPN?
This is because Apple TV does not support VPN software, but there are ways around this restriction.
Does Apple not allow VPNs to be used with its TVs?
It is not illegal as Apple has not banned VPNs from being used with its TVs, it is just the lack of software.