How to Unblock Snapchat From Anywhere: Easy Tips 2023
Do you want to unblock Snapchat but don't know how to do that? This article will help you figure out how to unblock Snapchat from anywhere by using a VPN service!
Snapchat is a multi-media instant messaging service and software created in the United States by Snap Inc., formerly known as Snapchat Inc.
One of the main characteristics of Snapchat is that images and messages are frequently only accessible for a brief period of time before they are no longer viewable by their recipients.
The app has changed from its initial focus on peer-to-peer photo sharing to now including users' "Stories" comprising 24 hours of chronological content as well as "Discover," which allows businesses to offer short-form, ad-supported content.
Snapchat is banned in a lot of countries due to censorship and geographical restrictions. But there is a way to get around these limitations. Follow the quick steps to unblock Snapchat.
Quick Steps to Unblock Snapchat From Anywhere?
Subscribe to a VPN like ExpressVPN.
Download and install the VPN app for your device.
Connect to a VPN server in the US.
Download the Snapchat app and enjoy!
Why Is Snapchat Banned In Some Regions?
There are numerous reasons why Snapchat is restricted. In offices and classrooms, it is typically done to avoid distraction. Nationwide restrictions are more difficult; they are frequently put in place by governments for political or cultural reasons.
Both of these bans are circumvented by some VPNs. We suggest using a VPN with disguised servers when navigating severely restrictive firewalls, such as government censorship. This is why ExpressVPN is the #1 suggestion because it makes use of these specialized servers to function with any kind of network and a governmental firewall.
Why Do You Need A VPN To Unblock Snapchat From Anywhere?
Snapchat is banned in a lot of countries due to geographical restrictions and censorship. A surprising amount of countries have banned Spanchat, China, Russia, Belarus, Iran, and Uganda, to name a few of these countries.
Other nations also have tight firewall regulations and strict censorship laws. If you want to unblock Snapchat, you will have to use a premium VPN to keep your identity anonymous.
Using the internet anonymously prevents local network administrators, ISPs, and the websites you visit from being able to trace you by using a VPN, a type of online privacy technology.
This strategy still works even if your country entirely forbids it or if you have to deal with a firewall at work or school. Nobody, not even your internet service provider (ISP) or the government, can notice that you are using Snapchat thanks to VPN programs that mask your online activity.
You can access Snapchat despite your network administrator and Internet service provider's inability to watch your online behavior.
The VPN hides your IP address and location by routing your traffic via one of its private servers. VPNs also safeguard your confidentiality and security when using Snapchat because Snapchat cannot see your real IP address or where you are really located.
So that no one can use your snaps or the Snap Map to determine where you are, you can utilize your VPN to conceal or spoof your location.
Another benefit of using a VPN is anonymity. The local network administrator at your school won't be able to see what you are doing on the internet because a VPN offers an encrypted connection. This implies that you could not only circumvent the limitations established by your school and also do it secretly.
How to unblock Snapchat from your Country?
Below are the steps to unblock Snapchat from anywhere:
Step 1: Choose a VPN service from the list below, then register with them. We advise ExpressVPN.
Step 2: Install the necessary apps on the device you desire to use Snapchat on after downloading them.
Step 3: Open the VPN program, log in or create an account, and choose a server location from the list. It's important to keep in mind that you choose a server in a country where Snapchat is not restricted, for example, the US or the UK.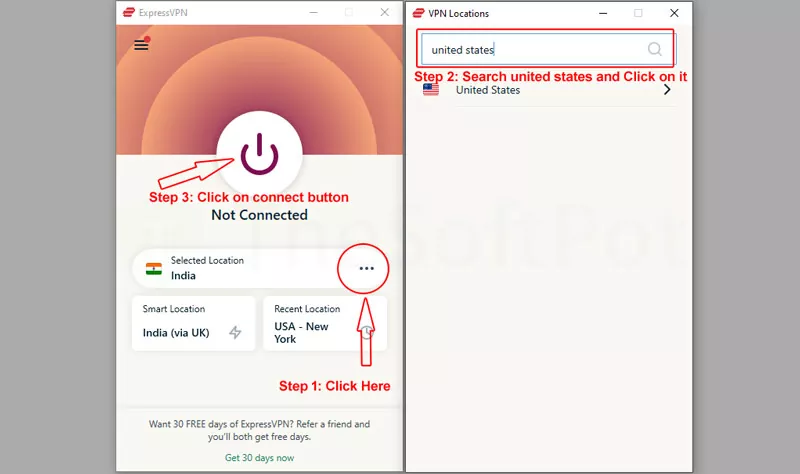 Step 4: Download the Snapchat app on your device or open the Snapchat website on your browser.
Step 5: Register to Snapchat and you are good to go! You can now unblock Snapchat and use it!
How To Disable Location Settings For VPN To Unblock Snapchat
In order for your VPN to function on Snapchat, you must disable the location settings. If you don't, the VPN will be overridden by your device's GPS and cease to function.
This adds an additional degree of security and is quite simple to perform. Turning off your location settings while posting snaps keeps you from being discovered if you use a VPN to visit Snapchat from work or school.
Also, it makes sure that no one can follow you or determine where you are depending on your snaps or the Snap Map.
Here is how to disable location settings on various devices to unblock Snapchat:
Disable Location Settings To Unblock Snapchat on iOS:
You can disable the location setting to unblock Snapchat on your iOS by following the steps here:
Navigate to Snapchat Settings. The location settings for Snapchat can be modified here.
Set the Location to "Never" after choosing it. This stops Snapchat from getting access to your actual location.
Disable Location Settings To Unblock Snapchat on Android:
You can disable the location setting to unblock Snapchat on your Android by following the steps here:
Click the Settings button. Your applications list or Finder Search are two places where you can look up your settings.
Click Snapchat > Permissions under Applications. You will then be sent to Snapchat's location settings.
Turn off Location. Snapchat is no longer able to access your GPS to establish your location.
Disable Location Settings To Unblock Snapchat on Desktop:
You can disable the location setting to unblock Snapchat on your desktop by following the steps here:
Get the Snapchat website's address. Use your user credentials to log in.
begin developing a snap. Click Filters & Lenses > Get Started > Create Now to access this option.
Stop allowing Snapchat to access your location. Your browser will display a brief pop-up informing you that "create.snapchat.com" is attempting to access your location. The location settings can be disabled by selecting "Block" or "Don't Allow."
Can A Free VPN Help Unblock Snapchat?
It varies. Free VPNs are frequently insufficiently strong or covert to unblock Snapchat in nations with stringent censorship.
There are unintended consequences to utilizing free VPNs, even while some may be effective in granting you access to the app in less critical circumstances, including at work or school.
This typically involves intrusive adverts, sluggish servers, and even worse, the sale of your personal data to third parties.
In my opinion, taking a chance when any of the above VPNs come with a money-back guarantee is not worth it. On VPN websites, you may typically find discount offers for new users that can lower the cost of signing up.
FAQs
which VPN is best to unblock Snapchat?
We would suggest going for ExpressVPN, as it is a trusted VPN. ExpressVPN will easily be able to unblock Snapchat.
Will A VPN Drastically Decrease my internet speed?
A VPN would probably slow down your connection because you need to link your internet server and the VPN server in order to encrypt your visibility online and identity. The impact should be negligible if you pick a reliable VPN rather than one that uses satellite internet.
What devices are compatible with Snapchat?
Android devices running Android 4.4 or newer and iOS devices running iOS 12 or newer as well as web browsers are devices compatible with Snapchat!
Conclusion
If you follow the above-mentioned solution and keep in mind to disable your device's location, you will definitely be able to unblock Snapchat without any hassle or difficulty. If you happen to have any more queries, we urge you to check out our FAQs section!