10 Best Private Search Engines For Safe Browsing [Updated 2023]
Want to be safe while browsing the internet? We have listed the best private search engines for you in 2023.
The last time you needed to look something up on the internet, if you're like the majority of people, you probably used Google, Yahoo, or some other famous search engine. And while we are all aware of them collecting our data, it is often something we are not fond of.
These search engines are factory-style data-gathering operations with little concern for your privacy. They record your IP address, search phrases, the results you click on, how frequently you return to the results page or change your search, and a ton of other information.
With the use of all this information, they can produce a "user map" that captures your surfing preferences. These maps are sold to advertisers for billions of dollars each year, who then inundate you with relevant adverts.
How then can you search online for what you need without becoming a consumer product for a business? A smart place to start is by using lesser search engines that don't record your activity.
In a Hurry! Quick Guide: Top 5 Private Search Engines
Check out the below list of top 5 private search engines for safe browsing the internet.
Startpage: This private search engine uses Google technology, but does not monitor users, to offer a seamless and private browsing experience.
DuckDuckGo: Probably the most popular private search tool includes a privacy policy that is completely visible.
Searx.me: The most secure meta-search engine is one that uses open-source software and enables code modification.
Qwant: Very user-friendly and organizes your search results by different headings and titles.
Swisscows: They use privately owned and run servers and gather results from search engines.
What Are Private Search Engines?
As mentioned earlier most, if not all, of the big and famous search engines like Google, Yahoo, etc. try and tries to keep track of everything you do online, including the websites you visit, the people you talk to, and the things you might be interested in buying.
Information about your interactions is gathered and saved in the form of a personal profile when you use Google products, as well as many associated services, including some that appear to have nothing to do with Google.
The search function on Google is no different. Google records the search terms you type as personal identifiers and adds them to your search history and online profile.
Even though it helps Google produce more relevant search results, many people feel as though their privacy is being violated by this. This is especially true in today's society, where we frequently turn to search engines for answers to mundane problems, even delicate ones.
Fortunately, you do have options if you're concerned about Google, Bing, and other search engines monitoring and recording your searches online. These alternatives are called Private Search Engines.
Any companies have identified the need for search engines that deliver trustworthy results without compromising privacy and have developed more covert versions of their products.
In this article, we list the top private search engines and go into great detail about their features.
What Are The Best Private Search Engines Available?
1. Startpage
The most effective Google substitute is this search engine from the Netherlands. It leverages Google search results without storing any user information or disclosing any information to outside parties.
You may look for images and movies using StartPage's powerful filtering tool. Additionally, Chrome and Firefox extensions are accessible on it.
Search engines like this one are an excellent alternative if you are unable to use a VPN. StartPage has three distinct elements that set it apart from its rivals:
Support for HTTPS that only shows you results from reliable websites.
Removes the need for cookies with its URL generator.
You can browse in complete privacy with a proxy server that masks your location and IP address.
2. DuckDuckGo
If you've ever searched for a private search engine, DuckDuckGo was undoubtedly the result. Around 10 million searches are served daily by this well-liked search engine. Over 400 sources, including Wikipedia, Bing, Yandex, and Yahoo, are used to produce its findings.
DuckDuckGo provides supplementary tools like !bang, which let users directly search on many other websites like Amazon, Wikipedia, or Yahoo. Just add an exclamation point before your inquiry.
Installing the DuckDuckGo Chrome extension will allow you to examine how really private the websites you visit are.
That seems like the ideal private browser. Well, not quite. News that DuckDuckGo had authorized Microsoft to follow users through specific sites, such as LinkedIn and Bing, surfaced in 2022.
This need appears to be an essential part of an agreement that DuckDuckGo has with Microsoft, which supports some of its advertising infrastructures.
The privacy promises made by DuckDuckGo are still technically true because these trackers cannot be linked to a specific user profile. But what many people find troubling about this is the lack of transparency.
The information ought to have been made available sooner, especially for a corporation that values customer privacy so highly.
3. Searx
A free metasearch engine with a strong privacy focus is Searx. It doesn't provide the search engines it employs access to consumers' IP addresses or search history.
Additionally, Searx disables cookies and guards against malicious scripts, pixels, and tracking HTTPS headers.
Additionally, it stops search results from being filtered based on your search preferences, which is quite useful if you wish to reduce third-party tracking.
Google's tracked redirect links are not used by Searx. In addition, it enables you to see websites without going there by using cached and proxy links. You can prevent unintentionally running into dangerous websites with this method.
4. Qwant
Because it must adhere to European data and privacy rules, this France-based search engine has stricter privacy policies than its American counterparts.
You can be sure that it doesn't collect any non-consensual user details or store any information that could be used for advertising.
Additionally, Qwant has pledged to prevent its users from becoming trapped in the "filter bubble," which occurs when users receive search results based on their behavioral profiles and never see data that challenges their opinions.
Additionally, the search engine is user-friendly and organizes your search results by "Web," "News," and "Social media." News, popular celebs, upcoming events, and other intriguing articles are all included on its homepage.
5. Swisscows
Swisscows' privacy statement is brief and to the point: "We do not gather any personal data from our visitors. None of any kind.
Your IP address, browser information, or device details are not recorded. Your search keywords are also not logged or studied. The total number of daily search inquiries is the only information that Swisscows keeps track of.
The search engine operates exclusively on privately owned servers; no infrastructure from outside sources is used. Its DataCenter is secured by the strict privacy and data retention regulations of Switzerland and is located underground in the Swiss Alps. Its infrastructure is not present in either the EU or the US.
6. SearchEncrypt
Local encryption using Perfect Forward Secrecy is applied by SearchEncrypt (PFS). This implies that even if your private key is compromised, your session key and data remain secure.
When you're done surfing, this search engine removes your search words and obtains results from a web of search partners.
SearchEncrypt can also be used to look up news, maps, or movies that respect your privacy. Additionally, a Google Chrome addon is accessible.
7. Yippy
Those who want structured information will love this safe search engine. Trying to find dogs? Your search results will be divided into categories such as dog training, dog breeds, dog pictures, etc.
Then you can filter them and mark any outcomes that don't pertain to your search. Neither customized nor advertisements.
Users of Yippy, in contrast to some other search engines, can select to look for particular types of material, such as photographs, news, jobs, or blogs.
8. Gibiru
Gibiru is a great option if you want a search engine that is both quick and dependable. It's an encrypted search engine that uses Google's algorithm to quickly and anonymously deliver search results to you. It was Google's original form before Google ads.
Gibiru disagrees with Google while employing its algorithm and claims that its search engine is:
"Faster than the NSA Search Engines because it doesn't put all kinds of tracking and personalization cookies on your computer."
9. Ecosia
Ecosia safeguards not only the privacy of its users but also the world's forests. This environmentally conscious browser contributes 80% of its earnings to charities that promote reforestation.
The organization that is behind it describes itself as a social enterprise and is CO2-negative.
Ecosia provides an encrypted search option without storing or selling user information. It neither uses external tracking techniques nor creates user profiles based on user's search habits. By placing unobtrusive adverts next to the search results, Ecosia makes money.
Given that Ecosia presently has 15,000,000 customers and has planted over 131 million trees, it appears that this strategy is effective.
10. Mojeek
The search engine Mojeek is a crawler-based one that doesn't use any other search engines. It builds its very own index of web pages through web crawling, which it uses to produce search results.
As a result, you obtain findings that are completely impartial and independent of any outside algorithms.
Although Mojeek's index is far smaller than Google's, it offers a rare chance to view the web with no filters. It is environmentally aware, like Ecosia, and houses its servers at Custodian, one of the UK's greenest data centers.
The option to search using your emotions is another intriguing function that Mojeek provides.
Why Should You Use Private Search Engines?
The answer to this question is pretty simple. Private search engines are those that don't monitor your internet activities.
In addition to private browsing, they provide an alternative to regular search engines that is more data secure. Your personal information won't be stored or tracked by a private search engine when you browse the internet.
This is why you should use prefer a private search engine instead big and famous names. Usually, people use a VPN along with a private search engine to completely secure their online activity.
Why Should You Use A VPN With A Private Search Engine?
Your information is not retained, sold, or used in any other way by private search engines. Sadly, that won't prevent the websites you visit from engaging in it.
Your internet service provider (ISP) monitors your online behavior and sells the information they collect in many nations. That implies that you are being monitored even before you type a search phrase.
Once you click on a result page, as the majority of private search engines note in their terms of service, they are no longer able to safeguard you. Your IP address can be recorded and used to track you on websites.
Most websites include a privacy statement somewhere, but by the time you locate it, your information can have been compromised.
Your safest line of security against businesses, hackers, con artists, and governmental organizations that track the location of your device or use your browser history is a VPN.
A VPN stops outside parties from monitoring your activity by hiding your real location and substituting it with an IP generated by its own network of servers.
The top VPN services guarantee you complete online privacy by encrypting your data at a military-grade level and using sophisticated security features.
Your anonymity, location, and online data are crucial to safeguard, so look for tools like IP cloaking, DNS/IPv6 leak protection, ad filters, and kill switches.
The majority of high-end VPN providers offer each of these capabilities. Additionally, they provide military-grade encryption, limitless data, speed, and bandwidth, and most can unblock all major services like Netflix.
Best VPNs for Private Search Engines?
We tested a lot of VPNs to find out which VPNs can help while browsing the internet safely. Out of these, we have listed 3 top VPNs here.
ExpressVPN: Overall best VPN for Security, Speed, and Reliability)
✔ The fastest VPN we tested thanks to its proprietary Lightway protocol
✔ 3,000+ servers in 94 countries which help you to unblock region-locked content
✔ Connect Up to 5 devices simultaneously with one account
✔ Unblock Netflix, VUDU, HBO Max, BBC iPlayer, Sky TV, and more
✔ You can use it on android, window, iPhone, Mac, Apple, Smart TV, Chrome, Router
✔ 30-day money-back guarantee
ExpressVPN offer September 2023: For a limited time, you can save up to 49% on 1-year subscription plan + 3 months free.
An expert would undoubtedly advocate ExpressVPN if you asked them to name the ideal VPN. The best VPN by a wide margin, ExpressVPN provides many advantages.
There is merely a single toggle on the display. In a brief moment, it switches the VPN on and off. This VPN's speed is its strongest feature. No matter what you are streaming or which server you connect to, you will always experience the highest speed.
ExpressVPN boasts over 3,000 servers in 94 countries, allowing you to access content worldwide.
MediaStreamer is a Smart DNS service provided by ExpressVPN. This function enables you to access streaming sites on devices that typically do not support VPNs, such as gaming consoles and smart TVs.
ExpressVPN's apps are user-friendly and easy to use & install. It took me less than a minute to configure it on my phone and windows. After that, all I had to do was click "connect" to activate the VPN. It started working.
In the app's settings, you can switch to Lightway or let the VPN determine the appropriate protocol for your network. There are also OpenVPN, IKEv2, and L2TP/IPsec options.
Speed and user experience go hand in hand with cybersecurity. Industry-standard functions like a kill switch, no DNS leak, strong encryption, and P2P servers make ExpressVPN perfect for any situation.
There is an incredibly quick customer service system that can assist you if you have any issues. With all of these advantages, ExpressVPN is tough to overthrow right away.
NordVPN: Budget-friendly VPN with good security features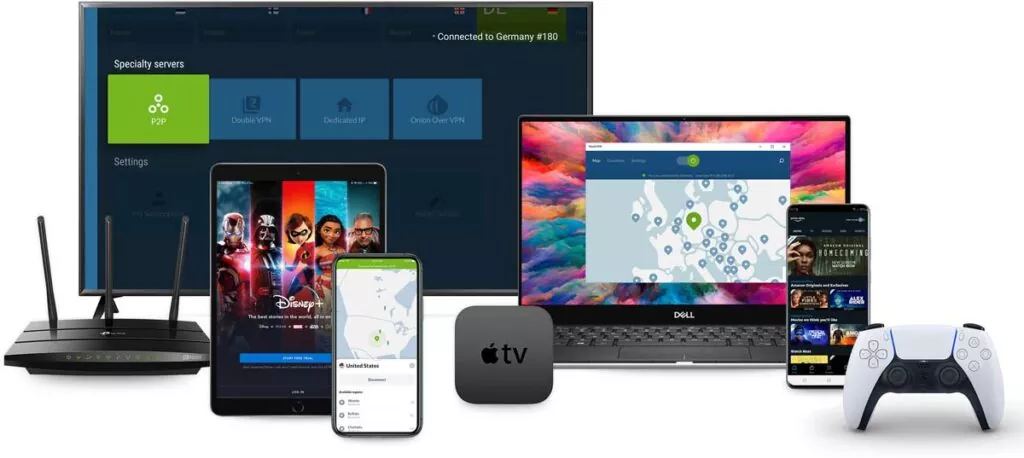 ✔ 5500+ ultra-fast servers in 59 countries
✔ Connect Up to 6 devices simultaneously with one account
✔ Stream Netflix, VUDU, HBO Max, BBC iPlayer, Sky TV, and more from anywhere
✔ Apps available for android, window, iPhone, Mac, Apple, Smart TV, Chrome, Router
✔ 30-day money-back guarantee
NordVPN offer September 2023: For a limited time, you can save up to 55% at 3.69/month on 2-year subscription plan + 3 months free.
Any game enthusiast will always mention NordVPN if you ask them for a VPN, and they are not mistaken. With 5,500+ servers in 59+ countries, this VPN can handle any gamer's needs.
Its unique feature, the NordLynx protocol, speeds up and strengthens communications. In addition to having features that are considered the industry standards.
It also offers a double VPN, which runs your data through two VPN filters to increase your online security.
A strict no-log policy also ensures that no session records are kept, giving you complete online anonymity and safety.
Every day of the week, expert customer care is accessible around-the-clock to help you with any issue, no matter how big or small.
Cyberghost: Optimized Servers for Streaming sites
✔ 7,000+ servers in 90 countries so you can easily access regional content
✔ Connect Up to 7 devices simultaneously with one account
✔ Unblock platforms like Netflix, VUDU, HBO Max, BBC iPlayer, Sky TV, and more
✔ Apps available for android, window, iPhone, Mac, Apple, Smart TV, Chrome, Router, etc
✔ 45-day money-back guarantee
CyberGhost VPN Exclusive Deal September 2023: For a limited time, you can save up to 84% at $2.03/month on a 2 Years subscription plan + 4 Months FREE
Cyberghost is the VPN for you if you choose speed over servers. Cyberghost can deliver the quickest performance on any server. CyberGhost offers specialized servers for gaming and torrenting
It provides robust security features to keep you safe from cybercriminals and other threats. This includes AES 256-bit encryption with perfect forward secrecy, plus DNS/IP leak protection and a kill switch.
OpenVPN and WireGuard are two industry-leading security protocols offered by CyberGhost.
OpenVPN is the most widely used protocol, with a good balance of security and speed that makes it suitable for most applications.
However, WireGuard has emerged as a viable alternative, offering quicker connections and more contemporary encryption.
Most VPNs do not have servers in censored countries, like China and the UAE. But Cyberghost has its servers in both countries.
It enables up to seven simultaneous connections from multiple devices, enhancing flexibility and entertainment of TV viewing. It is one of the most economical VPNs available in terms of price.
Conclusion
Your private information shouldn't be given to outside companies just because you are doing a web search. Giving up your data is too steep a price to pay for a "free" search service, whether the outcome is just the nuisance of tailored adverts or something much more severe like Cambridge Analytica's interfering with US elections.
Private search engines provide excellent results while helping you keep your private data secure while conducting searches on popular websites like Google and Yahoo.
Unfortunately, even if you use the top services mentioned above, your online behavior can still be tracked.
You can only browse entirely anonymously with the end-to-end encryption and location disguising provided by a VPN.
FAQs
1. Do private search engines actually remain private?
The search engine's business model determines how private it is. Non-private search engines make money by employing ad targeting and disclosing your information to outside parties.
Private search engines don't monitor your activity or collect your data. They lessen your digital footprint and give you more objective results that are untouched by their marketing techniques.
2. So how do these search engines generate revenue?
It is dependent on the search engine, which is the gist of it. Some non-profits, like Searx, are financed by donations. Another well-liked tactic is contextual advertising, which targets consumers with ads only based on the search terms they input.
Some will even employ affiliate link systems, where they get paid a commission when customers use their search engines to identify things and make transactions.
3. Can private mode or incognito be helpful?
No, using private or incognito mode doesn't really help. Your activity is still visible to webpages, search engines, and internet providers.
Simply said, your browser only keeps the browsing history from your current session (and sometimes other features like cookies, based on your browser) until you close it.