VPN Is Not Working With Netflix [Easy Fixes 2023]
It can be very annoying to receive the dreaded Netflix proxy error notification after paying for a VPN to access Netflix.
If you're getting the "Oops, something went wrong…" error message when trying to access Netflix, you appear to be using an unblocker or proxy; this is because Netflix has blacklisted the IP address of your VPN server.
Fortunately, there are steps you can take if your VPN doesn't allow you to access Netflix. This article explains why Netflix restricts VPNs and offers tried-and-true strategies for circumventing the restriction.
Make sure your preferred VPN is compatible with Netflix before we get started. If not, you might want to think about joining one if this is not the case.
Quick Guide: Here Are Some Fast Solutions if you are in a hurry!
Clear your cookies and cache.
Upgrade your VPN plan (Click Here).
Connect to a different server.
Use Smart IPv6
Why Does Netflix Block VPNs?
In brief, some shows can only be viewed in specific nations since Netflix only has the legal right to stream them there. It is challenging for Netflix to keep its license agreements since a VPN can give the impression that you are in another country.
When a network or studio creates a show or movie, agreements are made that specify which distributors can display the content and where, and those distributors aren't always the same company.
For instance, Showtime created the popular television program Homeland, which is only accessible in the United States on Showtime's streaming website.
To make Homeland accessible to users outside of the United States, Showtime has also partnered with Netflix. In Germany, Netflix works just fine for watching it, however, Netflix subscribers in the US must subscribe to Showtime.
Netflix uses geoblocks to limit the episodes customers may view based on their actual location in order to maintain its business model without violating any legal obligations.
The technology uses your personal IP address to pinpoint your location before delivering content tailored to your home country.
What to do if VPN is not working with Netflix?
Below are some straightforward solutions to get your VPN to function with Netflix.
1. Upgrade Your VPN Plan:
Utilizing one of the top Netflix VPNs is the most efficient solution to address Netflix VPN issues. This is due to the fact that, despite your best efforts, the majority of VPNs will never function with Netflix.
The bulk of VPN services either don't have the required technology, give other software features more priority, or lack the funding to unblock Netflix.
Our studies show that the most reliable technique to get around the Netflix VPN ban in November 2022 is by utilizing ExpressVPN with Netflix.
Despite not being cheap, ExpressVPN routinely connects to US Netflix plus nine other OTTs. In addition, when connecting to the VPN's New York server during our tests, we were able to access HBO Max while outside the United States and get around Hulu's VPN restrictions.
2. Change Your VPN Server:
When using a VPN, Netflix won't let you use the service since it has tracked down and blocked the server's IP address.
Reconnect to another server within the same nation to obtain a new IP address. It's possible that Netflix won't yet ban the new server. Once connected, restart your app on a mobile device or your desktop browser.
3. Turn off IPv6 addresses:
Rather than using your IPv4 address, Netflix chooses the library you will see depending on your IPv6 address.
Numerous VPNs still do not support IPv6, which is a concern. In the event that your IPV6 address escapes the VPN tunnel, Netflix will display your nearby library.
Instead of utilizing the default VPN settings, we advise disabling IPv6 on your devices for enhanced security.
How to stop Windows from using IPv6:
Activate the Network & Internet settings.
Choose Properties from Network & Sharing Center.
TCP/IP Version 6 (TCP/IPv6) is unchecked.
How to stop using IPv6 on a Mac:
Click Network in System Preferences to get started.
In the lower right corner, select Advanced. On the TCP/IP tab, click.
Choose Off from the dropdown next to Configure IPv6.
Click Apply > Ok.
4. Clear Your Browser's Cache and Cookies
Many websites use cookies and cache files to gather temporary location information. Even if you're connecting to a VPN server in a different nation, Netflix can utilize this data to determine your genuine location.
Netflix will be forced to display the library from the server you are connecting to if you clear these files.
How to clean Google Chrome's cookies and cache:
Activate Google Chrome. In the window's upper right corner, click the three-dot icon.
Go to More Tools > Clear Browsing Data and then pick All Time from the drop-down box.
Select Cache pictures and files and other site data from the drop-down menu.
Tap Clear data.
Launch Chrome once again.
Start Netflix.
How to clean Safari's cookies and cache:
Launch Safari. Navigate to the Safari menu and select Preferences.
Select "Manage Website Data" from the Privacy menu.
In the search box, enter "Netflix," choose it, and then click Remove.
Restart Safari.
Launch Netflix
Note: Only desktop computers can use this approach. You must restart your mobile device in order to delete Netflix's cache and cookies.
5. Purchase A Residential IP Address
Beginning in August 2021, Netflix will immediately restrict all IP addresses that are not residential. Since the majority of VPN servers are housed in data centers, Netflix can easily identify them and impose access restrictions.
Some VPNs give you the option to pay a fee for a home IP address as a workaround. Residential IPs give the impression that you are using a typical ISP connection to log in from your home. As a result, Netflix is unable to detect that you are using a VPN.
6. Modifying VPN Protocol
If your VPN isn't letting you view Netflix, try switching the protocol.
Various encryption and tunneling techniques are employed by each protocol. Some are more adept than others in getting through Netflix's VPN detection mechanisms.
For instance, our studies show that the NordLynx protocol and ExpressVPN perform best for Netflix streaming, whereas NordVPN works best with the Lightway protocol.
In the app's settings, you can modify the VPN protocol. Test each choice until you discover the best one. However, because PPTP offers insufficient encryption and has documented security flaws, we strongly advise against using it.
7. Use Your Computer To Stream Netflix
Try and watch the same video on your laptop or desktop computer if Netflix isn't working for you on gadgets like an iPhone, a Fire TV Stick, or a Chromecast.
When Netflix blocks a VPN, it verifies that your IP address and DNS server are in the same country.
As mobile VPN apps cannot tunnel all traffic through their own DNS servers, watching on a PC is more likely to function.
Ensure that your VPN app is set up to use the VPN's DNS servers as well. In the connection settings of the VPN app, you can enable this.
8. Reach Out To Customer Service
You should be able to get your VPN to operate with Netflix by using the steps listed above. But if the issue notice persists, get in touch with your VPN's customer service staff.
A list of current, functional servers can be given to you by a customer service representative.
For instance, we called ExpressVPN's customer care team when US Netflix was not available on our server. Within 1 minute of asking, we had a list of suitable servers.
9. Use Smart DNS:
Some VPNs include the Smart DNS feature. Without using a VPN, switching Netflix locations is possible with smart DNS.
Since Netflix banned VPN access in August 2021, our experiments have shown that Smart DNS is considerably more dependable than full VPN providers for unblocking Netflix.
Your internet traffic is forwarded through a different country's proxy server by smart DNS. It does not, however, encrypt your traffic as a VPN does. Additionally, it lacks additional security measures.
Generally speaking, we do not advise using Smart DNS. However, Smart DNS is a good solution if all you want to do is stream content from a geo-restricted Netflix library and you don't care about privacy.
How Does Netflix block VPNs?
Multiple users logging in from the same IP address alerts Netflix's security system that the linked traffic is originating from a specific VPN server.
When a Netflix VPN abruptly stops functioning, it's because the VPN server's IP address has been blacklisted by Netflix.
Another method is when a VPN's known IP ranges are purchased by Netflix, those IP addresses are blocked. This implies that even linking to a VPN server located within your own country could prevent you from accessing Netflix. If so, turn off the VPN and give it another shot!
what to do if ExpressVPN is not working with Netflix?
Change Your Server Location;
Here is how you can change your server location:
Press the "Location" button on the ExpressVPN app after launching it.
Try looking for one of the servers from the table below, such as New Jersey.
To access the server, tap it. You'll now be linked to a Netflix-compatible ExpressVPN server.
ExpressVPN has frequently ceased to function with Netflix since the streaming service has blacklisted the VPN server's IP address.
For instance, when you choose the United States in ExpressVPN, New York is immediately connected to it. Since August 2021, Netflix has restricted the IP address because it is a very common server location.
Utilize MediaStreamer
How to utilize ExpressVPN MediaStreamer is as follows:
Verify that a VPN server is not active in your connection. Open an ExpressVPN account and log in.
Select DNS Settings from the list on the left. Click Register my IP address and confirm that Automatically register my IP address is activated.
The DNS address of your device should be changed to the MediaStreamer DNS address. You can now access Netflix in the US.
Use MediaStreamer if you didn't locate an ExpressVPN server that supports US Netflix. The Smart DNS proxy offered by ExpressVPN is called MediaStreamer, and it is a free addition to your ExpressVPN subscription.
By substituting an ExpressVPN DNS server based in the US for the DNS address provided by your ISP, MediaStreamer can get around Netflix's geographic restrictions. Netflix finds this less easily than a typical VPN connection.
You can use MediaStreamer on any internet-connected device you have because it operates independently of the ExpressVPN software. This applies to gadgets like Apple TV, Smart TVs, and gaming consoles that don't allow VPN software.
Unfortunately, MediaStreamer only supports US Netflix. Although it is the most visited library, we don't believe it to be a deal-breaker.
Clear Cache & Cookies in the Browser:
Here's how to clear Google Chrome's browser cookies and cache:
Activate Google Chrome. In the top right-hand corner, click the three dots.
Select "Clear Browsing Data" under More Tools. Select All Time from the Time Range drop menu.
Examine your browsing history, cookies, cached pictures, and other site data. Tap Clear data.
Open Chrome again and go to Netflix.
When you use Netflix's service, it temporarily keeps the information about your location. Cache and cookies are the names of these files.
Netflix uses these to determine your actual location, even if you're connecting to a VPN server in another nation. It will prevent you from viewing its material if these locations don't match.
By removing these files, only the IP address of your VPN server can be used by Netflix to determine your location. After there, you can stream movies and TV shows from the Netflix region you've selected.
Use the steps above even if you're using a different browser. On all widely used web browsers, the technique for deleting cookies and cache is comparable.
The Lightway Protocol has changed:
Changing the VPN protocol within the ExpressVPN app is as follows:
For the hamburger menu on desktop computers, select the three horizontal lines in the top-left corner. On a smartphone, hit Options in the bottom right corner.
Select Lightway – UDP under Protocol on desktop computers. Tap Settings > VPN Protocol > Lightway – UDP on a mobile device.
Try switching your VPN protocol if ExpressVPN is having trouble getting Netflix to function. Some protocols are more effective than others at getting over Netflix's VPN ban due to the various encryption and obfuscation techniques used by each protocol.
You should join the Lightway (UDP) protocol, as recommended. Also, the fastest protocol by ExpressVPN is Lightway. With no buffering or lag, it will broadcast material in HD and 4K.
Get in touch with Customer Support;
Here is how to get in touch with ExpressVPN's customer service department:
Visit the ExpressVPN webpage. Click on Need help? Chat with us now! on the screen's bottom right corner.
Write out your query. The email address linked to your account will then be requested from you.
Your request will receive a response from an agent shortly.
Contact ExpressVPN's customer support if none of the troubleshooting techniques mentioned above are successful.
You can get a current list of the specific servers that can unblock Netflix from ExpressVPN's customer support team.
The Best VPNs to Unblock Netflix
We tested a lot of VPNs to find out which VPNs could help unblock Netflix. Out of these, we have listed 3 top VPNs here.
ExpressVPN: Overall best VPN for Security, Speed, and Reliability)
✔ The fastest VPN we tested thanks to its proprietary Lightway protocol
✔ 3,000+ servers in 94 countries which help you to unblock region-locked content
✔ Connect Up to 5 devices simultaneously with one account
✔ Unblock Netflix, VUDU, HBO Max, BBC iPlayer, Sky TV, and more
✔ You can use it on android, window, iPhone, Mac, Apple, Smart TV, Chrome, Router
✔ 30-day money-back guarantee
ExpressVPN offer September 2023: For a limited time, you can save up to 49% on 1-year subscription plan + 3 months free.
An expert would undoubtedly advocate ExpressVPN if you asked them to name the ideal VPN. The best VPN by a wide margin, ExpressVPN provides many advantages.
There is merely a single toggle on the display. In a brief moment, it switches the VPN on and off. This VPN's speed is its strongest feature. No matter what you are streaming or which server you connect to, you will always experience the highest speed.
ExpressVPN boasts over 3,000 servers in 94 countries, allowing you to access content worldwide.
MediaStreamer is a Smart DNS service provided by ExpressVPN. This function enables you to access streaming sites on devices that typically do not support VPNs, such as gaming consoles and smart TVs. Viewing Netflix will be a seamless experience for you.
ExpressVPN's apps are user-friendly and easy to use & install. It took me less than a minute to configure it on my phone and windows. After that, all I had to do was click "connect" to activate the VPN. It started working.
In the app's settings, you can switch to Lightway or let the VPN determine the appropriate protocol for your network. There are also OpenVPN, IKEv2, and L2TP/IPsec options.
Speed and user experience go hand in hand with cybersecurity. Industry-standard functions like a kill switch, no DNS leak, strong encryption, and P2P servers make ExpressVPN perfect for any situation.
There is an incredibly quick customer service system that can assist you if you have any issues. With all of these advantages, ExpressVPN is tough to overthrow right away.
NordVPN: Budget-friendly VPN with good security features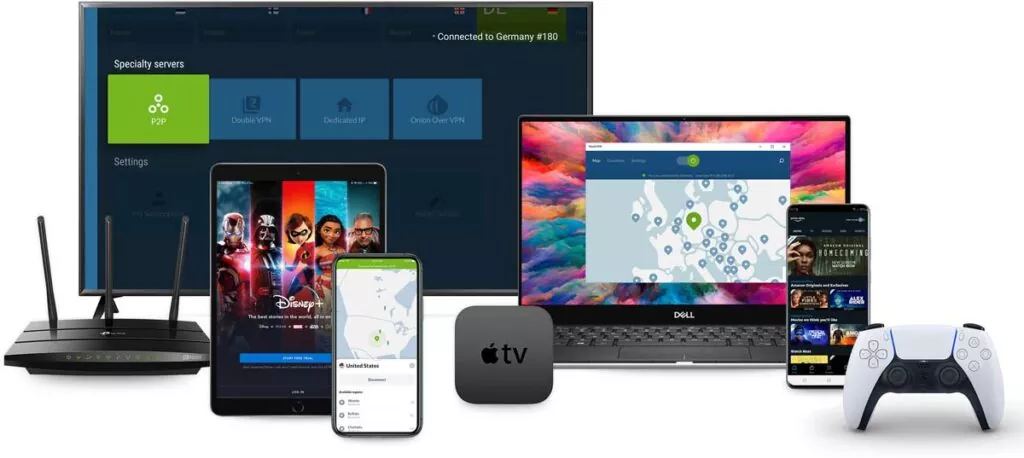 ✔ 5500+ ultra-fast servers in 59 countries
✔ Connect Up to 6 devices simultaneously with one account
✔ Stream Netflix, VUDU, HBO Max, BBC iPlayer, Sky TV, and more from anywhere
✔ Apps available for android, window, iPhone, Mac, Apple, Smart TV, Chrome, Router
✔ 30-day money-back guarantee
NordVPN offer September 2023: For a limited time, you can save up to 55% at 3.69/month on 2-year subscription plan + 3 months free.
Any game enthusiast will always mention NordVPN if you ask them for a VPN, and they are not mistaken. With 5,500+ servers in 59+ countries, this VPN can handle any gamer's needs.
Its unique feature, the NordLynx protocol, speeds up and strengthens communications. In addition to having features that are considered the industry standards.
It also offers a double VPN, which runs your data through two VPN filters to increase your online security.
A strict no-log policy also ensures that no session records are kept, giving you complete online anonymity and safety.
Every day of the week, expert customer care is accessible around-the-clock to help you with any issue, no matter how big or small.
Cyberghost: Optimized Servers for Streaming sites Ensure a great experience
✔ 7,000+ servers in 90 countries so you can easily access regional content
✔ Connect Up to 7 devices simultaneously with one account
✔ Unblock platforms like Netflix, VUDU, HBO Max, BBC iPlayer, Sky TV, and more
✔ Apps available for android, window, iPhone, Mac, Apple, Smart TV, Chrome, Router, etc
✔ 45-day money-back guarantee
CyberGhost VPN Exclusive Deal September 2023: For a limited time, you can save up to 84% at $2.03/month on a 2 Years subscription plan + 4 Months FREE
Cyberghost is the VPN for you if you choose speed over servers. Cyberghost can deliver the quickest performance on any server. It offers specialized servers for gaming and torrenting.
It provides robust security features to keep you safe from cybercriminals and other threats. This includes AES 256-bit encryption with perfect forward secrecy, plus DNS/IP leak protection and a kill switch.
OpenVPN and WireGuard are two industry-leading security protocols offered by CyberGhost.
OpenVPN is the most widely used protocol, with a good balance of security and speed that makes it suitable for most applications.
However, WireGuard has emerged as a viable alternative, offering quicker connections and more contemporary encryption.
Most VPNs do not have servers in censored countries, like China and the UAE. But Cyberghost has its servers in both countries.
It enables up to seven simultaneous connections from multiple devices, enhancing the flexibility and entertainment of TV viewing. It is one of the most economical VPNs available in terms of price.
Conclusion
If you follow the above-mentioned solutions, you will definitely be able to any issues that arise. If you happen to have any more queries, we urge you to check out our FAQs section below!
FAQs
which VPN is best for Unblocking Netflix?
We would suggest going for ExpressVPN, as it is a trusted VPN. You will face no issues while streaming from Netflix.
Netflix is not working with VPN on my iPhone/Android, what can I Do?
If your iPhone's VPN service has ceased allowing you to access Netflix, Most likely, what we emphasized in this essay has already occurred.
Netflix has restricted the IP address your VPN provided after learning that you are using a VPN.
There is no cause for concern when Netflix on iPhone stops functioning with a VPN, just like when it doesn't. Simply switch to a better VPN, such as ExpressVPN.
How do I Fix Error Codes 60, 102, 200, 300, and 600?
All of these error codes indicate that the Netflix service is not available. Users are given this to inform them when Netflix is momentarily unavailable due to a variety of circumstances.
It is worth trying to remedy the problem by turning off your VPN if you receive one of these codes. There is no effective troubleshooting if Netflix is down both with and without the VPN enabled, which is likely the case.
How Can I Fix Error Code UI-103?
This error code is brought on by locally stored data that needs to be updated on your local device.
It is worthwhile to restart your device, sign back into Netflix, reset your network, or connect your device straight to the router over ethernet if you have this issue.
You may need to use a VPN if you are connected to a public WiFi network and getting this problem since it's likely that the network administrator has prohibited Netflix.
How to Fix Error Code 5009?
Users of Apple TV and iOS typically encounter this network connectivity issue code. It denotes that for some reason, your device seems unable to establish a connection with Netflix's servers.
Your local network administrator may be responsible for this by blocking Netflix. If Netflix is being blocked by the local network, you will have to utilize a VPN to get around the limitations.