How to Unlock Steam Games With a VPN: Easy Guide 2023
When it comes to PC gaming, Steam Games is the standard option. Although there are numerous copycats, Steam is the true pioneer in the field of digital game distribution.
In comparison to Xbox Live, with only 55 million active users as of January 2023, Steam has over 95 million active members. Additionally, we have recently witnessed Steam's popularity grow and reach new heights.
It has been customary to release games in a staggered fashion, one region at a time, due to the fact that users on this platform are from different time zones. Each region will have a distinct release time or even a different launch date.
See our advice on how to use a VPN for your game to gain access before the local release date. ExpressVPN is our preferred Virtual Private Network (VPN) for using the Steam service in another country.
In A Hurry? Quick Steps to Unblock Steam Games!
Subscribe to a good VPN service, ExpressVPN for example.
After that buy your preferred Steam game beforehand.
Begin to preload the game, then close Steam Games and disconnect entirely.
Make sure your VPN service is active and connect to an Australian or New Zealand server.
Restart Steam Games once you've connected to a VPN.
Download any necessary files or game updates that are required.
You can start playing as soon as you click the "Play" button!
Why Is A VPN Needed to Bypass Steam Games Geo-Blocking?
Your IP address determines the location of the store on Steam. This enables you to access a store in a different region by using a VPN to disguise your location. Let's say a game unlocks 12 hours prior in New Zealand than it does in your area.
The New Zealand Steam Store will appear when you log into Steam after connecting to a VPN server there. The unlock timer should have advanced by 12 hours if you then go to the game you would like to play in your Steam library (or is unlocked).
The game is currently available for free download and playing. No matter where in the world you are, the same reasoning holds true for early Steam access.
Once the game download has begun, you do not need to remain connected to the VPN; therefore, if the download speed increases, feel free to disconnect. However, you will need to reconnect every time you start the game until it is available in your area.
What Is Steam Games Preload Unlocker? How To Get It?
Check which Steam Games regions will receive the game first before selecting a VPN. The area where the game development business is based will frequently be the first to unlock the games.
Usually, this occurs so the developer team can be accessible and online when the game debuts formally to address any problems or difficulties that may arise.
More frequently, the majority of Steam games open at midnight. Australia and New Zealand are the first large nations to experience midnight as defined by the world's time zones.
You could be up to 10 hours behind Australia and New Zealand if you reside in the US, Canada, or Europe (including the UK, Germany, Spain, Finland, Austria, etc.).
The following method will help you obtain your own Steam preload unlocker.
Place a preorder for the Steam game you wish to play.
Set up your game.
Completely disconnect from Steam Games.
Connect to an Australian or New Zealand VPN server.
After you've connected to your VPN server, restart Steam Games once more.
Now that Steam has assumed you are in one of these nations, you are able to preload.
Download the game's files or updates.
All you need to do is click "Play"!
How to Unblock Steam Games Using A VPN: Detailed Guide.
You will require a VPN because this particular game or update will not be available in your region yet. Here is a detailed guide on how to unblock Steam Games:
Step 1: Subscribe to a good VPN service, ExpressVPN for example.
Step 2: After you complete your subscription process, make sure to log in with your credentials.
Step 3: Make sure to buy your preferred game beforehand.
Step 4: After that, begin to preload the game.
Step 5: Then, close Steam Games and make sure to disconnect entirely.
Step 6: Ensure that your VPN service is active and then connect to an Australian or New Zealand server.
Step 7: Once your connection is live, restart Steam Games.
Step 8: Make sure to download any necessary files or game updates that are required.
Step 9: Now, you can start playing as soon as you click the "Play" button!
The Best VPNs to Unblock Steam Games From Anywhere
We tested a lot of VPNs to find out which VPNs could help unblock Steam Games. Out of these, we have listed 2 top VPNs here.
ExpressVPN: Great features along with incredible speeds!
✔ The fastest VPN we tested thanks to its Lightway protocol.
✔ 3,000+ servers in 94 countries which enable you to unblock region-locked content such as Steam Games!
✔ Unblock Hulu, Netflix, VUDU, HBO Max, ESPN Plus, Sky TV, and more.
✔ Connect up to 5 devices simultaneously with one account.
✔ You can use it on Android, Windows, iPhone, Mac, Apple, Smart TV, Chrome, and Router.
✔ 30-day money-back guarantee!
ExpressVPN offer September 2023: For a limited time, you can save up to 49% on 1-year subscription plan + 3 months free.
If you asked a professional, they would undoubtedly recommend ExpressVPN as the most affordable VPN. It is unquestionably one of the best VPNs available and offers its users a variety of benefits.
You only need to touch on the toggle to instantly turn the VPN on and off. You won't need to fret over speed because this VPN is one of the fastest ones available.
No matter what you see or which server you are linked to, you will always receive the fastest speed.
ExpressVPN can unblock content from more than 90 different countries thanks to its 3,000+ servers.
Even a novice could install and use the program due to how easy it is to use. You could get your smartphone and computer set up in just a minute. A VPN connection is instantly established with one click.
You can choose the protocol manually or allow the VPN to decide which will function the best for you if you are unsure which will. PPTP, OpenVPN, IKEv2, L2TP/IPsec, IKEv4, and IKEv4 are further security options.
Exceptional in terms of speed, safety, and user experience.
Because it offers industry-standard technology like a kill switch, zero DNS leak, strong encryption, and P2P servers, ExpressVPN is appropriate for every situation.
Customer service representatives are really kind, sympathetic, and supportive.
NordVPN: Exceptionally strong security plus a big fleet of servers!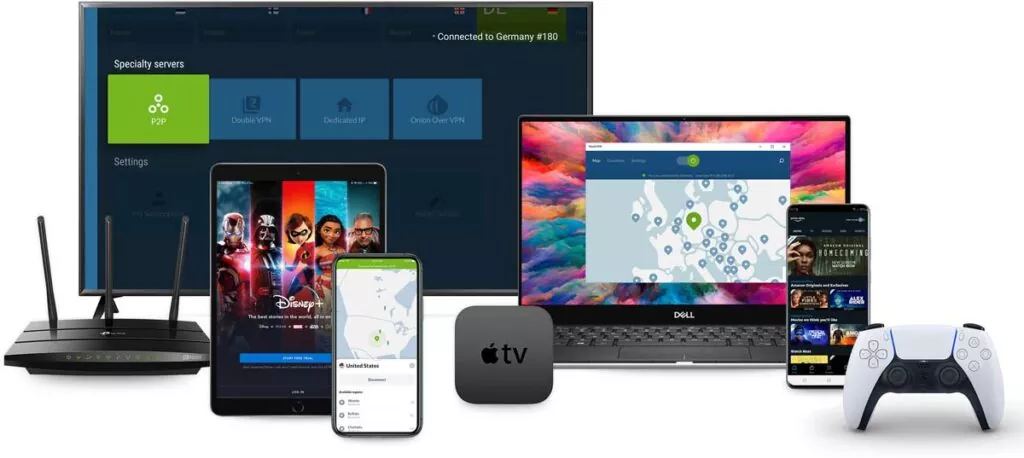 ✔ 5500+ lightning-fast servers in over 59 countries.
✔ You can connect up to 6 devices simultaneously with one account.
✔ Stream Hulu, Netflix, VUDU, HBO Max, ESPN Plus, Sky TV, and more from anywhere in the world.
✔ Apps available for Android, Windows, iPhone, Mac, Apple, Smart TV, Chrome, and Router.
✔ 30-day money-back guarantee!
NordVPN offer September 2023: For a limited time, you can save up to 55% at 3.69/month on 2-year subscription plan + 3 months free.
Owing to its 5,500+ servers spread over 59+ countries, this VPN can adapt to each user's server requirements.
Communication is made possible through NordVPN's exclusive NordLynx protocol. It also exhibits elements that are leading edge for the industry.
Additionally, it offers a double VPN, which sends your data via two VPN filters to boost your online security.
A stringent no-log policy that further guarantees that no session records are ever kept protects you online.
Every day of the year, professional customer care is offered 24/7 to help you with any issue, no matter whether big or small.
What Are Some Of The Best Games on Steam Games?
Steam Games has some of the best games available for its users, a few of the top games you can enjoy on Steam Games are:
Counter-Strike: Global Offensive
PUBG
Valheim
Rust – Voice Props Pack
Cyberpunk 2077
Sea of Thieves
Halo: The Master Chief Collection
Red Dead Redemption 2
What Time Are Games Unlocked on Steam Games?
We've discovered that, throughout 2023, the bulk of Steam games are typically made available to the general audience at 10 AM PST. However, as Steam occasionally releases some of the Big Name games at different times, this is not a firm rule (e.g. Midnight).
After 2006, video games were typically released on Tuesdays in the US, Wednesdays in Europe, and Fridays in the UK. Thankfully, these staggered releases are gradually disappearing; fairly frequently, the largest games are launched globally on a Tuesday.
This continues to be a major problem in many gaming communities. For instance, Dark Souls 3 has received criticism for being on sale sooner in some places. It's important for the Dark Souls community to have a feeling of wonder, adventure, and discovery. A player base can rapidly become fragmented if one region gains access to tips, tricks, and fascinating discoveries before another.
It is significant to remember that you shouldn't purchase games from shops in other regions. This is a clear violation of Steam's terms of service and might get your account banned. There is nothing in the ToS that is violated by unlocking a game.
Steam Games Upcoming 2023 Releases
A few of the most anticipated releases of the year are:
Party Animals
New World
HUMANKIND
Dying Light 2 Stay Human
Hollow Knight: Silksong
Total War: WARHAMMER III
Vampire: The Masquerade – Bloodlines 2
Back 4 Blood
Battelfield 2042
The Day Before
FAQs
is Steam Games Compatible with multiple devices?
Yes, it is compatible with many devices. You can play Steam games on PCs, laptops, tablets, android phones, iPhones, and much more!
which VPN is suggested for Unblocking steams games?
ExpressVPN is suggested for unblocking Steam Games. It is reliable and easy to use; plus it has many features and is one of the best on the market.
Which are the top-selling games on Steam Games?
The top-selling games on Steam Games in January 2023 were:
1. Sea of Thieves
2. Rust – Voice Props Pack
3. Rust
4. Cyberpunk 2077
5. Valheim
What is the highest peak player count on Steam Games?
The highest peak player count to date is for PUBG, 3,236,027 in January 2018.
How many Users are currently using Steam Games?
The current number of Steam users is 18, 246,092. The peak number of Steam users were 24, 691,277.
Conclusion
So, here is everything you need to know in order to access Steam Games from your location. If you carefully follow this guide you will have no issues unblocking Steam Games and enjoying yourself.
We ask that you consider your VPN choice carefully. To overcome the regional restriction and be reliable for your browsing activity, the VPN must be strong enough.
This is why we frequently suggest that you subscribe to ExpressVPN, which has been proven to work for any purpose you have in mind. So, purchase ExpressVPN and start enjoying Steam Games.